CAB Chiltern Crowdfunding for Advice at Home Service
Wednesday, February 26th, 2020
Chiltern Citizens Advice Bureau ('CAB Chiltern') is one of the community organisations that shares with Chiltern Community Forum the goal to encourage a stronger, more resilient community.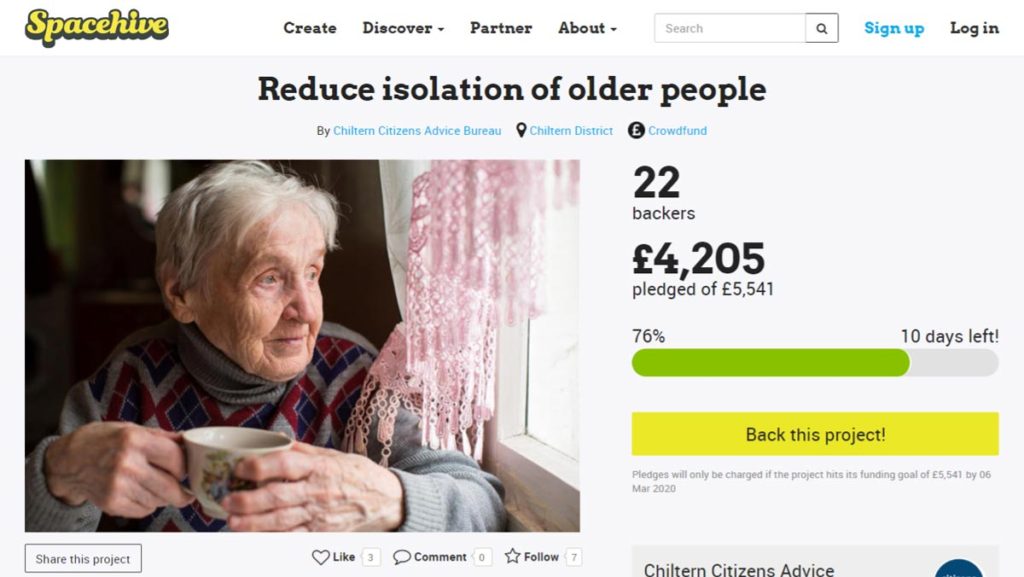 We are therefore delighted to support CAB Chiltern in its efforts to raise funds via crowdfunding to maintain its Advice at Home service. This service offers face-to-face appointments to residents aged over 65, and unable to get to CAB Chiltern's offices, in the comfort and security of their own home.
Through the Spacehive Chiltern Crowdfunding Platform, CAB Chiltern can access £2,500 matched funding from Chiltern District Council, if it meets its target of £5,000 in pledges by March 6th.
Link to crowdfunding page: https://www.spacehive.com/homeadvice
The scheme's advisor, Max Molho, makes clients aware of help that can be accessed such as benefits available, Personal Independence Payments, warm home discount, pension credit, free bus pass, blue badge. Support is also given with debt issues, accessing CAB Chiltern's debt advice service. Since 2018, 110 clients have been visited, and have been assisted in maximising their incomes by an average of £2,232 in extra income per client. Advice at Home is therefore proving to have a direct impact on clients' wellbeing. It also helps reduce loneliness by sharing information about local activities and groups.
If successful, CAB plans to provide home visits to over 200 more people aged 65 and over in Chiltern in 2020/21, as well as to hold an open morning to tell more local people about its Home Advice service.
CAB Chiltern is a local charity which receives no central government funding. It provides free, impartial, independent and confidential advice to anyone living and working in the Chiltern area. It demonstrates excellent impact and outcomes and deserves the support of the community.
Other Recent Posts
Friday, August 7th, 2020
WHY it is important to report crime and concerns: we can do more to help focus Policing support and attention on our own locality, and even help in the fight against broader crime. Read More...
Tuesday, July 5th, 2022
Excellent new tool from GetSafeOnline and Cifas, helping determine whether a website is likely to be legitimate or a scam. Read More...
Monday, June 27th, 2022
All residents are invited to participate in the Forum's survey of residents' concerns and the July 12th open meeting with representatives of Thames Valley Police. Read More...
Friday, June 24th, 2022
Congratulations to Sergeant Dan Ryder, awarded community officer of the year at TVP's community Policing awards 2022. Read More...
Monday, June 20th, 2022
A new South Buckinghamshire local policing area (LPA) has been formed by amalgamating our former Chiltern & South Bucks policing area with Wycombe policing area. Read More...
Friday, June 17th, 2022
The official Annual Report for 2021/22 from Thames Valley Police and Crime Commissioner. Read More...
Thursday, June 16th, 2022
The Forum would like to thank Inspector Richard Vine for his consistent support and encouragement of the Forum and its efforts over the past four years. Read More...