CESAR discounts to help protect from Rural Crime
Monday, October 12th, 2020
Rural Crime is one of the 22 concerns available for Residents to select in our Quarterly survey. Whilst it has never figured in the top 5 choices, there is a consistent voice of concern. In our most recent survey, Rural Crime figured in ninth position, with votes from 9% of respondents. Several accompanying comments made clear the problem of machinery being targetted for theft.
The CESAR scheme was set up around ten years ago to provide an official equipment security and registration scheme. It seeks to deter theft and aid recovery, using Datatag ID technologies, and registration of equipment on a secure database.
CESAR is offering significant discounts (of the order of 50%) to residents of the Thames Valley Police area until the end of 2020. These are listed on the flyer below: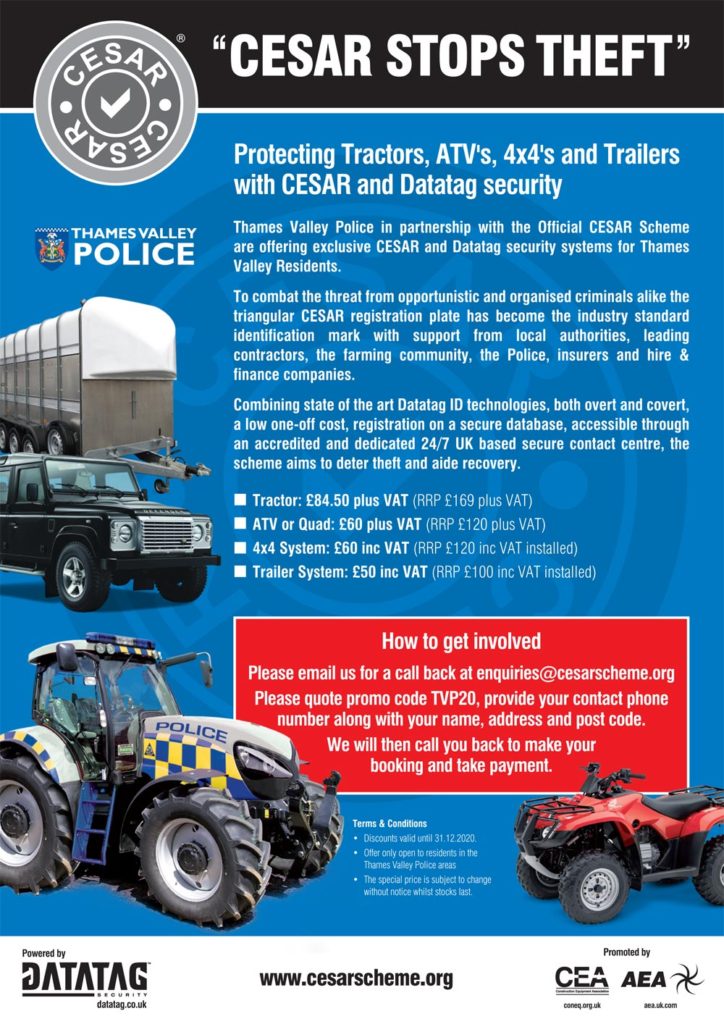 Further explanation of the CESAR scheme can be found on their website – https://cesarscheme.org/ – and in the video below.
Other Recent Posts
Wednesday, August 9th, 2023
At least three organisations invite residents of Chiltern and South Bucks to participate in periodic or rolling surveys relating to crime and community safety. We explain how all three contribute to our overall safety. Read More...
Wednesday, June 28th, 2023
Survey inviting victim-survivors of rape and other sexual offences to take part in a survey about their experience with the police. The findings will help the police to improve their handling and process. Read More...
Monday, June 26th, 2023
The stars may be aligning as Thames Valley Police and Crime Commissioner, Thames Valley Police and the Safer Buckinghamshire Partnership all publish documents promising prioritisation of neighbourhood crime. Read More...
Tuesday, April 18th, 2023
Report, minutes and video recordinig of Forum meeting April 5th 2023. Focus choices made for Neighbourhood Policing teams: Burglary – Speeding – Drugs Read More...
Tuesday, April 18th, 2023
Recent proposals by UK Government, Thames Valley Police and Thames Valley Police & Crime Commissioner (PCC) all make promises of increased resources for Neighbourhood Policing and greater focus on neighbourhood crime. Read More...
Tuesday, April 11th, 2023
Proposals have been made for a major review of local policing within Thames Valley. Active participation will make the point that we care about local policing, and retaining and rebuilding a local presence. Please express your views. Read More...