CESAR discounts to help protect from Rural Crime
Monday, October 12th, 2020
Rural Crime is one of the 22 concerns available for Residents to select in our Quarterly survey. Whilst it has never figured in the top 5 choices, there is a consistent voice of concern. In our most recent survey, Rural Crime figured in ninth position, with votes from 9% of respondents. Several accompanying comments made clear the problem of machinery being targetted for theft.
The CESAR scheme was set up around ten years ago to provide an official equipment security and registration scheme. It seeks to deter theft and aid recovery, using Datatag ID technologies, and registration of equipment on a secure database.
CESAR is offering significant discounts (of the order of 50%) to residents of the Thames Valley Police area until the end of 2020. These are listed on the flyer below: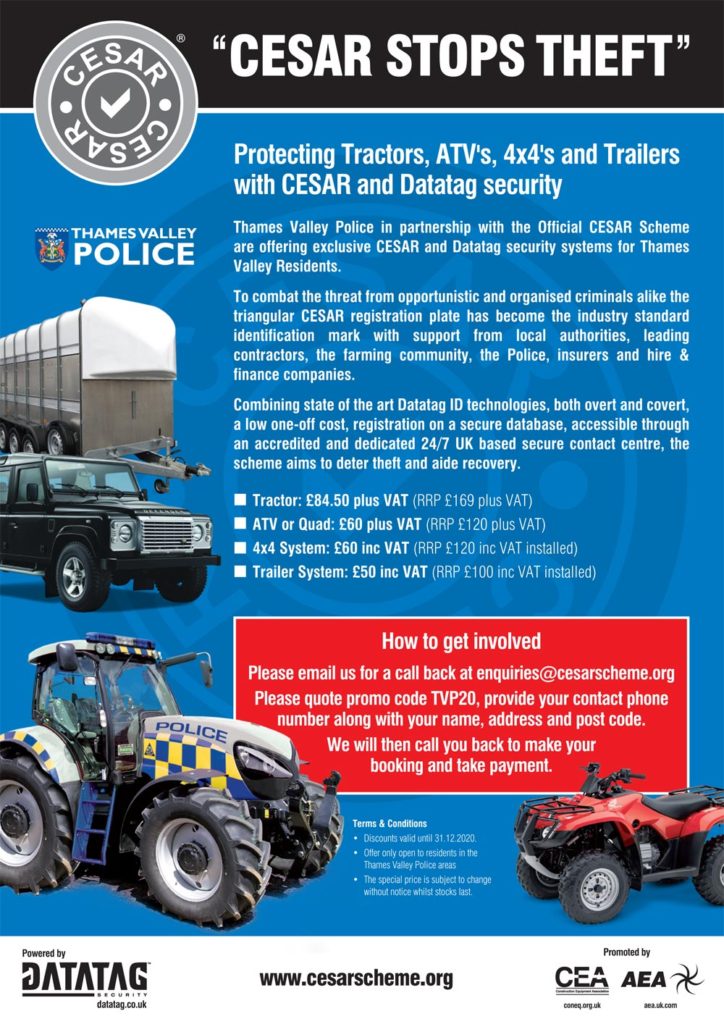 Further explanation of the CESAR scheme can be found on their website – https://cesarscheme.org/ – and in the video below.
Other Recent Posts
Friday, August 7th, 2020
WHY it is important to report crime and concerns: we can do more to help focus Policing support and attention on our own locality, and even help in the fight against broader crime. Read More...
Thursday, April 15th, 2021
PCC election on May 6th – why we should care, and details of the four candidates Read More...
Wednesday, April 14th, 2021
Link to the latest survey of local policing issues and concerns, and details of the Forum meeting on May 18th. Read More...
Thursday, April 8th, 2021
A paradigm shift in the way that Community Speedwatch operates within Thames Valley seeks to change the perception and management of community volunteers' involvement with road safety. Read More...
Sunday, March 14th, 2021
Call for evidence by the Home Office has been reopened to reflect the recent public discussion about Violence Against Women and Girls. Open to everyone 16 or over. Read More...
Thursday, March 11th, 2021
Online survey designed to understand the public's perception of dog theft, enforcement, and the prosecution of offenders Read More...
Wednesday, March 3rd, 2021
Buckinghamshire Community Safety news including advice and information on vaccination scams, romance fraud, spring garden crime, rural crime, Safer Internet Day, domestic abuse, Travel Safe Bucks, National Child Exploitation Awareness Day, National Stalking Awareness Week, modern slavery and Street Associations. Read More...