CESAR discounts to help protect from Rural Crime
Monday, October 12th, 2020
Rural Crime is one of the 22 concerns available for Residents to select in our Quarterly survey. Whilst it has never figured in the top 5 choices, there is a consistent voice of concern. In our most recent survey, Rural Crime figured in ninth position, with votes from 9% of respondents. Several accompanying comments made clear the problem of machinery being targetted for theft.
The CESAR scheme was set up around ten years ago to provide an official equipment security and registration scheme. It seeks to deter theft and aid recovery, using Datatag ID technologies, and registration of equipment on a secure database.
CESAR is offering significant discounts (of the order of 50%) to residents of the Thames Valley Police area until the end of 2020. These are listed on the flyer below: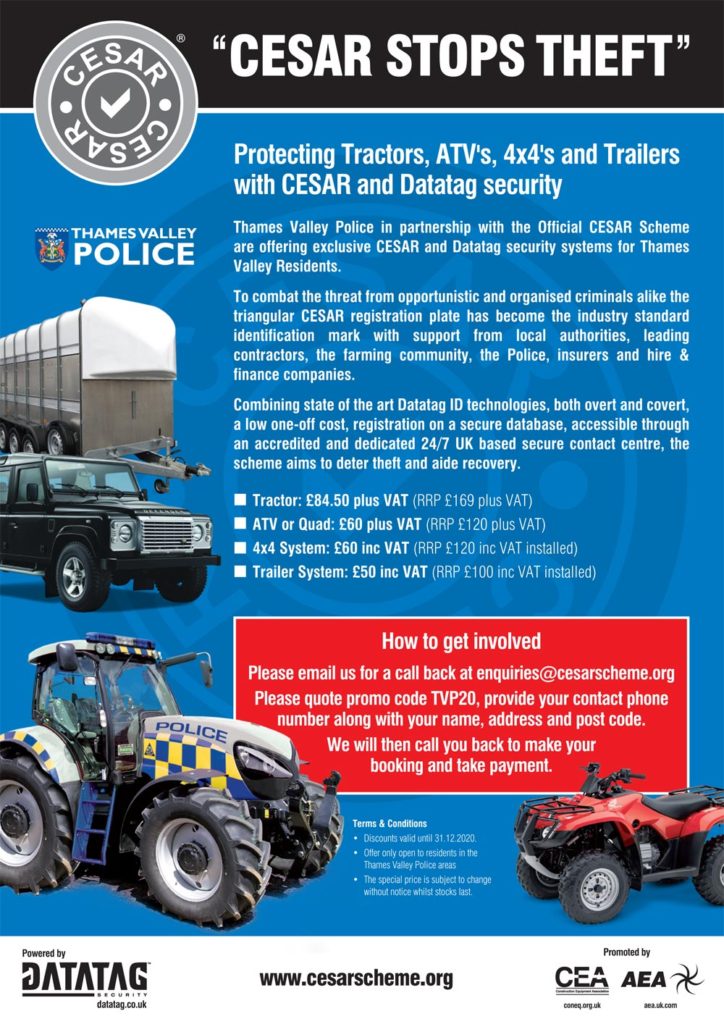 Further explanation of the CESAR scheme can be found on their website – https://cesarscheme.org/ – and in the video below.
Other Recent Posts
Monday, December 5th, 2022
Video recording of Burglary Event held by Thames Valley Police for South Buckinghamshire residents on 1st December 2022 Read More...
Wednesday, February 1st, 2023
The Knife Angel spent a month at Arbour Park, Slough. We hope that its inspiring and thought provoking message has an abiding effect. Read More...
Friday, January 20th, 2023
Update on rural crime, including operations by the TVP Rural Crime team, crime trends, upcoming events, crime reduction advice and much more! Read More...
Friday, January 6th, 2023
Are you one of many residents who say we need more policing resource at a local/community level? If so, please take the opportunity to say so! Read More...
Friday, December 16th, 2022
We encourage residents to contribute their views to Thames Valley PCC Matthew Barber's consultation on crime and the policing budget for 2023/24. Read More...
Wednesday, November 30th, 2022
Neighbourhood Police INspector and colleagues will speak to residents about concerns of an increase in burglaries via a Microsoft Teams meeting, 7pm Thursday 1st December. Read More...