CESAR discounts to help protect from Rural Crime
Monday, October 12th, 2020
Rural Crime is one of the 22 concerns available for Residents to select in our Quarterly survey. Whilst it has never figured in the top 5 choices, there is a consistent voice of concern. In our most recent survey, Rural Crime figured in ninth position, with votes from 9% of respondents. Several accompanying comments made clear the problem of machinery being targetted for theft.
The CESAR scheme was set up around ten years ago to provide an official equipment security and registration scheme. It seeks to deter theft and aid recovery, using Datatag ID technologies, and registration of equipment on a secure database.
CESAR is offering significant discounts (of the order of 50%) to residents of the Thames Valley Police area until the end of 2020. These are listed on the flyer below: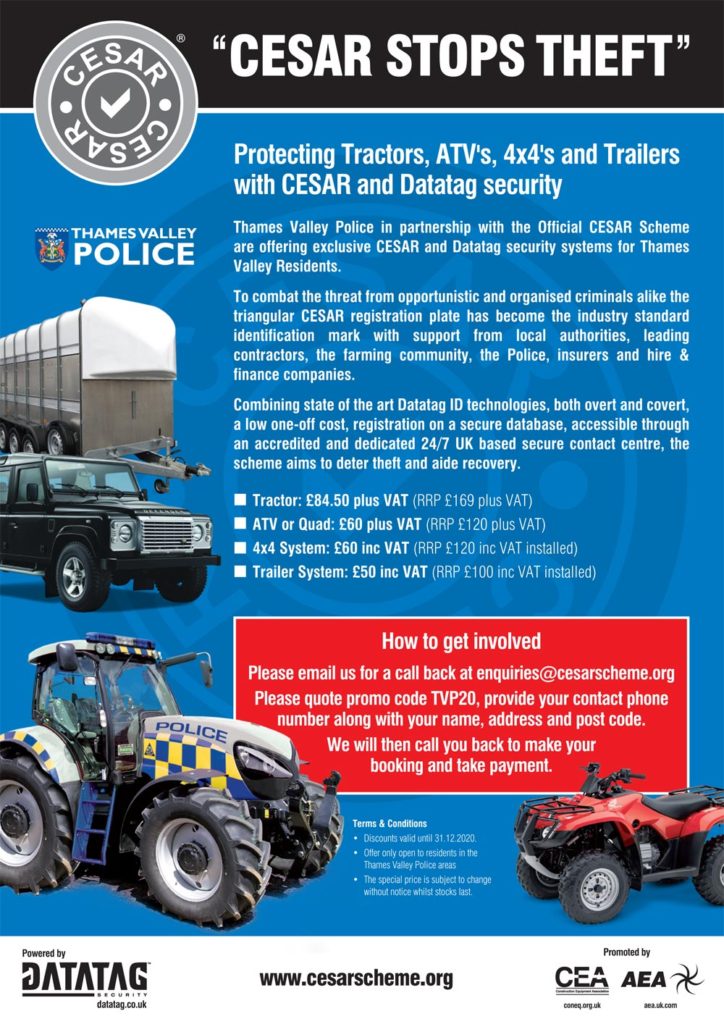 Further explanation of the CESAR scheme can be found on their website – https://cesarscheme.org/ – and in the video below.
Other Recent Posts
Friday, August 7th, 2020
WHY it is important to report crime and concerns: we can do more to help focus Policing support and attention on our own locality, and even help in the fight against broader crime. Read More...
Wednesday, January 12th, 2022
Details of the current consultation over a proposed increase in precept to fund Thames Valley Police. The Forum encourages all residents to participate. Read More...
Thursday, December 2nd, 2021
Detailed winter Rural Crime newsletter issued by Sgt Darren Walsh. Includes crime prevention tips and news of a new WhatsApp group Read More...
Friday, November 19th, 2021
How the Forum has facilitated engagement between residents and Police over the past four years, and thanking residents for their inputs. Read More...
Sunday, November 14th, 2021
An unpleasant incident on the Forum's November meeting reminds us of the need to protect ourselves proactively against hackers and cyber crime. Read More...
Friday, October 29th, 2021
Invitation to free webinar providing in-depth view on County Lines, Tuesday 9th November Read More...
Wednesday, October 27th, 2021
Update on the creation of a Rural Crime Task Force. Read More...