Chiltern South Bucks Autumn Burglary Update
Friday, October 22nd, 2021
From PS 3675 Darren Walsh, Chiltern & South Bucks Neighbourhood Policing, via Thames Valley Police Neighbourhood Alert
With the dark nights and mornings fast approaching, we expect the number of burglaries to increase during the autumn and winter seasons. As a result of this we are looking at working with residents in making their neighbourhoods safer.
You will often hear about the police working in partnership with agencies to combat crime. With burglary the most important partner we can work with is you! By this we mean getting you to look out for your neighbours' and your own properties.
Last year we worked closely with Neighbourhood Watch to get more people signed up to the scheme. A Neighbourhood Watch is a great way to get to know your neighbours so that you can build up community resilience. The scheme is free and some studies have shown that you could reduce the chance of being a victim by 25%.
Keyless car thefts
With the innovation of keyless cars we are finding a huge increase in cars being stolen. Burglars do not even have to enter the home address anymore. Investigations have shown that criminals are going up to front doors and scanning car keys through the front door. As people start to adapt to this new threat so do the criminals. Please be careful with your car keys, at home and when out and about, and be aware of the risks when left next to the front door on the sideboard or a coat pocket. Faraday tins can be used to block car keys signals or signal blocker pouches can be purchased for around £6 on the internet.
Top Crime Advice on a budget
Keep your doors locked at all times. This is the first port of call for a burglar. Challenge your family when they leave the doors unlocked.
Use your Window locks. It's all very well having window locks but are you using them. Again this is a common method of entry so let's make sure that the burglar can't just open it and wipe the glass away. If it is locked there will be an increased risk of DNA transfer.
Keyless technology. Make sure that your keys are in a safe location where car thieves can't target them or use devices to get a signal. Keyless car? purchase a faraday box.
Lock your gate. Stop people from having free access to the rear or side of your house.
Keep a light on. Make it looks like someone is up and around. Use timer switches, have a radio on or use a fake TV light display to give the illusion you are in. Burglars do not want to get caught and will target somewhere else.
I will be providing further information and facts around burglary over the next few weeks and what we have been doing and our successes.
You know your neighbourhood better than anyone else. If something is not sitting right with you, act on this and do not be afraid to call the police. If you think it could be a burglary or theft of vehicle then call 999.
---
Chiltern & South Bucks Burglary Statistics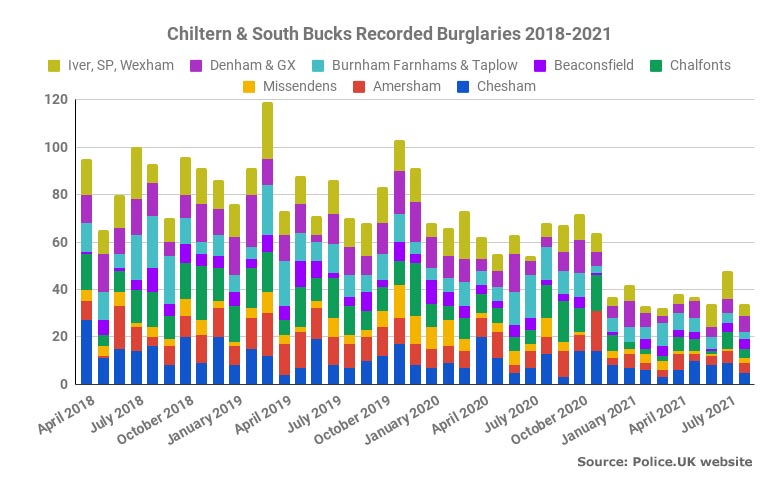 Bar a spike in July, reported burglary numbers across Chiltern & South Bucks have remained thankfully at historic lows. However, in the early part of the year, they certainly benefitted from residents being restricted to their homes, and now, as PS Walsh says, we are approaching the dangerous time, with dark evenings.
Other Recent Posts
Friday, August 7th, 2020
WHY it is important to report crime and concerns: we can do more to help focus Policing support and attention on our own locality, and even help in the fight against broader crime. Read More...
Tuesday, September 20th, 2022
Latest TVP Rural Crime update. making Countyr Watch members and residents aware of current crime trends to allow them to take action and develop working practices to reduce crime. Read More...
Friday, August 12th, 2022
The roll out of CSW groups under the new arrangements continues. An update on how concerned residents can get involved Read More...
Friday, July 15th, 2022
Our first hybrid meeting was, thankfully, a success. But meeting residents face to face was a pleasure and, we hope, very productive. Our immediate future is hybrid! Read More...
Wednesday, July 6th, 2022
Buckinghamshire Council is asking for residents' views on its proposal to extend an existing Public Spaces Protection Order (PSPO) covering areas of Amersham and Chesham. Read More...
Tuesday, July 5th, 2022
Excellent new tool from GetSafeOnline and Cifas, helping determine whether a website is likely to be legitimate or a scam. Read More...
Monday, June 27th, 2022
All residents are invited to participate in the Forum's survey of residents' concerns and the July 12th open meeting with representatives of Thames Valley Police. Read More...