Citizens Advice Information Morning Chesham Tuesday 18 June
Thursday, May 23rd, 2019
A local charity, Citizens Advice Chiltern helps over 5,000 people a year in the Chiltern community to tackle problems of debt and money management, high energy bills, benefits, housing, employment law and consumer affairs. It performs an essential role in our society, with many of these services delivered by trained volunteers.
CAB Chiltern is holding an Information Morning on Tuesday 18th June at Chesham Town Hall from 10.00-11.30am. The purpose of the 90 minute session is to inform those interested in volunteering what is involved in training to be an adviser with CAB Chiltern.
You can book a place by calling 01494 774748 or email admin@chilterncab.cabnet.org.uk
Why Volunteer for CAB Chiltern?
The text below is taken from CAB Chiltern's Volunteer page:
We have about 60 volunteers, without whom Citizens Advice Chiltern simply would not operate. Every day they do a fantastic job helping local people with their issues.​
By joining us you will become part of a well-established, growing advice network which really values its volunteers.
Our aims are to provide the advice people need and to improve the policies and practices that affect people's lives. We can offer comprehensive training and support, a good social network, rewarding work and opportunities for personal development. In return we ask for a regular commitment.​
We typically train volunteers as generalist or specialist advisers, but we sometimes have opportunities for those who wish to help with administration, publicity, marketing, campaigning or fundraising. ​
5 reasons to volunteer
Make a real difference to people's lives
Get to know your community
Meet new people and make friends
Be part of an enthusiastic team
Improve your prospects and skills
​
Who can volunteer?
Our guiding principles are to 'value diversity, promote equality and challenge discrimination'. We know that it's only by having diverse staff and volunteers that we can do these things properly. We are committed to equality of opportunity in recruitment and training, and offer a warm welcome to every volunteer, whatever their background.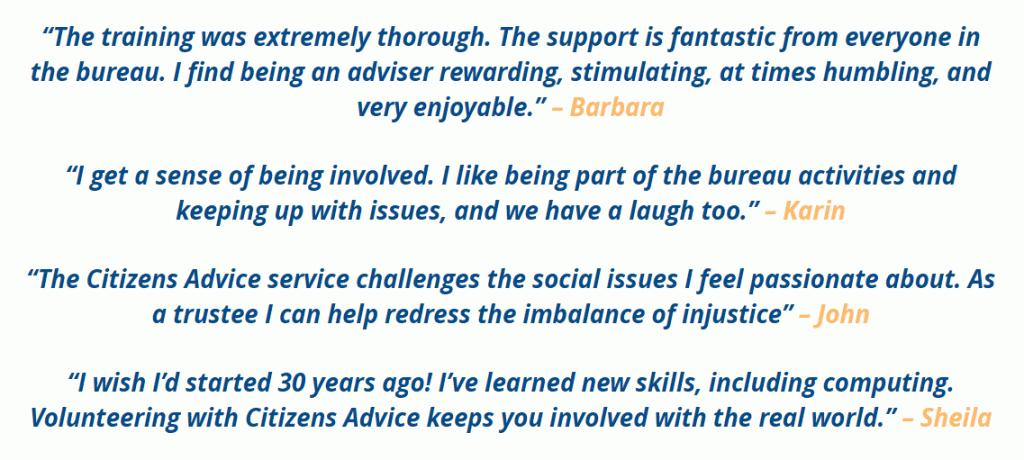 ​
Other Recent Posts
Monday, December 5th, 2022
Video recording of Burglary Event held by Thames Valley Police for South Buckinghamshire residents on 1st December 2022 Read More...
Wednesday, February 1st, 2023
The Knife Angel spent a month at Arbour Park, Slough. We hope that its inspiring and thought provoking message has an abiding effect. Read More...
Friday, January 20th, 2023
Update on rural crime, including operations by the TVP Rural Crime team, crime trends, upcoming events, crime reduction advice and much more! Read More...
Friday, January 6th, 2023
Are you one of many residents who say we need more policing resource at a local/community level? If so, please take the opportunity to say so! Read More...
Friday, December 16th, 2022
We encourage residents to contribute their views to Thames Valley PCC Matthew Barber's consultation on crime and the policing budget for 2023/24. Read More...
Wednesday, November 30th, 2022
Neighbourhood Police INspector and colleagues will speak to residents about concerns of an increase in burglaries via a Microsoft Teams meeting, 7pm Thursday 1st December. Read More...