Community Speedwatch – getting involved
Friday, August 12th, 2022
Speeding remains one of the major concerns for residents of Chiltern and South Bucks. consistently in the top 3 in our surveys, and leading the responses in Chesham, Amersham and the Missendens in our most recent survey. We are prompted to revisit the subject having attended a recent meeting with PC Lee Turnham, Thames Valley Police lead on Community Speedwatch (CSW), and in anticipation of a CSW event to be held at 10.15 am Saturday 3rd Steptember.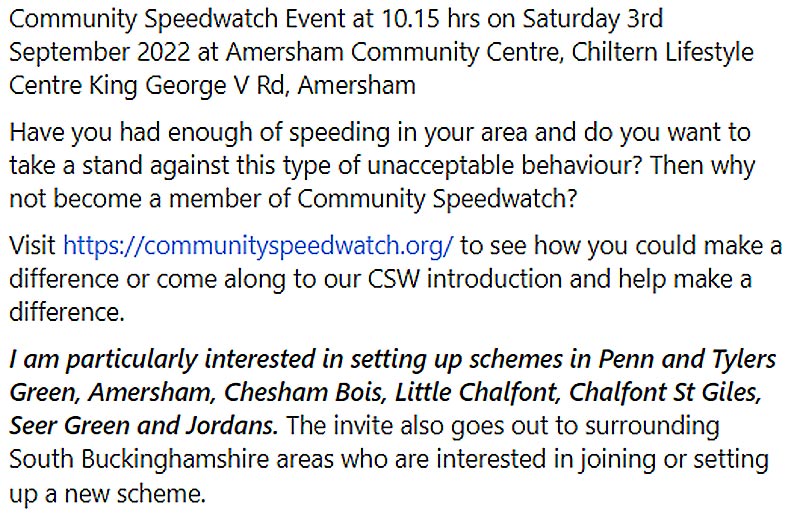 Previous articles:
Putting Community into Speedwatch – Update (October 8th, 2021)
Community Speedwatch Newsletter – Good News! (September 14th, 2021)
Fresh Start for Community Speedwatch in Thames Valley (April 8th, 2021)
Updated and detailed information is also available on PC Turnham's newsletters, which can be downloaded from a dropdown list on our Home page.
There has, in the past, been some uncertainly about how residents concerned by speeding in their locality can get involved. If you are prepared to give some time towards deterring speeding and antisocial drivers, there is no longer any confusion about who to contact – go to www.communityspeedwatch.org.
To join an EXISTING scheme, go to the website, click 'Register' and then select 'join an existing group'. Then from drop-down lists, select 'Thames Valley', 'Buckinghamshire', and then look for a scheme in your area. You will be invited to provide personal details and then undergo induction training. This consists of 6 2-minute videos, with questions, and a summary video at the end. On completion, a scheme coordinator will receive your details and get in touch.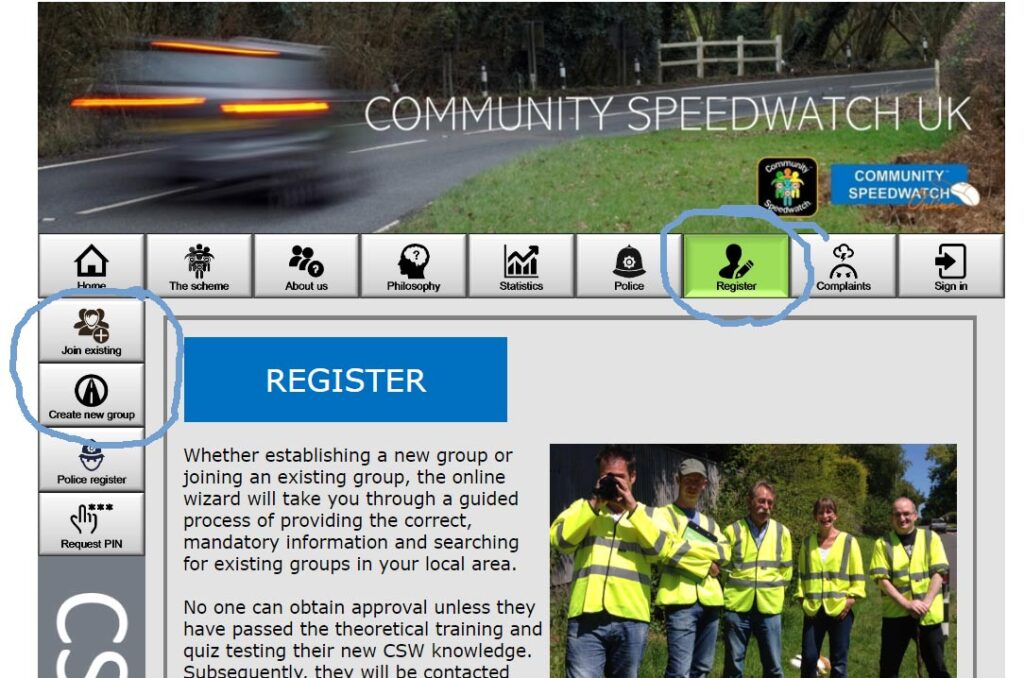 Members of 'old' schemes need to undergo the training process in order to qualify under insurance arrangements – the provision of insurance under a group scheme was one of the key improvements of the relaunched CSW. So all operational schemes are listed on the website. There are around 15 groups around Chiltern & South Bucks, most covering more than one specific location.
| | |
| --- | --- |
| Amersham | Hyde Heath |
| | Old Amersham |
| Beaconsfield | Penn Road |
| Burnham | Dropmore |
| Chenies | Chenies |
| Chesham | Latimer & Ley Hill |
| | Asheridge, Bellingdon & Cholesbury |
| | Ashley Green |
| | Chesham CSW |
| | Chesham Old Town |
| Gerrards Cross | Chalfont St Peter |
| Hazlemere | Chepping Wycombe |
| Prestwood & Gt Missenden | Prestwood & Gt Missenden |
| Stoke Poges | Stoke Poges |
| The Ivers | The Ivers |
If there are no suitable groups in your locality, you can apply to set up a new one. Many groups are initiated by local community or parish councils, or referrals from local authorities, but there is no barrier to concerned individuals taking a lead. After clicking 'Register', and 'Thames Valley', you will be prompted to email PC Turnham at Thames Valley Police, who will assist in assessing proposed locations and setting the scheme up.
Another positive change announced in July is that the loan period for starter kits including speed detection devices has been changed from a maximum of 6 months to unlimited, so long as the scheme remains active.
Since September 2020, Speeding has consistently been one of the three 'focus areas' set by the Forum for our Neighbourhood Police. Changes to the CSW scheme, now under the Roads Policing umbrella, mean that groups can act as and when they wish – they are no longer bound by the need to have a Police officer or PCSO in attendance. ENFORCEMENT is a separate thing, and data from Community Speedwatch sessions is one form of information that will direct Neighbourhood Police Officers to locations for enforcement. Similarly, reports may inform roads policing on locations, the potential siting of a speed camera van, and multi-agency initiatives to consider measures such as road design. So while Community Speedwatch is predominantly an 'education tool', there is a direct link with enforcement.
Reports can help in other ways. DVLA will accept the report of an untaxed vehicle as emanating from a Police body; vehicles without insurance or MOT will be checked to see that the vehicle is on the Police ANPR system; and data is shared across Police forces.
The prime need now is more volunteers – could this be you?
Other Recent Posts
Tuesday, April 18th, 2023
Report, minutes and video recordinig of Forum meeting April 5th 2023. Focus choices made for Neighbourhood Policing teams: Burglary – Speeding – Drugs Read More...
Tuesday, April 18th, 2023
Recent proposals by UK Government, Thames Valley Police and Thames Valley Police & Crime Commissioner (PCC) all make promises of increased resources for Neighbourhood Policing and greater focus on neighbourhood crime. Read More...
Tuesday, April 11th, 2023
Proposals have been made for a major review of local policing within Thames Valley. Active participation will make the point that we care about local policing, and retaining and rebuilding a local presence. Please express your views. Read More...
Wednesday, April 5th, 2023
Open letter and video sharing the priorities of new Chief Constable Jason Hogg; "supporting victims, fighting crime, and building trust and confidence amongst our communities." Read More...
Monday, February 13th, 2023
Neighbourhood Watch is running a series of free Crime Prevention webinars throughout February. Places available on Psychology of Scams and Preventing Burglary with WIDEN. Read More...
Wednesday, February 8th, 2023
Residents wishing to be kept up to date about local crime issues can sign up to the newly launched Police and Crime Commissioner WhatsApp broadcast group. Read More...