Consultation on Residents' Views on 101 and 999 services
Sunday, May 29th, 2022
Residents of Thames Valley are being asked to participate in a survey to tell police chiefs about their experiences of the 101 and 999 services, as well as preferences for future modes of contact.
The survey runs until midnight on Sunday, June 26th, and can be completed by clicking on this link: https://www.smartsurvey.co.uk/s/CrimeReporting-National-Public-Contact-Survey-APCC/
A series of questions tests participants' understanding of emergency and non-emergency reporting systems, as well as newly emerging ways of contacting the police, like web chat, online forms and messaging over social media.
The survey, run by the Association of Police and Crime Commissioners, will help inform police forces, the Home Office and local commissioners on any challenges around reporting to the police and assist in forming plans for the future.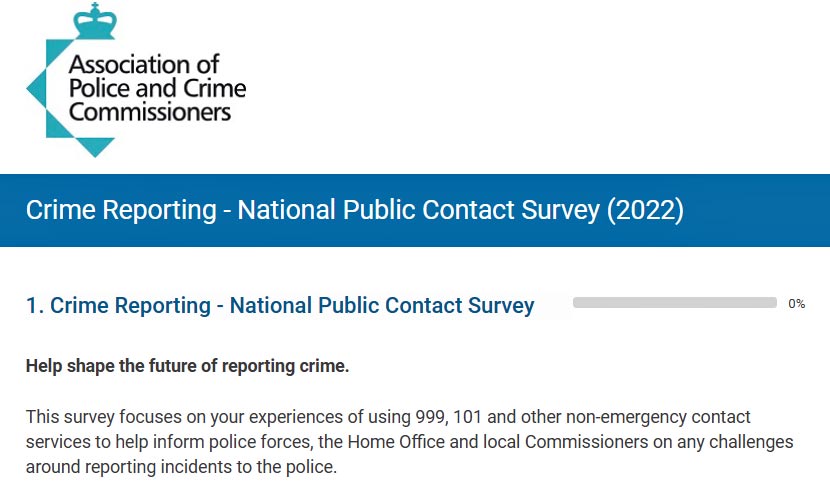 You can read the comments of Matthew Barber, Police & Crime Commissioner for Thames Valley, here:
https://matthewbarber.co.uk/news/help-shape-the-future-of-reporting-crime-by-completing-the-police-contact-survey
Other Recent Posts
Tuesday, April 18th, 2023
Report, minutes and video recordinig of Forum meeting April 5th 2023. Focus choices made for Neighbourhood Policing teams: Burglary – Speeding – Drugs Read More...
Tuesday, April 18th, 2023
Recent proposals by UK Government, Thames Valley Police and Thames Valley Police & Crime Commissioner (PCC) all make promises of increased resources for Neighbourhood Policing and greater focus on neighbourhood crime. Read More...
Tuesday, April 11th, 2023
Proposals have been made for a major review of local policing within Thames Valley. Active participation will make the point that we care about local policing, and retaining and rebuilding a local presence. Please express your views. Read More...
Wednesday, April 5th, 2023
Open letter and video sharing the priorities of new Chief Constable Jason Hogg; "supporting victims, fighting crime, and building trust and confidence amongst our communities." Read More...
Monday, February 13th, 2023
Neighbourhood Watch is running a series of free Crime Prevention webinars throughout February. Places available on Psychology of Scams and Preventing Burglary with WIDEN. Read More...
Wednesday, February 8th, 2023
Residents wishing to be kept up to date about local crime issues can sign up to the newly launched Police and Crime Commissioner WhatsApp broadcast group. Read More...