Consultation on Residents' Views on 101 and 999 services
Sunday, May 29th, 2022
Residents of Thames Valley are being asked to participate in a survey to tell police chiefs about their experiences of the 101 and 999 services, as well as preferences for future modes of contact.
The survey runs until midnight on Sunday, June 26th, and can be completed by clicking on this link: https://www.smartsurvey.co.uk/s/CrimeReporting-National-Public-Contact-Survey-APCC/
A series of questions tests participants' understanding of emergency and non-emergency reporting systems, as well as newly emerging ways of contacting the police, like web chat, online forms and messaging over social media.
The survey, run by the Association of Police and Crime Commissioners, will help inform police forces, the Home Office and local commissioners on any challenges around reporting to the police and assist in forming plans for the future.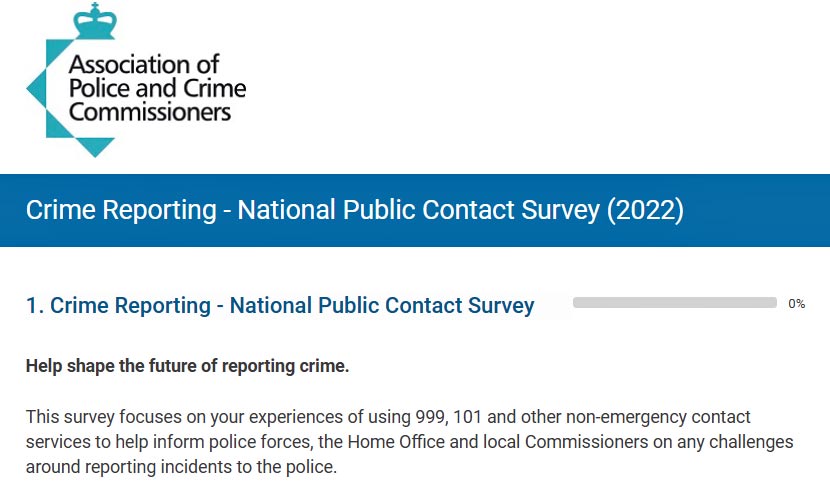 You can read the comments of Matthew Barber, Police & Crime Commissioner for Thames Valley, here:
https://matthewbarber.co.uk/news/help-shape-the-future-of-reporting-crime-by-completing-the-police-contact-survey
Other Recent Posts
Monday, November 27th, 2023
The Police and Crime Commissioner invites residents to participate in a consultation on Police funding for 2024-2025 Read More...
Thursday, November 9th, 2023
Thames Valley Police and Crime Commissioner addresses a well attended meeting on Community Speedwatch at Great Missenden Memorial Hall. Read More...
Tuesday, October 24th, 2023
A 'Let's Talk About Speeding' meeting has been arranged for residents of the Missendens Community Board area on the evening of Tuesday 7th November, at the Great Missenden Memorial Hall. Read More...
Monday, October 23rd, 2023
Annual Community Safety survey from Buckinghamshire Council, informing strategy to reduce crime and anti-social behaviour in Buckinghamshire. Read More...
Sunday, October 22nd, 2023
Do we want a proactive, problem solving approach from our Police, or a service focussed simply on implementing a legal code? The 'right' answer is "the former", but requires trust and confidence of communities in their Police service Read More...
Thursday, October 19th, 2023
Shoplifting is becoming a growing scourge. It's misguided to consider it a 'victimless crime', absorbed by businesses and causing limited real harm. Read More...