Consultation on Residents' Views on 101 and 999 services
Sunday, May 29th, 2022
Residents of Thames Valley are being asked to participate in a survey to tell police chiefs about their experiences of the 101 and 999 services, as well as preferences for future modes of contact.
The survey runs until midnight on Sunday, June 26th, and can be completed by clicking on this link: https://www.smartsurvey.co.uk/s/CrimeReporting-National-Public-Contact-Survey-APCC/
A series of questions tests participants' understanding of emergency and non-emergency reporting systems, as well as newly emerging ways of contacting the police, like web chat, online forms and messaging over social media.
The survey, run by the Association of Police and Crime Commissioners, will help inform police forces, the Home Office and local commissioners on any challenges around reporting to the police and assist in forming plans for the future.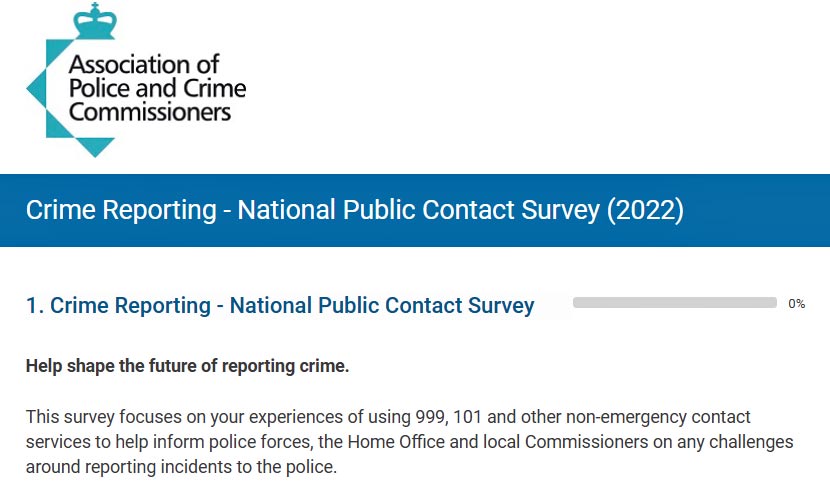 You can read the comments of Matthew Barber, Police & Crime Commissioner for Thames Valley, here:
https://matthewbarber.co.uk/news/help-shape-the-future-of-reporting-crime-by-completing-the-police-contact-survey
Other Recent Posts
Friday, August 7th, 2020
WHY it is important to report crime and concerns: we can do more to help focus Policing support and attention on our own locality, and even help in the fight against broader crime. Read More...
Tuesday, September 20th, 2022
Latest TVP Rural Crime update. making Countyr Watch members and residents aware of current crime trends to allow them to take action and develop working practices to reduce crime. Read More...
Friday, August 12th, 2022
The roll out of CSW groups under the new arrangements continues. An update on how concerned residents can get involved Read More...
Friday, July 15th, 2022
Our first hybrid meeting was, thankfully, a success. But meeting residents face to face was a pleasure and, we hope, very productive. Our immediate future is hybrid! Read More...
Wednesday, July 6th, 2022
Buckinghamshire Council is asking for residents' views on its proposal to extend an existing Public Spaces Protection Order (PSPO) covering areas of Amersham and Chesham. Read More...
Tuesday, July 5th, 2022
Excellent new tool from GetSafeOnline and Cifas, helping determine whether a website is likely to be legitimate or a scam. Read More...
Monday, June 27th, 2022
All residents are invited to participate in the Forum's survey of residents' concerns and the July 12th open meeting with representatives of Thames Valley Police. Read More...