Consultation on Residents' Views on 101 and 999 services
Sunday, May 29th, 2022
Residents of Thames Valley are being asked to participate in a survey to tell police chiefs about their experiences of the 101 and 999 services, as well as preferences for future modes of contact.
The survey runs until midnight on Sunday, June 26th, and can be completed by clicking on this link: https://www.smartsurvey.co.uk/s/CrimeReporting-National-Public-Contact-Survey-APCC/
A series of questions tests participants' understanding of emergency and non-emergency reporting systems, as well as newly emerging ways of contacting the police, like web chat, online forms and messaging over social media.
The survey, run by the Association of Police and Crime Commissioners, will help inform police forces, the Home Office and local commissioners on any challenges around reporting to the police and assist in forming plans for the future.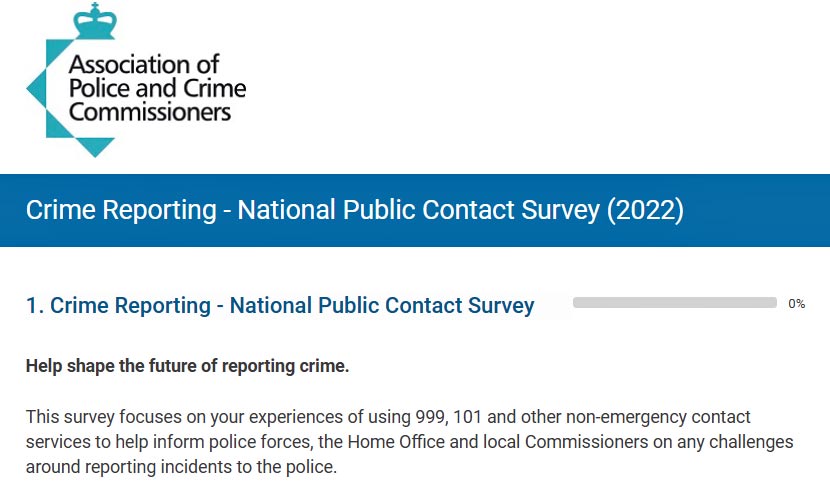 You can read the comments of Matthew Barber, Police & Crime Commissioner for Thames Valley, here:
https://matthewbarber.co.uk/news/help-shape-the-future-of-reporting-crime-by-completing-the-police-contact-survey
Other Recent Posts
Monday, December 5th, 2022
Video recording of Burglary Event held by Thames Valley Police for South Buckinghamshire residents on 1st December 2022 Read More...
Wednesday, February 1st, 2023
The Knife Angel spent a month at Arbour Park, Slough. We hope that its inspiring and thought provoking message has an abiding effect. Read More...
Friday, January 20th, 2023
Update on rural crime, including operations by the TVP Rural Crime team, crime trends, upcoming events, crime reduction advice and much more! Read More...
Friday, January 6th, 2023
Are you one of many residents who say we need more policing resource at a local/community level? If so, please take the opportunity to say so! Read More...
Friday, December 16th, 2022
We encourage residents to contribute their views to Thames Valley PCC Matthew Barber's consultation on crime and the policing budget for 2023/24. Read More...
Wednesday, November 30th, 2022
Neighbourhood Police INspector and colleagues will speak to residents about concerns of an increase in burglaries via a Microsoft Teams meeting, 7pm Thursday 1st December. Read More...