Create an enduring legacy for our streets with Street Associations
Friday, April 3rd, 2020
In towns and villages across Chiltern, the challenges of the Coronavirus pandemic have released a tremendous collective spirit. Individuals, community groups and businesses have created support systems rapidly and with great energy. Most have used technology and communications platforms in a way that could not have been envisaged even a few years ago. The focus on supporting and safeguarding the elderly and vulnerable has been magnificent.
In addition to helping the community set its local policing priorities, Chiltern Community Forum encourages communities to develop greater resilience, taking responsibility where they can. The past couple of weeks have shown that our communities have it in them to do great things.
At some stage – not too far away, we hope – the Coronavirus pandemic will pass, and lives in our communities will return to some sort of normality. Many volunteers probably intend to remain active in helping their communities, and organisations such as our Parish Councils, churches and voluntary organisations will try to tap into that willingness. But it is natural that for many, the priorities of everyday life will start to take over.

Among the volunteers in recent weeks has been an army of individuals who have put their hands up to help safeguard the vulnerable on their street. The good news is that there is already an organisation and structure in Buckinghamshire which can support volunteers performing this function. Street Associations can help by providing a template, advice and information, and resources. For areas that have not yet set up their own system, or would like advice on organising their efforts, they are available to help.
It is our particular hope that many of the locally-driven initiatives will, when the emphasis can move away from safeguarding against COVID-19, 'formalise' themselves into Street Associations, and benefit from Street Association resources. This would create an enduring legacy for our communities.
Street Associations – how they work
The Street Association works in two main ways:
by recruiting residents as Street Association Members, who can act as the eyes and ears on their street, learning to spot neighbours who may need a little bit of help, and point them in the direction of support. Of course, these are not limited to the elderly.
By organising FREE workshops and events for residents to learn more about common challenges to the wellbeing of their communities, such as Scams, Dementia and 'hidden harm', and exploitation that can happen behind closed doors.
Street Associations also work alongside other compatible organisations, such as Trading Standards and Neighbourhood Watch.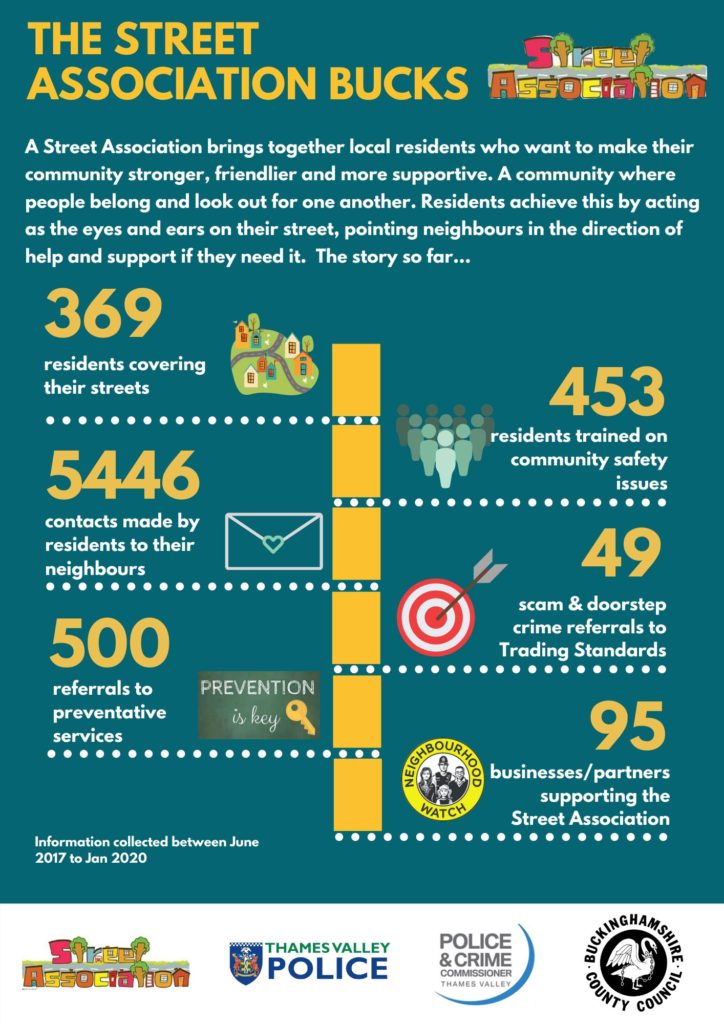 Street Associations were set up by Bucks County Council and Thames Valley Police and Crime Commissioner, initially developing its model through six pilot schemes. It can report many successes, in terms of referrals to preventative services, support for residents against scams, training and awareness sessions on specific issues, and events to strengthen community bonds. The graphic alongside was issued in January 2020.
Their success has encouraged numerous other neighbourhoods and volunteers to ask for information about developing their own scheme. We understand that many new schemes have already been initiated in the current environment.
How YOU can become involved
The guiding ethos of the Street Association is that a neighbourhood with a strong sense of itself as a community, is a safer and stronger community for everybody. Project Lead Helen Cavill will be delighted to hear from anyone who shares that ethos, and would like to participate.
Details of how to contact Street Association are on the Buckinghamshire County Council website. You can e-mail the Buckinghamshire Council Communities team for a free starter pack to start a Street Association in your road, or ask for a downloadable toolkit if you're a community group covering a wider area.
Other Recent Posts
Friday, August 7th, 2020
WHY it is important to report crime and concerns: we can do more to help focus Policing support and attention on our own locality, and even help in the fight against broader crime. Read More...
Tuesday, July 5th, 2022
Excellent new tool from GetSafeOnline and Cifas, helping determine whether a website is likely to be legitimate or a scam. Read More...
Monday, June 27th, 2022
All residents are invited to participate in the Forum's survey of residents' concerns and the July 12th open meeting with representatives of Thames Valley Police. Read More...
Friday, June 24th, 2022
Congratulations to Sergeant Dan Ryder, awarded community officer of the year at TVP's community Policing awards 2022. Read More...
Monday, June 20th, 2022
A new South Buckinghamshire local policing area (LPA) has been formed by amalgamating our former Chiltern & South Bucks policing area with Wycombe policing area. Read More...
Friday, June 17th, 2022
The official Annual Report for 2021/22 from Thames Valley Police and Crime Commissioner. Read More...
Thursday, June 16th, 2022
The Forum would like to thank Inspector Richard Vine for his consistent support and encouragement of the Forum and its efforts over the past four years. Read More...