Forum Survey of Residents' Concerns – October 2022
Thursday, October 13th, 2022
Go to survey: www.csb-forum.org/oct22-survey/.
The Chiltern & South Bucks Policing Issues Forum works for the residents of Chiltern and South Bucks by:
supporting the process for identifying and setting areas of focus for the Chiltern & South Bucks LPA Neighbourhood Police teams.
promoting meaningful engagement between local residents and Neighbourhood Police teams.
encouraging community engagement, by individuals, businesses and other stakeholders.
our overall goal is to help make the Chiltern & South Bucks community more resilient, and for Chiltern and South Bucks to be a better, safer place to live and work.
To this end, we arrange three meetings a year between Neighbourhood Policing and residents, and ahead of these meetings we hold an online survey of residents' concerns. Responses to the survey are turned around quickly and transparently. They inform decisions on the focus areas of our Neighbourhood Police, and discussion at the meeting between residents and Police.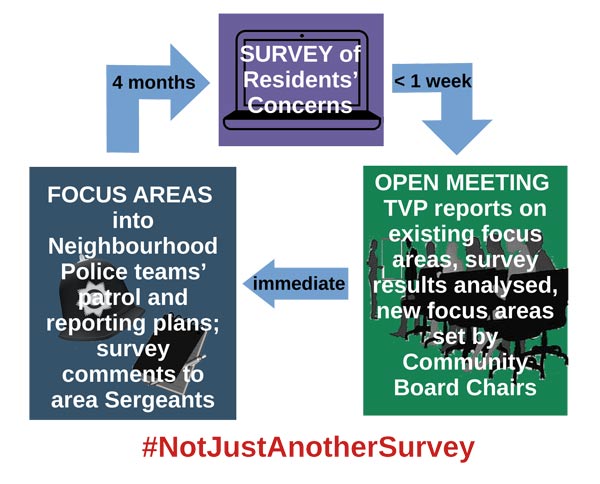 The Forum's next meeting will be at 6.30pm on Thursday 3rd November at Chesham Town Hall. This will be a hybrid meeting – those unable to attend in person can request a Zoom link either via the survey or by e-mailing contact@csb-forum.org.
We invite all residents to attend the meeting and to participate in the survey of residents' concerns. This is available at www.csb-forum.org/oct22-survey/.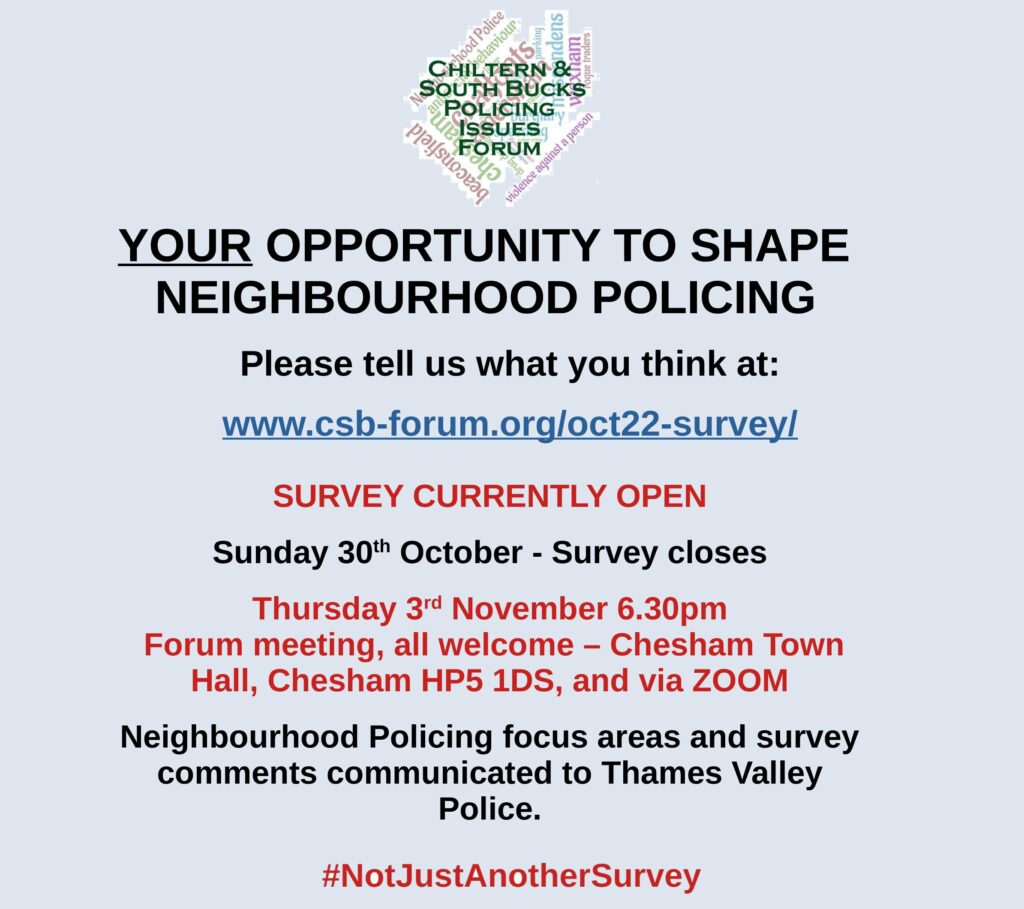 Other Recent Posts
Monday, December 5th, 2022
Video recording of Burglary Event held by Thames Valley Police for South Buckinghamshire residents on 1st December 2022 Read More...
Monday, February 13th, 2023
Neighbourhood Watch is running a series of free Crime Prevention webinars throughout February. Places available on Psychology of Scams and Preventing Burglary with WIDEN. Read More...
Wednesday, February 8th, 2023
Residents wishing to be kept up to date about local crime issues can sign up to the newly launched Police and Crime Commissioner WhatsApp broadcast group. Read More...
Wednesday, February 1st, 2023
The Knife Angel spent a month at Arbour Park, Slough. We hope that its inspiring and thought provoking message has an abiding effect. Read More...
Friday, January 20th, 2023
Update on rural crime, including operations by the TVP Rural Crime team, crime trends, upcoming events, crime reduction advice and much more! Read More...
Friday, January 6th, 2023
Are you one of many residents who say we need more policing resource at a local/community level? If so, please take the opportunity to say so! Read More...
Friday, December 16th, 2022
We encourage residents to contribute their views to Thames Valley PCC Matthew Barber's consultation on crime and the policing budget for 2023/24. Read More...