Forum Survey of Residents' Concerns – October 2022
Thursday, October 13th, 2022
Go to survey: www.csb-forum.org/oct22-survey/.
The Chiltern & South Bucks Policing Issues Forum works for the residents of Chiltern and South Bucks by:
supporting the process for identifying and setting areas of focus for the Chiltern & South Bucks LPA Neighbourhood Police teams.
promoting meaningful engagement between local residents and Neighbourhood Police teams.
encouraging community engagement, by individuals, businesses and other stakeholders.
our overall goal is to help make the Chiltern & South Bucks community more resilient, and for Chiltern and South Bucks to be a better, safer place to live and work.
To this end, we arrange three meetings a year between Neighbourhood Policing and residents, and ahead of these meetings we hold an online survey of residents' concerns. Responses to the survey are turned around quickly and transparently. They inform decisions on the focus areas of our Neighbourhood Police, and discussion at the meeting between residents and Police.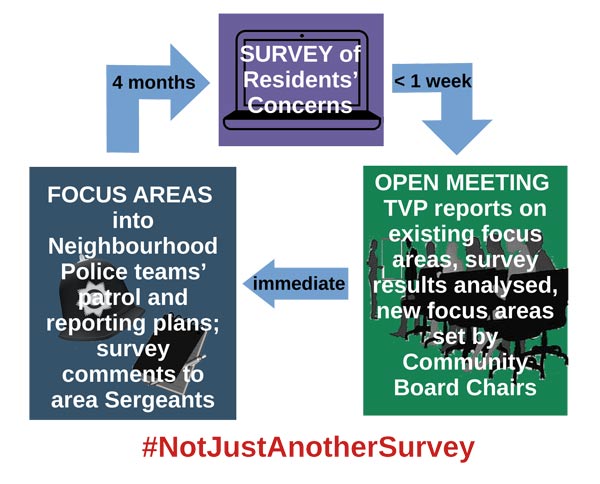 The Forum's next meeting will be at 6.30pm on Thursday 3rd November at Chesham Town Hall. This will be a hybrid meeting – those unable to attend in person can request a Zoom link either via the survey or by e-mailing contact@csb-forum.org.
We invite all residents to attend the meeting and to participate in the survey of residents' concerns. This is available at www.csb-forum.org/oct22-survey/.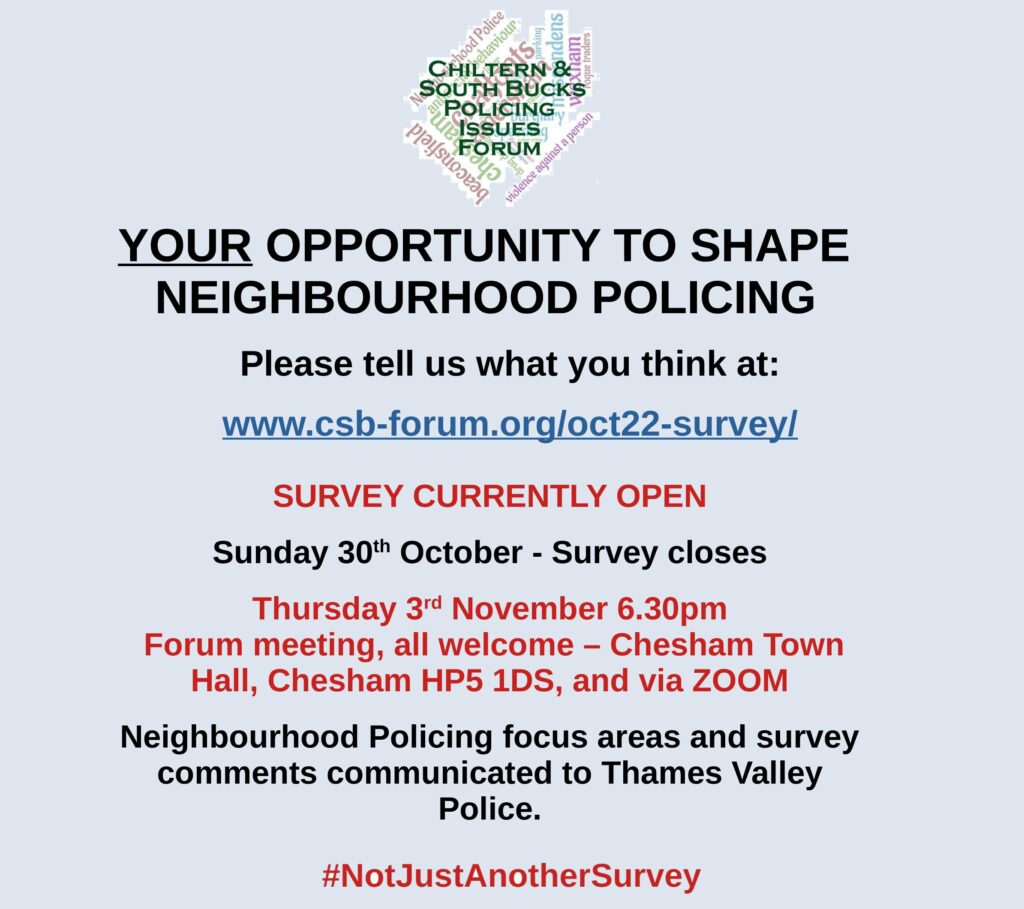 Other Recent Posts
Monday, December 5th, 2022
Video recording of Burglary Event held by Thames Valley Police for South Buckinghamshire residents on 1st December 2022 Read More...
Wednesday, November 30th, 2022
Neighbourhood Police INspector and colleagues will speak to residents about concerns of an increase in burglaries via a Microsoft Teams meeting, 7pm Thursday 1st December. Read More...
Tuesday, November 22nd, 2022
A short explainer video by Thames Valley Police on Stop and Search. Explains the process and the rights of anyone involved. Read More...
Sunday, October 16th, 2022
The Safer Buckinghamshire Board's annual Community Safety survey is seeking residents' views and is open until October 30th. Read More...
Tuesday, September 20th, 2022
Latest TVP Rural Crime update. making Country Watch members and residents aware of current crime trends to allow them to take action and develop working practices to reduce crime. Read More...
Friday, August 12th, 2022
The roll out of CSW groups under the new arrangements continues. An update on how concerned residents can get involved Read More...