Have your say on Increase in Precept for Policing Budget
Wednesday, January 12th, 2022
The Police and Crime Commissioner (PCC) for Thames Valley, Matthew Barber, is seeking residents' views on a proposed increase to the policing element of council tax for 2022/23.
The online consultation will close at 5pm on Tuesday 18th January, and can be accessed via this link:
https://survey.alchemer.eu/s3/90305410/Council-Tax-Survey-2022-23

It is becoming the norm for the provisional police funding settlements to be partly contingent on households paying a share of the proposed increase through Council Tax precept. We published similar posts on PCC surveys regarding increasing the Police element of Council Tax in December 2018 and December 2020.
Information from Matthew Barber on how the additional funds will be spent can be found on the PCC website: "PCC seeking your views on Thames Valley Police budget"
The 2022/23 proposed Settlement
The Government is proposing now to increase funding available to Police and Crime Commissioners (PCCs) in 2022/23 by up to £796 million.
Of this, £550m will come from central government, which includes funding to complete the 20,000 recruitment target by the end of March 2023. Provided all PCCs increase their council tax funding element, this will collectively raise £246 million, around 30% of the total increase in funding. This represents an increase in council tax by up to £10 annually (benchmarked for a Band D property)

For Thames Valley Police, the maximum cash increase would be £26.8m, £15.5m directly from central Government and £11.3m from Council Tax payers, in the event that this is approved by residents, and utilised in full.
PCCs must consult their local electorate on setting the precept and explain how additional investment will deliver a better local police service, hence the consultation.
Council Tax funding as a proportion of overall TVP funding over time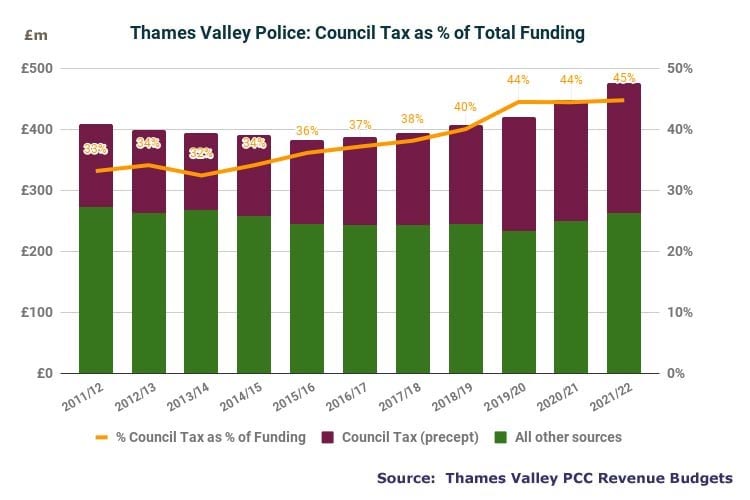 The chart above illustrates the funding trends discussed above. Essentially, increased funding of Thames Valley Police in the past 10 years has come from residents through their council tax – absolute funding from all other sources in 2021/22 is the same as in 2012/13. Residents' direct proportion of all funding has gone from 33% to 44% in that time, well above the national average, which is about a third. We assume that the vast majority of funding is used to police national and Force priorities rather than coming back to neighbourhoods.
The Forum encourages residents to participate in the consultation. On his election as Police and Crime Commissioner, Matthew Barber set out five strategic priorities in his Police and Crime Plan. One (the first in the list) was 'strong local policing', including supporting neighbourhood policing. For our part, we would support the request for increased funding.
Whether or not residents agree, we continue to encourage all residents to contribute to the conversation about policing our neighbourhoods, and to help contribute to community resilience where they can.
Other Recent Posts
Wednesday, August 9th, 2023
At least three organisations invite residents of Chiltern and South Bucks to participate in periodic or rolling surveys relating to crime and community safety. We explain how all three contribute to our overall safety. Read More...
Wednesday, June 28th, 2023
Survey inviting victim-survivors of rape and other sexual offences to take part in a survey about their experience with the police. The findings will help the police to improve their handling and process. Read More...
Monday, June 26th, 2023
The stars may be aligning as Thames Valley Police and Crime Commissioner, Thames Valley Police and the Safer Buckinghamshire Partnership all publish documents promising prioritisation of neighbourhood crime. Read More...
Tuesday, April 18th, 2023
Report, minutes and video recordinig of Forum meeting April 5th 2023. Focus choices made for Neighbourhood Policing teams: Burglary – Speeding – Drugs Read More...
Tuesday, April 18th, 2023
Recent proposals by UK Government, Thames Valley Police and Thames Valley Police & Crime Commissioner (PCC) all make promises of increased resources for Neighbourhood Policing and greater focus on neighbourhood crime. Read More...
Tuesday, April 11th, 2023
Proposals have been made for a major review of local policing within Thames Valley. Active participation will make the point that we care about local policing, and retaining and rebuilding a local presence. Please express your views. Read More...