Thank you to Inspector Richard Vine
Thursday, June 16th, 2022
It is relatively rare that an initiative such as the Chiltern & South Bucks Policing Issues Forum makes it into its fifth year. Not only does it require a consistent effort from participants, but often the perseverance to continue and adapt as the surrounding landscape changes.
In the case of the Community Forum/Policing Issues Forum, this has included the shift from Chiltern District Council to a unitary Buckinghamshire Council, as well as some organisational adjustments within Thames Valley Police.
Inspector Vine, having led the Chiltern area Neighbourhood Policing teams over the whole period, has moved on to another role with Thames Valley Police's Driver Risk Unit*. The Forum would like to thank him for his consistent support and encouragement of the Forum and its efforts. In turn we were delighted to receive a valedictory message acknowledging the contribution of the Forum:
"I just wanted to drop you a quick line to say thank you for all your help and support over the last 4+ years. The PIP and website are fantastic platforms for us to engage, inform and support our communities. They have without doubt helped the neighbourhood teams to be more efficient and effective…"
Below, Insp Vine is pictured receiving an award by the High Sheriff of Buckinghamshirefor his work with the Community Forum. Awards were received also by Chair Andy Garnett, Vice-Chair Graham Young and Robert Gibson.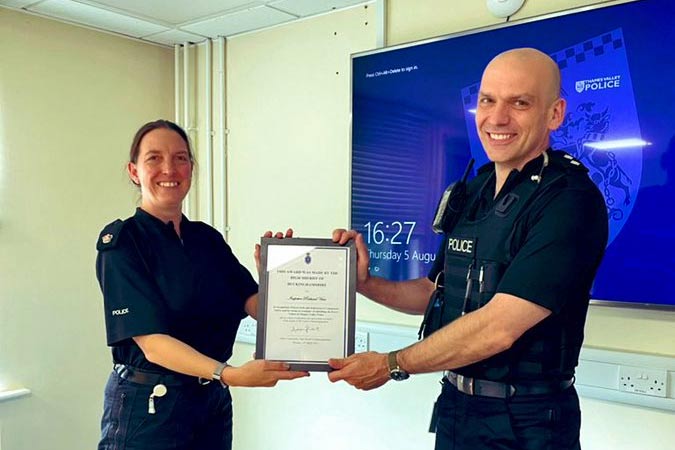 We wish Richard the very best with his new and future appointments.
Inspector James Ellis now leads the Neighbourhood Policing teams across the Chiltern and South Bucks areas.
* Thames Valley Police's Driver Risk Unit oversees driver training to manage risk across TVP's fleet. Residents feel the benefits from this unit through safer drivers , lower costs for maintenance, repairs, fuel, and improved response to calls for assistance.
Other Recent Posts
Monday, December 5th, 2022
Video recording of Burglary Event held by Thames Valley Police for South Buckinghamshire residents on 1st December 2022 Read More...
Wednesday, February 1st, 2023
The Knife Angel spent a month at Arbour Park, Slough. We hope that its inspiring and thought provoking message has an abiding effect. Read More...
Friday, January 20th, 2023
Update on rural crime, including operations by the TVP Rural Crime team, crime trends, upcoming events, crime reduction advice and much more! Read More...
Friday, January 6th, 2023
Are you one of many residents who say we need more policing resource at a local/community level? If so, please take the opportunity to say so! Read More...
Friday, December 16th, 2022
We encourage residents to contribute their views to Thames Valley PCC Matthew Barber's consultation on crime and the policing budget for 2023/24. Read More...
Wednesday, November 30th, 2022
Neighbourhood Police INspector and colleagues will speak to residents about concerns of an increase in burglaries via a Microsoft Teams meeting, 7pm Thursday 1st December. Read More...