Thank you to Inspector Richard Vine
Thursday, June 16th, 2022
It is relatively rare that an initiative such as the Chiltern & South Bucks Policing Issues Forum makes it into its fifth year. Not only does it require a consistent effort from participants, but often the perseverance to continue and adapt as the surrounding landscape changes.
In the case of the Community Forum/Policing Issues Forum, this has included the shift from Chiltern District Council to a unitary Buckinghamshire Council, as well as some organisational adjustments within Thames Valley Police.
Inspector Vine, having led the Chiltern area Neighbourhood Policing teams over the whole period, has moved on to another role with Thames Valley Police's Driver Risk Unit*. The Forum would like to thank him for his consistent support and encouragement of the Forum and its efforts. In turn we were delighted to receive a valedictory message acknowledging the contribution of the Forum:
"I just wanted to drop you a quick line to say thank you for all your help and support over the last 4+ years. The PIP and website are fantastic platforms for us to engage, inform and support our communities. They have without doubt helped the neighbourhood teams to be more efficient and effective…"
Below, Insp Vine is pictured receiving an award by the High Sheriff of Buckinghamshirefor his work with the Community Forum. Awards were received also by Chair Andy Garnett, Vice-Chair Graham Young and Robert Gibson.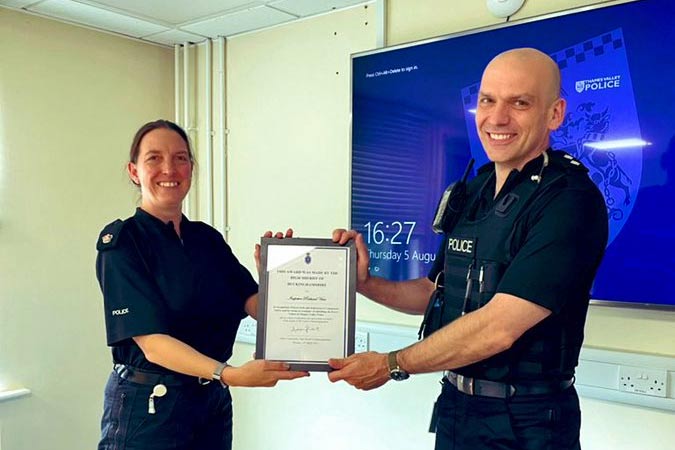 We wish Richard the very best with his new and future appointments.
Inspector James Ellis now leads the Neighbourhood Policing teams across the Chiltern and South Bucks areas.
* Thames Valley Police's Driver Risk Unit oversees driver training to manage risk across TVP's fleet. Residents feel the benefits from this unit through safer drivers , lower costs for maintenance, repairs, fuel, and improved response to calls for assistance.
Other Recent Posts
Friday, August 7th, 2020
WHY it is important to report crime and concerns: we can do more to help focus Policing support and attention on our own locality, and even help in the fight against broader crime. Read More...
Tuesday, September 20th, 2022
Latest TVP Rural Crime update. making Countyr Watch members and residents aware of current crime trends to allow them to take action and develop working practices to reduce crime. Read More...
Friday, August 12th, 2022
The roll out of CSW groups under the new arrangements continues. An update on how concerned residents can get involved Read More...
Friday, July 15th, 2022
Our first hybrid meeting was, thankfully, a success. But meeting residents face to face was a pleasure and, we hope, very productive. Our immediate future is hybrid! Read More...
Wednesday, July 6th, 2022
Buckinghamshire Council is asking for residents' views on its proposal to extend an existing Public Spaces Protection Order (PSPO) covering areas of Amersham and Chesham. Read More...
Tuesday, July 5th, 2022
Excellent new tool from GetSafeOnline and Cifas, helping determine whether a website is likely to be legitimate or a scam. Read More...
Monday, June 27th, 2022
All residents are invited to participate in the Forum's survey of residents' concerns and the July 12th open meeting with representatives of Thames Valley Police. Read More...