Introducing… Chief Insp Rachel Patterson, Deputy Commander Chiltern & South Bucks (LPA)
Monday, June 14th, 2021
(From Neighbourhood Policing Alert)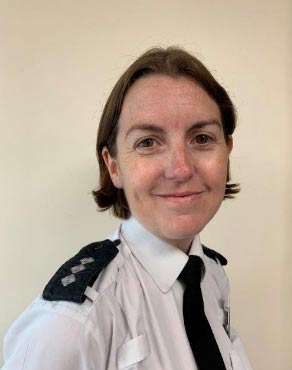 Last week Chief Inspector Rachel Patterson started in the role of Deputy Commander for the Chiltern & South Buckinghamshire Local Policing Area (LPA), taking over from Chief Inspector Scott Messenger who is moving into a regional policing role.
C/Insp Patterson brings with her twenty years of policing experience in in operational roles covering response, custody and neighbourhood policing. She joined Thames Valley Police in 2009 as a response Sergeant working in South Oxfordshire & Vale of the White Horse LPA after transferring from Cambridgeshire Constabulary, where she worked towards local priorities including the reduction of burglaries and speeding.
After being promoted to Inspector, C/Insp Patterson moved to the Oxford area where her work focused largely on community engagement and working closely with partner agencies, particularly to tackle the emerging issues of child exploitation and county drug lines.
Whilst in the police, she has also completed a graduate Diploma in Law and written an academic article on child drug running networks.
Most recently, C/Insp Patterson has been working in a strategic role to identify and recommend areas of improvement across different departments as the force continues to evolve with its ever-changing environment. For the last year, she has been on the senior management team for Thames Valley Police's response to the COVID-19 pandemic and ensuring the force smoothly adapts to the roadmap out of lockdown.
On her new appointment, C/Insp Patterson said: "I am really excited to start in my new role in Chiltern and South Buckinghamshire, knowing that I am joining a team of extremely dedicated and hardworking police officers and staff who are passionate about policing.
"I am committed to delivering an excellent service to the communities we serve, focusing on the preventing crime that is impacting on our neighbourhoods. Bringing offenders to justice and keeping victims are the centre of our investigations will continue to be the priorities for the policing team here in Chiltern and South Buckinghamshire. This is rightly what our local communities expect and together with Supt Clements and DCI Alexander, I will ensure officers and staff have all they need to meet and exceed these expectations.
"I am looking forward to working alongside partners, businesses and the public and look at how we can work together to keep Chiltern and South Buckinghamshire a safe place to live and work".
Other Recent Posts
Friday, August 7th, 2020
WHY it is important to report crime and concerns: we can do more to help focus Policing support and attention on our own locality, and even help in the fight against broader crime. Read More...
Friday, October 22nd, 2021
Horse riders are invited to attend a Rural Spotters Evening on TUESDAY 30th NOVEMBER 2021 at Amersham. Help act as the eyes and ears of the Police in rural areas and liaise with the local community. Read More...
Friday, October 22nd, 2021
Burglaries remain thankfully low compared to historic numbers, but we are approaching the danger time, with dark nights. An update and tips from PS Walsh, of the Neighbourhood Policing Team. Read More...
Friday, October 8th, 2021
Chiltern & South Bucks is the second cab off the rank for roll-out of the new-style Community Speedwatch schemes. This is excellent news, given the consistently voiced concerns over speeding in our communities. Read More...
Friday, October 8th, 2021
Local Government Boundary Commission for England consultation on future size and shape of Buckinghamshire Council. It is seeking opinions currently on the appropriate number of Councillors. Read More...
Thursday, October 7th, 2021
We encourage all residents of Chiltern and South Bucks to participate in the annual survey from the Safer Bucks Partnership. Responses will be used also to inform choices of Neighbourhood Policing focus areas in coming months. Read More...
Wednesday, October 6th, 2021
Residents' chance to comment on the priorities set by Buckinghamshore Council in its proposed Domestic Abuse Strategy. Read More...