Introducing… Chief Insp Rachel Patterson, Deputy Commander Chiltern & South Bucks (LPA)
Monday, June 14th, 2021
(From Neighbourhood Policing Alert)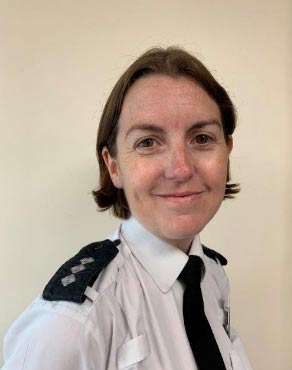 Last week Chief Inspector Rachel Patterson started in the role of Deputy Commander for the Chiltern & South Buckinghamshire Local Policing Area (LPA), taking over from Chief Inspector Scott Messenger who is moving into a regional policing role.
C/Insp Patterson brings with her twenty years of policing experience in in operational roles covering response, custody and neighbourhood policing. She joined Thames Valley Police in 2009 as a response Sergeant working in South Oxfordshire & Vale of the White Horse LPA after transferring from Cambridgeshire Constabulary, where she worked towards local priorities including the reduction of burglaries and speeding.
After being promoted to Inspector, C/Insp Patterson moved to the Oxford area where her work focused largely on community engagement and working closely with partner agencies, particularly to tackle the emerging issues of child exploitation and county drug lines.
Whilst in the police, she has also completed a graduate Diploma in Law and written an academic article on child drug running networks.
Most recently, C/Insp Patterson has been working in a strategic role to identify and recommend areas of improvement across different departments as the force continues to evolve with its ever-changing environment. For the last year, she has been on the senior management team for Thames Valley Police's response to the COVID-19 pandemic and ensuring the force smoothly adapts to the roadmap out of lockdown.
On her new appointment, C/Insp Patterson said: "I am really excited to start in my new role in Chiltern and South Buckinghamshire, knowing that I am joining a team of extremely dedicated and hardworking police officers and staff who are passionate about policing.
"I am committed to delivering an excellent service to the communities we serve, focusing on the preventing crime that is impacting on our neighbourhoods. Bringing offenders to justice and keeping victims are the centre of our investigations will continue to be the priorities for the policing team here in Chiltern and South Buckinghamshire. This is rightly what our local communities expect and together with Supt Clements and DCI Alexander, I will ensure officers and staff have all they need to meet and exceed these expectations.
"I am looking forward to working alongside partners, businesses and the public and look at how we can work together to keep Chiltern and South Buckinghamshire a safe place to live and work".
Other Recent Posts
Friday, August 7th, 2020
WHY it is important to report crime and concerns: we can do more to help focus Policing support and attention on our own locality, and even help in the fight against broader crime. Read More...
Tuesday, September 20th, 2022
Latest TVP Rural Crime update. making Countyr Watch members and residents aware of current crime trends to allow them to take action and develop working practices to reduce crime. Read More...
Friday, August 12th, 2022
The roll out of CSW groups under the new arrangements continues. An update on how concerned residents can get involved Read More...
Friday, July 15th, 2022
Our first hybrid meeting was, thankfully, a success. But meeting residents face to face was a pleasure and, we hope, very productive. Our immediate future is hybrid! Read More...
Wednesday, July 6th, 2022
Buckinghamshire Council is asking for residents' views on its proposal to extend an existing Public Spaces Protection Order (PSPO) covering areas of Amersham and Chesham. Read More...
Tuesday, July 5th, 2022
Excellent new tool from GetSafeOnline and Cifas, helping determine whether a website is likely to be legitimate or a scam. Read More...
Monday, June 27th, 2022
All residents are invited to participate in the Forum's survey of residents' concerns and the July 12th open meeting with representatives of Thames Valley Police. Read More...