Introducing… Chief Insp Rachel Patterson, Deputy Commander Chiltern & South Bucks (LPA)
Monday, June 14th, 2021
(From Neighbourhood Policing Alert)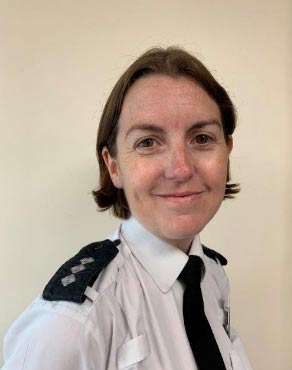 Last week Chief Inspector Rachel Patterson started in the role of Deputy Commander for the Chiltern & South Buckinghamshire Local Policing Area (LPA), taking over from Chief Inspector Scott Messenger who is moving into a regional policing role.
C/Insp Patterson brings with her twenty years of policing experience in in operational roles covering response, custody and neighbourhood policing. She joined Thames Valley Police in 2009 as a response Sergeant working in South Oxfordshire & Vale of the White Horse LPA after transferring from Cambridgeshire Constabulary, where she worked towards local priorities including the reduction of burglaries and speeding.
After being promoted to Inspector, C/Insp Patterson moved to the Oxford area where her work focused largely on community engagement and working closely with partner agencies, particularly to tackle the emerging issues of child exploitation and county drug lines.
Whilst in the police, she has also completed a graduate Diploma in Law and written an academic article on child drug running networks.
Most recently, C/Insp Patterson has been working in a strategic role to identify and recommend areas of improvement across different departments as the force continues to evolve with its ever-changing environment. For the last year, she has been on the senior management team for Thames Valley Police's response to the COVID-19 pandemic and ensuring the force smoothly adapts to the roadmap out of lockdown.
On her new appointment, C/Insp Patterson said: "I am really excited to start in my new role in Chiltern and South Buckinghamshire, knowing that I am joining a team of extremely dedicated and hardworking police officers and staff who are passionate about policing.
"I am committed to delivering an excellent service to the communities we serve, focusing on the preventing crime that is impacting on our neighbourhoods. Bringing offenders to justice and keeping victims are the centre of our investigations will continue to be the priorities for the policing team here in Chiltern and South Buckinghamshire. This is rightly what our local communities expect and together with Supt Clements and DCI Alexander, I will ensure officers and staff have all they need to meet and exceed these expectations.
"I am looking forward to working alongside partners, businesses and the public and look at how we can work together to keep Chiltern and South Buckinghamshire a safe place to live and work".
Other Recent Posts
Friday, August 7th, 2020
WHY it is important to report crime and concerns: we can do more to help focus Policing support and attention on our own locality, and even help in the fight against broader crime. Read More...
Monday, July 19th, 2021
Congratulations to PCSOs Jacqueline Day, Jen Shrager and Lesley Roche for their recent Commendations. Here are the inspiring stories behind their awards. Read More...
Tuesday, June 29th, 2021
Includes video, in which newly elected PCC Matthew Barber explains the five strands of his Police & Criminal Justice Plan. Point 1 is a focus on strong local (including Neighbourhood) policing. Read More...
Wednesday, June 23rd, 2021
Social media – web content – promotion – community boards. Just some of the creative and interesting opportunities for volunteers to help the work of the Forum. Could it be you? Read More...
Monday, June 14th, 2021
A guide to Nitrous Oxide abuse, published by Buckinghamshire Council Community Safety team in its latest Community Safety Newsletter. Read More...
Monday, June 7th, 2021
Packed edition of Buckinghamshire Community Safety newsletter. Anti-social behaviour, Scams, Nitrous Oxide, Neighbourhood Watch and much more! Read More...
Friday, May 28th, 2021
Rental e-scooters are being trialled in nearby towns, so why are privately-owned scooters on allowed on the roads? Guidance on the rules around e-Scooters Read More...