Introducing… Chiltern Crowdfunding
Friday, September 13th, 2019
(published 3rd September, updated 13th September)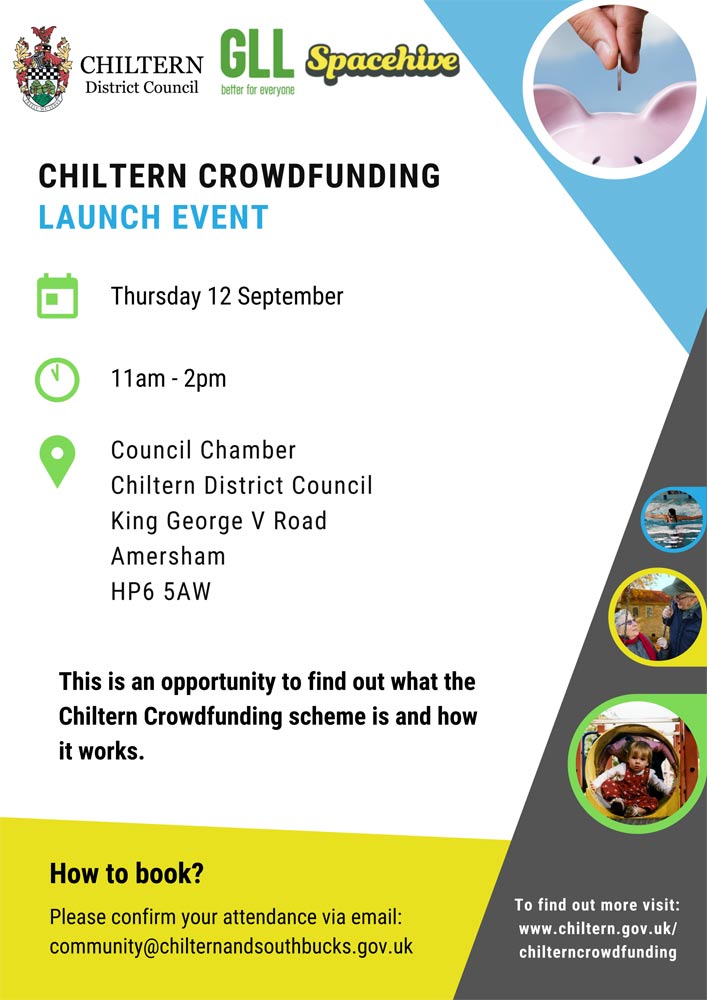 Chiltern District Council (CDC) has recently launched Chiltern Crowdfunding, a new funding scheme which will provide local residents and organisations an opportunity to raise funds towards a local community project. The scheme will enable CDC to provide additional funding via a pledge of up to 50% of the project costs up to £5,000 via the Spacehive platform.
Because of the move to a unitary Buckinghamshire Council, the scheme is time limited: projects will not be accepted after 1st January 2020; crowdfunding must be completed by 29th February 2020; and projects must be delivered by March 2021. Projects will be funded on a first come first served basis, and once the fund has run out no more pledges will be made.
Applicants can be any individual, voluntary organisation, charity or community-based organisation which operates on a not for profit basis, is open to the general public and is providing services or facilities for the benefit of residents in Chiltern District. All projects will have to evidence that they have at least 10 backers on the platform and have raised at least 15% via the crowdfunding process.
The scheme was launched formally on Thursday 12th September, with an event at Chiltern District Council's Council Chamber.
#ChilternCrowdfunding launched yesterday. Thank you to @GLL_UK for working with us to bring the crowdfunding scheme to Chiltern. We hope there will be lots of local community groups taking part and raising money for worthwhile schemes.https://t.co/negnW7B1P0@CSBCommunities pic.twitter.com/K3Zac3Tzut

— Chiltern Council (@ChilternCouncil) September 13, 2019
There are also crowdfunding workshops to inform potential applicants, at the following times and venues:
Wednesday 18th September 6.30pm-8.30pm – Chesham Town Hall
Thursday 26th September 6.30pm-8.30pm – Chiltern District Council, Amersham
Wednesday 2nd October 6.30pm-8.30pm – Chalfont St Peter Community Centre
Links
For more information about the scheme please visit: https://www.chiltern.gov.uk/chilterncrowdfunding
Chiltern Crowdfunding Guidance Notes
Other Recent Posts
Wednesday, August 9th, 2023
At least three organisations invite residents of Chiltern and South Bucks to participate in periodic or rolling surveys relating to crime and community safety. We explain how all three contribute to our overall safety. Read More...
Wednesday, June 28th, 2023
Survey inviting victim-survivors of rape and other sexual offences to take part in a survey about their experience with the police. The findings will help the police to improve their handling and process. Read More...
Monday, June 26th, 2023
The stars may be aligning as Thames Valley Police and Crime Commissioner, Thames Valley Police and the Safer Buckinghamshire Partnership all publish documents promising prioritisation of neighbourhood crime. Read More...
Tuesday, April 18th, 2023
Report, minutes and video recordinig of Forum meeting April 5th 2023. Focus choices made for Neighbourhood Policing teams: Burglary – Speeding – Drugs Read More...
Tuesday, April 18th, 2023
Recent proposals by UK Government, Thames Valley Police and Thames Valley Police & Crime Commissioner (PCC) all make promises of increased resources for Neighbourhood Policing and greater focus on neighbourhood crime. Read More...
Tuesday, April 11th, 2023
Proposals have been made for a major review of local policing within Thames Valley. Active participation will make the point that we care about local policing, and retaining and rebuilding a local presence. Please express your views. Read More...