Introducing… Citizens Advice Chiltern
Monday, February 25th, 2019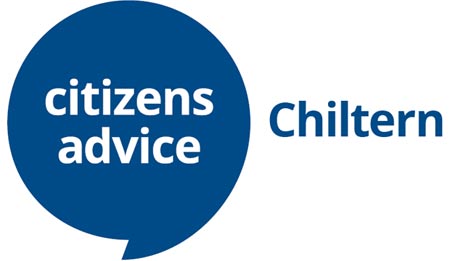 When people come to Citizens Advice Chiltern for help, they are looking for someone they can trust and who is on their side.
A local charity, Citizens Advice Chiltern helps over 5,000 people a year in the Chilterns community to tackle problems of debt and money management, high energy bills, benefits, housing, employment law and consumer affairs.
Trends show that Citizens Advice Chiltern is increasingly supporting women, younger people who are in debt and struggling to pay basic bills due to housing costs, people in low-quality and insecure employment whose employment rights aren't being upheld, people with health issues due to housing problems and people who are struggling to claim benefits support.
From April 2019, Citizens Advice Chiltern will provide additional support to people applying for Universal Credit, in line with the national roll-out of the benefits scheme.
Chiltern CAB has offices in Chesham and Amersham and outreach services in Burnham, Prestwood and Chalfont St Peter. Details of opening times or how to make appointments can be found here.
Demonstrating Impact
In its last financial year (2017/2018), Citizens Advice Chiltern delivered income gains of £687,742 to its clients, and debts written off of over £287,858.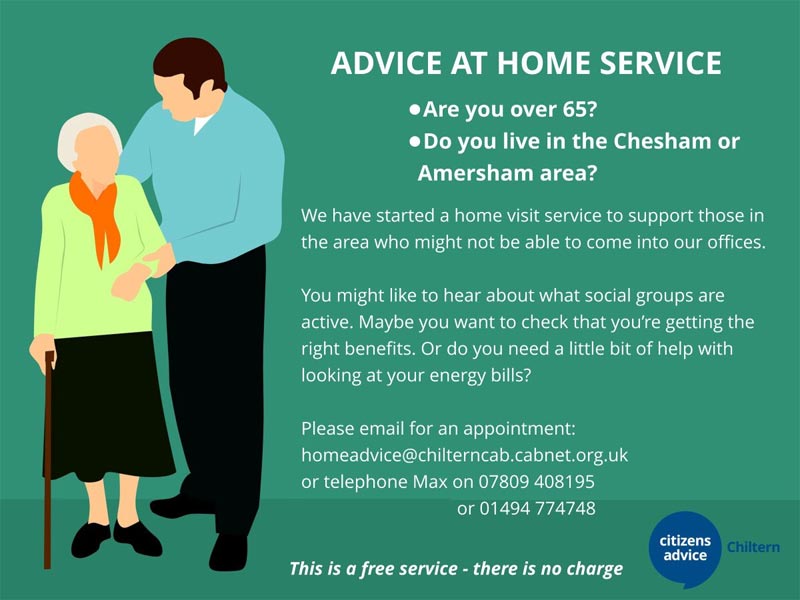 Recognising that older residents may have issues in accessing help, Citizens Advice Chiltern recently launched its Advice at Home Service. If you are aged over 65, living in the Chesham or Amersham areas, you can contact CAB Chiltern for an appointment at home. Launched in late-2018, by early February, the service had benefited 23 local over 65s with an enormous £49,000 in extra benefit entitlement, including arrears. Visit Chiltern CAB Advice at Home page.
We had a great time this week and have shown over 200 people to save money on their energy bills. If each of them save the average saving that equates to around £50,000 we have saved locals!! And just imagine if they help two friends do the same! #BESW19 pic.twitter.com/4KafVQjq5P

— Chiltern CAB (@CABChiltern) January 25, 2019
As part of Big Energy Saving Week in January, CAB's stand at Tesco in Amersham and Sainsbury in Chesham on successive mornings showed over 200 people how to save money on their energy bills – a potential aggregate saving estimated at around £50,000, part of which can feed back into our local economy! Visit CAB's Energy Management Tool
Why CAB Chiltern needs YOUR help
The Citizens' Advice Bureau performs an essential role in our society, but how well known is it that it receives no central government funding?
Emma Burgham, Citizens Advice Chiltern's Chief Officer, said "people often think we are a national government service but actually we're a local charity. We have 70 volunteers who, along with a staff team, work hard to support anyone who comes forward looking for help or advice. We're affiliated to the national Citizens Advice network but exist through local fundraising.
The Chiltern community is an incredibly generous one. With demand for our services increasing, there has never been more need for the Chiltern community to support its local Citizens Advice service."
DONATE or FUNDRAISE: There are a number of ways in which you can donate to CAB Chiltern, including through the Chiltern & South Bucks Lottery and Give as You Live. Donation Information available on CAB Chiltern website.
VOLUNTEER: Information sessions are held throughout the year for potential volunteers. Volunteering Information available on CAB Chiltern website.
Other Recent Posts
Monday, December 5th, 2022
Video recording of Burglary Event held by Thames Valley Police for South Buckinghamshire residents on 1st December 2022 Read More...
Monday, February 13th, 2023
Neighbourhood Watch is running a series of free Crime Prevention webinars throughout February. Places available on Psychology of Scams and Preventing Burglary with WIDEN. Read More...
Wednesday, February 8th, 2023
Residents wishing to be kept up to date about local crime issues can sign up to the newly launched Police and Crime Commissioner WhatsApp broadcast group. Read More...
Wednesday, February 1st, 2023
The Knife Angel spent a month at Arbour Park, Slough. We hope that its inspiring and thought provoking message has an abiding effect. Read More...
Friday, January 20th, 2023
Update on rural crime, including operations by the TVP Rural Crime team, crime trends, upcoming events, crime reduction advice and much more! Read More...
Friday, January 6th, 2023
Are you one of many residents who say we need more policing resource at a local/community level? If so, please take the opportunity to say so! Read More...
Friday, December 16th, 2022
We encourage residents to contribute their views to Thames Valley PCC Matthew Barber's consultation on crime and the policing budget for 2023/24. Read More...