Introducing… Street Associations
Tuesday, September 17th, 2019

A safer, stronger, happier Chiltern area is the overall goal of Chiltern Community Forum. To this end, it provides a platform for effective communication between Neighbourhood Policing and residents. But just as important is working with and promoting organisations with similar goals. We are especially happy to support the activities of The Street Association, which seeks to encourage a strong sense of community among residents, making their community stronger, friendlier and more supportive.
Street Associations – how they work
The Street Association works in two main ways:
by recruiting residents as Street Association Members, who can act as the eyes and ears on their street, learning to spot neighbours who may need a little bit of help, and point them in the direction of support.
By organising FREE workshops for residents to learn more about common challenges to the wellbeing of their communities, such as Scams, Dementia and 'hidden harm' and exploitation that can happen behind closed doors.
Street Associations also work alongside other compatible organisations, such as Trading Standards and Neighbourhood Watch.
Funded by Bucks County Council and Thames Valley Police and Crime Commissioner, Street Associations have been in operation for around two years, developing its model through six pilot schemes, in Hughenden, Aylesbury, Princes Risborough, Chesham and Burnham. Their success has encouraged numerous other neighbourhoods and volunteers to ask for information about developing their own scheme. Enquiries have also been received from outside the county.
Concrete examples of success include:
by mid-2019, more than 470 referrals to the County Council's preventative services, where Street Association Members have identified vulnerable people who need extra support, and who might have slipped under the radar.
Members have also reported to Trading Standards 48 cases of doorstep, mail and phone scams. In that time, it's estimated that Trading Standards officers have intervened to stop more than £60,000 being scammed from vulnerable residents.
Some Street Associations have grown to become strong communities and hold an array of activities including litter picks, street parties, and barbeques or offer lifts or a spot of gardening.
The Street Associations scheme was named as one of nine leading community projects at the prestigious Local Government Chronicle Awards in March 2019, presented by broadcaster Hugh Dennis at London's Grosvenor House.
How can YOU become involved?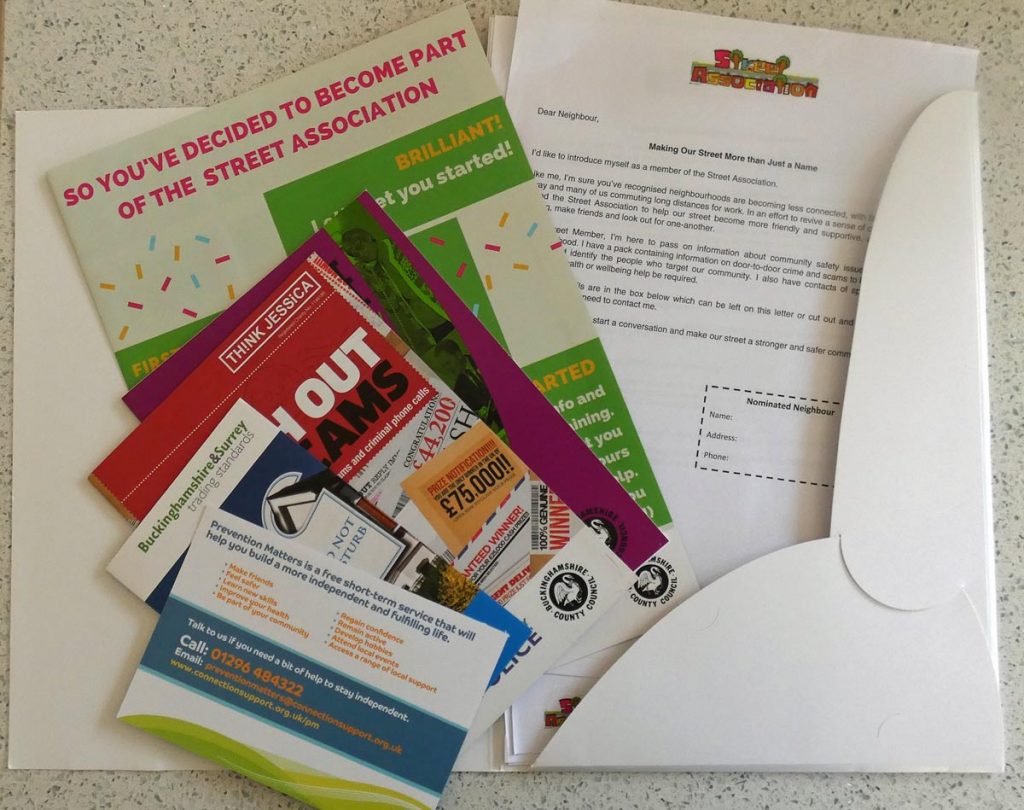 The guiding ethos of the Street Association is that a neighbourhood with a strong sense of itself as a community, is a safer and stronger community for everybody. Project Lead Helen Cavill will be delighted to hear from anyone who shares that ethos, and would like to participate.
Details of how to contact Street Association are on the Buckinghamshire County Council website. You can e-mail the Bucks CC Communities team for a free starter pack to start a Street Association in your road, or ask for a downloadable toolkit if you're a community group covering a wider area.
The starter pack comes with signposting materials: a directory of local organisations and the authorities they are most likely to get help from, tips on organising community get-togethers, plus guidance on trouble signs to watch for.
Training and awareness workshops for all residents
You don't need to be a Member of a Street Association to participate in any of the FREE workshops on Dementia, Scams Awareness and Hidden Harm. You can book a place by contacting communities@buckscc.gov.uk, or by calling 01296 382345.
The Timetable for the rest of 2019 is as follows:
'Behind Closed Doors' – 90 minutes
To help identify the types of exploitation and harm that can happen behind closed doors in your street, to help you understand what you can do to help: how to spot the signs of exploitation, including modern slavery, extremism, 'county lines' drugs, 'cuckooing', and abuse.
24 September 2019, 2:30pm – High Wycombe Library, 2nd Floor, 5 Eden Place, High Wycombe
29 October 2019, 2:30pm – Burnham Park Hall, Room 2, Windsor Lane, Burnham
14 November 2019, 2:30pm – Aylesbury Library, Large Meeting Room, Walton Street, Aylesbury
Dementia Awareness – 60 minutes
Dementia Friends workshop to help raise awareness of and understand dementia in your community.
9 October 2019, 2pm – Burnham Park Hall, Room 2, Windsor Road, Burnham
7 November 2019, 10:30am – The Harrow, Warrendene Road, Hughenden Valley
Scam Aware – 90 minutes
A joint Street Association and Trading Standards workshop to help identify types of scams and harm that can happen to you and your neighbours: how to spot the signs of doorstep, postal, cyber, and telephone fraud to keep you and your neighbours safe.
10 October 2019, 2pm – Naphill Village Hall, Main Road, Naphill, High Wycombe
11 November 2019, 10:30am – Chesham Library, Harding Room, Elgiva Lane, Chesham
Other Recent Posts
Friday, August 7th, 2020
WHY it is important to report crime and concerns: we can do more to help focus Policing support and attention on our own locality, and even help in the fight against broader crime. Read More...
Friday, August 12th, 2022
The roll out of CSW groups under the new arrangements continues. An update on how concerned residents can get involved Read More...
Friday, July 15th, 2022
Our first hybrid meeting was, thankfully, a success. But meeting residents face to face was a pleasure and, we hope, very productive. Our immediate future is hybrid! Read More...
Wednesday, July 6th, 2022
Buckinghamshire Council is asking for residents' views on its proposal to extend an existing Public Spaces Protection Order (PSPO) covering areas of Amersham and Chesham. Read More...
Tuesday, July 5th, 2022
Excellent new tool from GetSafeOnline and Cifas, helping determine whether a website is likely to be legitimate or a scam. Read More...
Monday, June 27th, 2022
All residents are invited to participate in the Forum's survey of residents' concerns and the July 12th open meeting with representatives of Thames Valley Police. Read More...
Friday, June 24th, 2022
Congratulations to Sergeant Dan Ryder, awarded community officer of the year at TVP's community Policing awards 2022. Read More...