Is your Defibrillator registered?
Wednesday, May 29th, 2019
At our May priority setting meeting, Chiltern Community Forum was alerted to an important issue relating to registration of defibrillators. A check on the smartphone app which provides a map showing locations of registered defibrillators revealed that a large proportion – perhaps 30%-50% – are not registered.
This is because organisations – charity, village hall, school, shop, company etc – have not registered their device with the ambulance service. This analysis has been confirmed by the administrator of South Central Ambulance Service.
Sadly this means that in the event of a person suffering a cardiac arrest and calling 999, the ambulance service pending arrival of the paramedics would not be able to direct the person assisting a patient to go and get the nearest defibrillator. Worse still, as most devices require a password code to access the box containing the device, if the ambulance service does not know about the device they will not be able to pass the code to the person calling them.
How to register your Defibrillator
We would encourage all organisations responsible for a defibrillator to check whether its device is registered; and if not, to contact defib@scas.nhs.uk to do so. Once your device is registered, the information will be available to all NHS call takers, as well as being put on the app.
Downloading the Smartphone App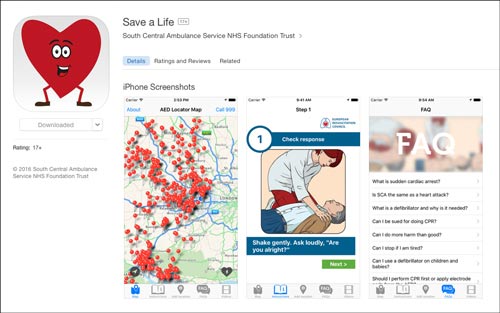 At present, the Android version of the app is not available to download, but it is hoped that it will soon be available again. The iPhone version can be downloaded through the Apple Store. Search for Save a Life – there are a number of similar apps, so look for the red heart logo.
You can click on the image below to download a PDF flyer from South Central Ambulance Service. This includes information about the smartphone app, links to more information on defibrillators, and contact information.
Click image below for PDF version of flyer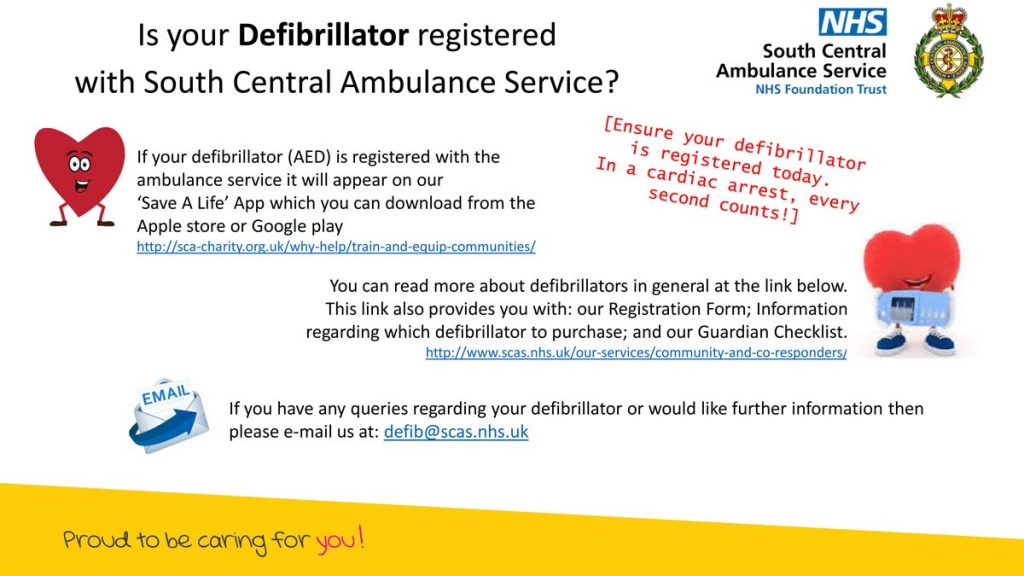 With thanks to Chris Brown for drawing our attention to this issue.
Other Recent Posts
Tuesday, April 18th, 2023
Report, minutes and video recordinig of Forum meeting April 5th 2023. Focus choices made for Neighbourhood Policing teams: Burglary – Speeding – Drugs Read More...
Tuesday, April 18th, 2023
Recent proposals by UK Government, Thames Valley Police and Thames Valley Police & Crime Commissioner (PCC) all make promises of increased resources for Neighbourhood Policing and greater focus on neighbourhood crime. Read More...
Tuesday, April 11th, 2023
Proposals have been made for a major review of local policing within Thames Valley. Active participation will make the point that we care about local policing, and retaining and rebuilding a local presence. Please express your views. Read More...
Wednesday, April 5th, 2023
Open letter and video sharing the priorities of new Chief Constable Jason Hogg; "supporting victims, fighting crime, and building trust and confidence amongst our communities." Read More...
Monday, February 13th, 2023
Neighbourhood Watch is running a series of free Crime Prevention webinars throughout February. Places available on Psychology of Scams and Preventing Burglary with WIDEN. Read More...
Wednesday, February 8th, 2023
Residents wishing to be kept up to date about local crime issues can sign up to the newly launched Police and Crime Commissioner WhatsApp broadcast group. Read More...