Is your Defibrillator registered?
Wednesday, May 29th, 2019
At our May priority setting meeting, Chiltern Community Forum was alerted to an important issue relating to registration of defibrillators. A check on the smartphone app which provides a map showing locations of registered defibrillators revealed that a large proportion – perhaps 30%-50% – are not registered.
This is because organisations – charity, village hall, school, shop, company etc – have not registered their device with the ambulance service. This analysis has been confirmed by the administrator of South Central Ambulance Service.
Sadly this means that in the event of a person suffering a cardiac arrest and calling 999, the ambulance service pending arrival of the paramedics would not be able to direct the person assisting a patient to go and get the nearest defibrillator. Worse still, as most devices require a password code to access the box containing the device, if the ambulance service does not know about the device they will not be able to pass the code to the person calling them.
How to register your Defibrillator
We would encourage all organisations responsible for a defibrillator to check whether its device is registered; and if not, to contact defib@scas.nhs.uk to do so. Once your device is registered, the information will be available to all NHS call takers, as well as being put on the app.
Downloading the Smartphone App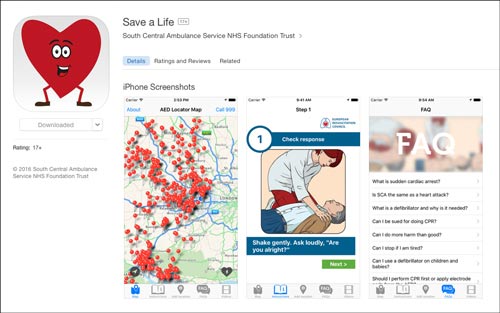 At present, the Android version of the app is not available to download, but it is hoped that it will soon be available again. The iPhone version can be downloaded through the Apple Store. Search for Save a Life – there are a number of similar apps, so look for the red heart logo.
You can click on the image below to download a PDF flyer from South Central Ambulance Service. This includes information about the smartphone app, links to more information on defibrillators, and contact information.
Click image below for PDF version of flyer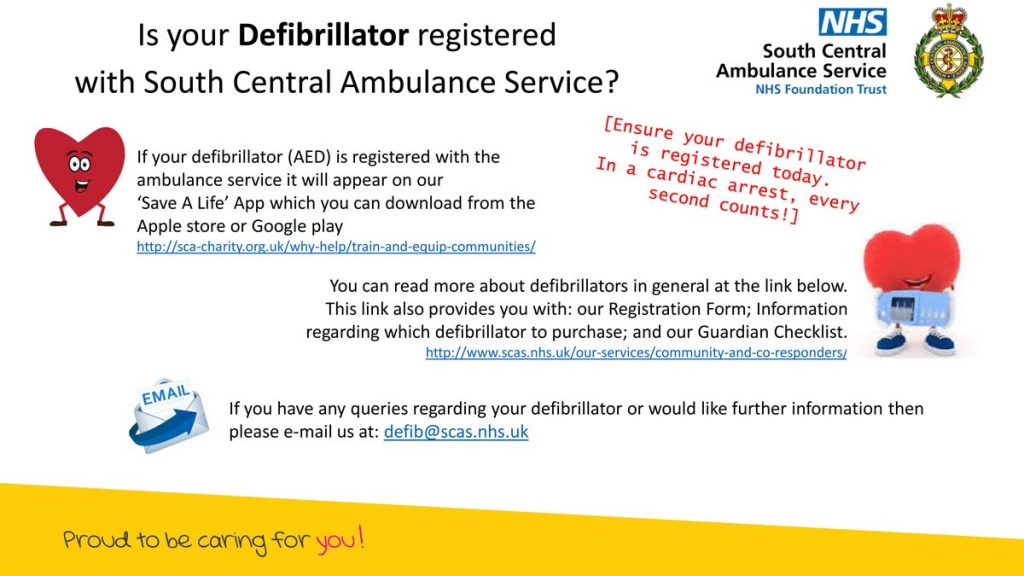 With thanks to Chris Brown for drawing our attention to this issue.
Other Recent Posts
Friday, August 7th, 2020
WHY it is important to report crime and concerns: we can do more to help focus Policing support and attention on our own locality, and even help in the fight against broader crime. Read More...
Friday, October 22nd, 2021
Horse riders are invited to attend a Rural Spotters Evening on TUESDAY 30th NOVEMBER 2021 at Amersham. Help act as the eyes and ears of the Police in rural areas and liaise with the local community. Read More...
Friday, October 22nd, 2021
Burglaries remain thankfully low compared to historic numbers, but we are approaching the danger time, with dark nights. An update and tips from PS Walsh, of the Neighbourhood Policing Team. Read More...
Friday, October 8th, 2021
Chiltern & South Bucks is the second cab off the rank for roll-out of the new-style Community Speedwatch schemes. This is excellent news, given the consistently voiced concerns over speeding in our communities. Read More...
Friday, October 8th, 2021
Local Government Boundary Commission for England consultation on future size and shape of Buckinghamshire Council. It is seeking opinions currently on the appropriate number of Councillors. Read More...
Thursday, October 7th, 2021
We encourage all residents of Chiltern and South Bucks to participate in the annual survey from the Safer Bucks Partnership. Responses will be used also to inform choices of Neighbourhood Policing focus areas in coming months. Read More...
Wednesday, October 6th, 2021
Residents' chance to comment on the priorities set by Buckinghamshore Council in its proposed Domestic Abuse Strategy. Read More...