Is your Defibrillator registered?
Wednesday, May 29th, 2019
At our May priority setting meeting, Chiltern Community Forum was alerted to an important issue relating to registration of defibrillators. A check on the smartphone app which provides a map showing locations of registered defibrillators revealed that a large proportion – perhaps 30%-50% – are not registered.
This is because organisations – charity, village hall, school, shop, company etc – have not registered their device with the ambulance service. This analysis has been confirmed by the administrator of South Central Ambulance Service.
Sadly this means that in the event of a person suffering a cardiac arrest and calling 999, the ambulance service pending arrival of the paramedics would not be able to direct the person assisting a patient to go and get the nearest defibrillator. Worse still, as most devices require a password code to access the box containing the device, if the ambulance service does not know about the device they will not be able to pass the code to the person calling them.
How to register your Defibrillator
We would encourage all organisations responsible for a defibrillator to check whether its device is registered; and if not, to contact defib@scas.nhs.uk to do so. Once your device is registered, the information will be available to all NHS call takers, as well as being put on the app.
Downloading the Smartphone App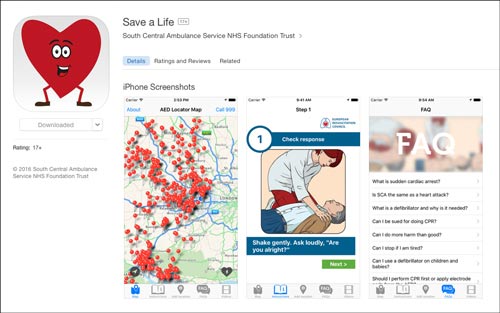 At present, the Android version of the app is not available to download, but it is hoped that it will soon be available again. The iPhone version can be downloaded through the Apple Store. Search for Save a Life – there are a number of similar apps, so look for the red heart logo.
You can click on the image below to download a PDF flyer from South Central Ambulance Service. This includes information about the smartphone app, links to more information on defibrillators, and contact information.
Click image below for PDF version of flyer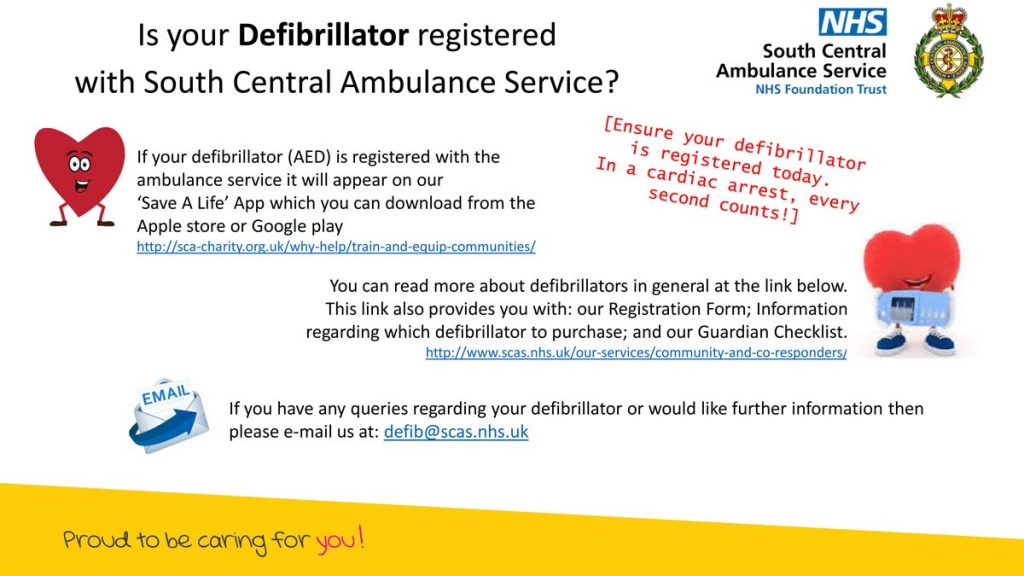 With thanks to Chris Brown for drawing our attention to this issue.
Other Recent Posts
Friday, August 7th, 2020
WHY it is important to report crime and concerns: we can do more to help focus Policing support and attention on our own locality, and even help in the fight against broader crime. Read More...
Monday, July 19th, 2021
Congratulations to PCSOs Jacqueline Day, Jen Shrager and Lesley Roche for their recent Commendations. Here are the inspiring stories behind their awards. Read More...
Tuesday, June 29th, 2021
Includes video, in which newly elected PCC Matthew Barber explains the five strands of his Police & Criminal Justice Plan. Point 1 is a focus on strong local (including Neighbourhood) policing. Read More...
Wednesday, June 23rd, 2021
Social media – web content – promotion – community boards. Just some of the creative and interesting opportunities for volunteers to help the work of the Forum. Could it be you? Read More...
Monday, June 14th, 2021
A guide to Nitrous Oxide abuse, published by Buckinghamshire Council Community Safety team in its latest Community Safety Newsletter. Read More...
Monday, June 14th, 2021
We welcome Chief Inspector Rachel Patterson in her new role as Deputy Commander, Chiltern & South Buckinghamshire Local Policing Area (LPA) Read More...
Monday, June 7th, 2021
Packed edition of Buckinghamshire Community Safety newsletter. Anti-social behaviour, Scams, Nitrous Oxide, Neighbourhood Watch and much more! Read More...