Is your Defibrillator registered?
Wednesday, May 29th, 2019
At our May priority setting meeting, Chiltern Community Forum was alerted to an important issue relating to registration of defibrillators. A check on the smartphone app which provides a map showing locations of registered defibrillators revealed that a large proportion – perhaps 30%-50% – are not registered.
This is because organisations – charity, village hall, school, shop, company etc – have not registered their device with the ambulance service. This analysis has been confirmed by the administrator of South Central Ambulance Service.
Sadly this means that in the event of a person suffering a cardiac arrest and calling 999, the ambulance service pending arrival of the paramedics would not be able to direct the person assisting a patient to go and get the nearest defibrillator. Worse still, as most devices require a password code to access the box containing the device, if the ambulance service does not know about the device they will not be able to pass the code to the person calling them.
How to register your Defibrillator
We would encourage all organisations responsible for a defibrillator to check whether its device is registered; and if not, to contact defib@scas.nhs.uk to do so. Once your device is registered, the information will be available to all NHS call takers, as well as being put on the app.
Downloading the Smartphone App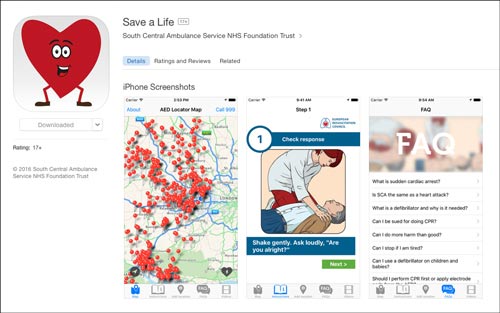 At present, the Android version of the app is not available to download, but it is hoped that it will soon be available again. The iPhone version can be downloaded through the Apple Store. Search for Save a Life – there are a number of similar apps, so look for the red heart logo.
You can click on the image below to download a PDF flyer from South Central Ambulance Service. This includes information about the smartphone app, links to more information on defibrillators, and contact information.
Click image below for PDF version of flyer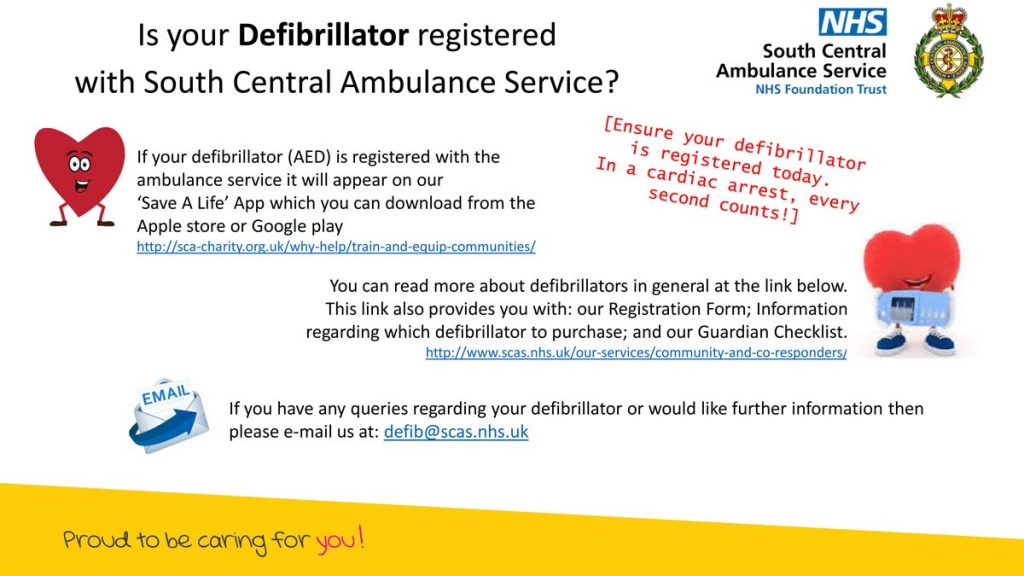 With thanks to Chris Brown for drawing our attention to this issue.
Other Recent Posts
Friday, August 7th, 2020
WHY it is important to report crime and concerns: we can do more to help focus Policing support and attention on our own locality, and even help in the fight against broader crime. Read More...
Thursday, May 12th, 2022
Latest TVP Rural Crime update, reporting on activity to thwart rural crime. Includes details of Twitter account and WhatsApp groups for Chiltern and South Bucks. Read More...
Saturday, April 2nd, 2022
Survey for victims, and professionals who work with victims, on design of future support services in the Thames Valley. Read More...
Monday, March 14th, 2022
Road Safety Summit announced by PCC is to be welcomed if it helps address behaviours which make speeding and anti social driving leading concerns of local residents. Read More...
Friday, March 11th, 2022
A comprehensive round-up of community safety news and initiatives, the latest Buckinghamshire Council Community Safety Newsletter is now available. Read More...
Wednesday, March 2nd, 2022
Information on joining the NEW Chiltern Rural Community WhatsApp Group. Administered by the public, with direct engagement with the Neighbourhood Policing team, it will be a tool to share information with community and Police Read More...
Tuesday, March 1st, 2022
Following a change in legislation, Buckinghamshire Council plans to apply for powers to monitor and enforce moving traffic contraventions. It is seeking residents' opinions in a consultation closing on 4th April. Read More...