Is your Defibrillator registered?
Wednesday, May 29th, 2019
At our May priority setting meeting, Chiltern Community Forum was alerted to an important issue relating to registration of defibrillators. A check on the smartphone app which provides a map showing locations of registered defibrillators revealed that a large proportion – perhaps 30%-50% – are not registered.
This is because organisations – charity, village hall, school, shop, company etc – have not registered their device with the ambulance service. This analysis has been confirmed by the administrator of South Central Ambulance Service.
Sadly this means that in the event of a person suffering a cardiac arrest and calling 999, the ambulance service pending arrival of the paramedics would not be able to direct the person assisting a patient to go and get the nearest defibrillator. Worse still, as most devices require a password code to access the box containing the device, if the ambulance service does not know about the device they will not be able to pass the code to the person calling them.
How to register your Defibrillator
We would encourage all organisations responsible for a defibrillator to check whether its device is registered; and if not, to contact defib@scas.nhs.uk to do so. Once your device is registered, the information will be available to all NHS call takers, as well as being put on the app.
Downloading the Smartphone App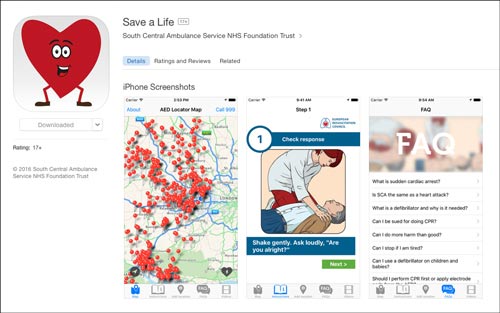 At present, the Android version of the app is not available to download, but it is hoped that it will soon be available again. The iPhone version can be downloaded through the Apple Store. Search for Save a Life – there are a number of similar apps, so look for the red heart logo.
You can click on the image below to download a PDF flyer from South Central Ambulance Service. This includes information about the smartphone app, links to more information on defibrillators, and contact information.
Click image below for PDF version of flyer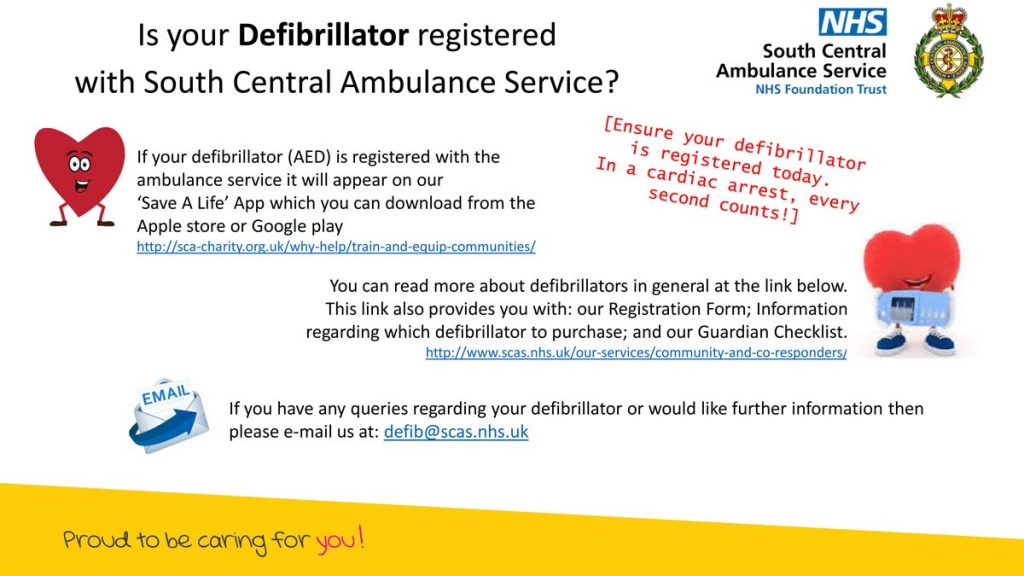 With thanks to Chris Brown for drawing our attention to this issue.
Other Recent Posts
Monday, November 27th, 2023
The Police and Crime Commissioner invites residents to participate in a consultation on Police funding for 2024-2025 Read More...
Thursday, November 9th, 2023
Thames Valley Police and Crime Commissioner addresses a well attended meeting on Community Speedwatch at Great Missenden Memorial Hall. Read More...
Tuesday, October 24th, 2023
A 'Let's Talk About Speeding' meeting has been arranged for residents of the Missendens Community Board area on the evening of Tuesday 7th November, at the Great Missenden Memorial Hall. Read More...
Monday, October 23rd, 2023
Annual Community Safety survey from Buckinghamshire Council, informing strategy to reduce crime and anti-social behaviour in Buckinghamshire. Read More...
Sunday, October 22nd, 2023
Do we want a proactive, problem solving approach from our Police, or a service focussed simply on implementing a legal code? The 'right' answer is "the former", but requires trust and confidence of communities in their Police service Read More...
Thursday, October 19th, 2023
Shoplifting is becoming a growing scourge. It's misguided to consider it a 'victimless crime', absorbed by businesses and causing limited real harm. Read More...