June 2021 Police & Crime Commissioner Newsletter
Tuesday, June 29th, 2021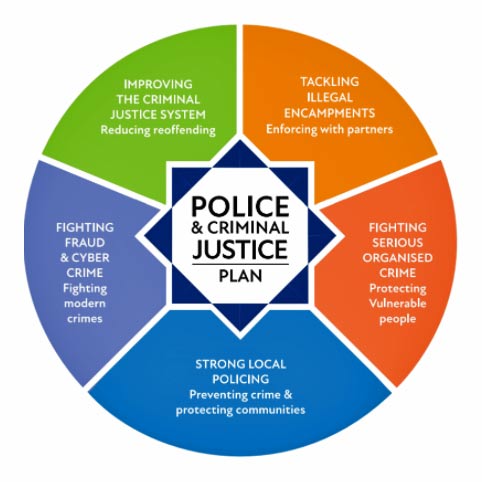 In his initial newsletter as Police and Crime Commissioner, Matthew Barber spells out the five strands of his Police & Criminal Justice Plan, which will form the main priorities of his tenure.
Mr Barber states his commitment "to be the voice of the public for policing in our counties", and with "Strong Local Policing – preventing crime & protecting communities" as one of his five strands, we hope that the next four years will see some of the fruits of this.
In the video Mr Barber explains the five key strands to the Police & Criminal Justice Plan.
Other stories in the newsletter:
A further £1.16m in funding awarded to the Thames Valley Violence Reduction Unit (VRU) to continue with its work coordinating the partnership response to serious violence across the Thames Valley, with a focus on tackling the root causes of violence.
Support for the 'Protect Your Pooch' campaign.
Schools to receive new drugs awareness materials.
Online training for the Victims First Connect programme taking place on 20th July.
Recruiting for Independent Custody Visitors (ICV).
A round-up of recent media coverage.
Four officers and staff from Thames Valley Police named in Queen's Birthday Honours list.
Successful bid for £401,950 of Home Office funding to help make communities safer in Reading.
Project Vigilant launch: local patrols to identify people displaying signs of predatory behaviour in Reading, Maidenhead & Windsor
Other Recent Posts
Friday, August 7th, 2020
WHY it is important to report crime and concerns: we can do more to help focus Policing support and attention on our own locality, and even help in the fight against broader crime. Read More...
Thursday, May 12th, 2022
Latest TVP Rural Crime update, reporting on activity to thwart rural crime. Includes details of Twitter account and WhatsApp groups for Chiltern and South Bucks. Read More...
Saturday, April 2nd, 2022
Survey for victims, and professionals who work with victims, on design of future support services in the Thames Valley. Read More...
Monday, March 14th, 2022
Road Safety Summit announced by PCC is to be welcomed if it helps address behaviours which make speeding and anti social driving leading concerns of local residents. Read More...
Friday, March 11th, 2022
A comprehensive round-up of community safety news and initiatives, the latest Buckinghamshire Council Community Safety Newsletter is now available. Read More...
Wednesday, March 2nd, 2022
Information on joining the NEW Chiltern Rural Community WhatsApp Group. Administered by the public, with direct engagement with the Neighbourhood Policing team, it will be a tool to share information with community and Police Read More...
Tuesday, March 1st, 2022
Following a change in legislation, Buckinghamshire Council plans to apply for powers to monitor and enforce moving traffic contraventions. It is seeking residents' opinions in a consultation closing on 4th April. Read More...