June 2021 Police & Crime Commissioner Newsletter
Tuesday, June 29th, 2021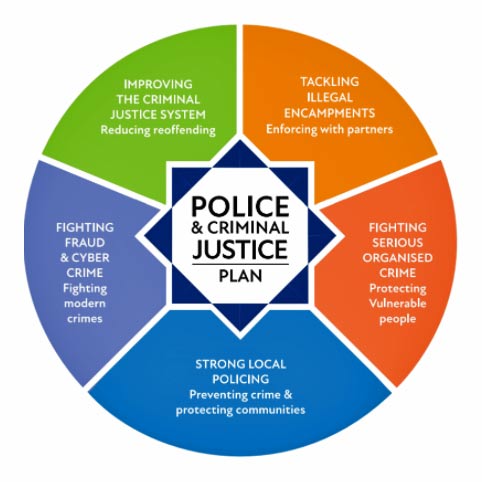 In his initial newsletter as Police and Crime Commissioner, Matthew Barber spells out the five strands of his Police & Criminal Justice Plan, which will form the main priorities of his tenure.
Mr Barber states his commitment "to be the voice of the public for policing in our counties", and with "Strong Local Policing – preventing crime & protecting communities" as one of his five strands, we hope that the next four years will see some of the fruits of this.
In the video Mr Barber explains the five key strands to the Police & Criminal Justice Plan.
Other stories in the newsletter:
A further £1.16m in funding awarded to the Thames Valley Violence Reduction Unit (VRU) to continue with its work coordinating the partnership response to serious violence across the Thames Valley, with a focus on tackling the root causes of violence.
Support for the 'Protect Your Pooch' campaign.
Schools to receive new drugs awareness materials.
Online training for the Victims First Connect programme taking place on 20th July.
Recruiting for Independent Custody Visitors (ICV).
A round-up of recent media coverage.
Four officers and staff from Thames Valley Police named in Queen's Birthday Honours list.
Successful bid for £401,950 of Home Office funding to help make communities safer in Reading.
Project Vigilant launch: local patrols to identify people displaying signs of predatory behaviour in Reading, Maidenhead & Windsor
Other Recent Posts
Tuesday, April 18th, 2023
Report, minutes and video recordinig of Forum meeting April 5th 2023. Focus choices made for Neighbourhood Policing teams: Burglary – Speeding – Drugs Read More...
Tuesday, April 18th, 2023
Recent proposals by UK Government, Thames Valley Police and Thames Valley Police & Crime Commissioner (PCC) all make promises of increased resources for Neighbourhood Policing and greater focus on neighbourhood crime. Read More...
Tuesday, April 11th, 2023
Proposals have been made for a major review of local policing within Thames Valley. Active participation will make the point that we care about local policing, and retaining and rebuilding a local presence. Please express your views. Read More...
Wednesday, April 5th, 2023
Open letter and video sharing the priorities of new Chief Constable Jason Hogg; "supporting victims, fighting crime, and building trust and confidence amongst our communities." Read More...
Monday, February 13th, 2023
Neighbourhood Watch is running a series of free Crime Prevention webinars throughout February. Places available on Psychology of Scams and Preventing Burglary with WIDEN. Read More...
Wednesday, February 8th, 2023
Residents wishing to be kept up to date about local crime issues can sign up to the newly launched Police and Crime Commissioner WhatsApp broadcast group. Read More...