Knife Crime Awareness Week 11-17 March
Friday, March 8th, 2019
Thames Valley Police, along with other forces, will be taking part in a variety of activities between Monday 11th March and Sunday 17th March, designed to challenge and reduce the threat of knife crime.
These include: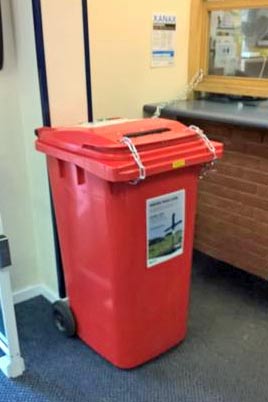 Working with professional partners including local schools, colleges and Trading Standards;
Knife surrender bin at Amersham Police Station;
Information and advice being posted on social media; look out for #OpSceptre hashtag
Enforcement patrols
Any type of knife or bladed article can be safely deposited in the red surrender bin at Amersham police station (behind Chiltern District Council offices). This is the ideal time to dispose of these items that you are not sure what to do with.
If you are worried about knife crime in your area or if you want to speak to anyone about a specific concern then please do get in touch, please call 101 or alternatively please ring CrimeStoppers on 0800 555 111
Other Recent Posts
Tuesday, April 18th, 2023
Report, minutes and video recordinig of Forum meeting April 5th 2023. Focus choices made for Neighbourhood Policing teams: Burglary – Speeding – Drugs Read More...
Tuesday, April 18th, 2023
Recent proposals by UK Government, Thames Valley Police and Thames Valley Police & Crime Commissioner (PCC) all make promises of increased resources for Neighbourhood Policing and greater focus on neighbourhood crime. Read More...
Tuesday, April 11th, 2023
Proposals have been made for a major review of local policing within Thames Valley. Active participation will make the point that we care about local policing, and retaining and rebuilding a local presence. Please express your views. Read More...
Wednesday, April 5th, 2023
Open letter and video sharing the priorities of new Chief Constable Jason Hogg; "supporting victims, fighting crime, and building trust and confidence amongst our communities." Read More...
Monday, February 13th, 2023
Neighbourhood Watch is running a series of free Crime Prevention webinars throughout February. Places available on Psychology of Scams and Preventing Burglary with WIDEN. Read More...
Wednesday, February 8th, 2023
Residents wishing to be kept up to date about local crime issues can sign up to the newly launched Police and Crime Commissioner WhatsApp broadcast group. Read More...