Knife Crime Awareness Week 11-17 March
Friday, March 8th, 2019
Thames Valley Police, along with other forces, will be taking part in a variety of activities between Monday 11th March and Sunday 17th March, designed to challenge and reduce the threat of knife crime.
These include: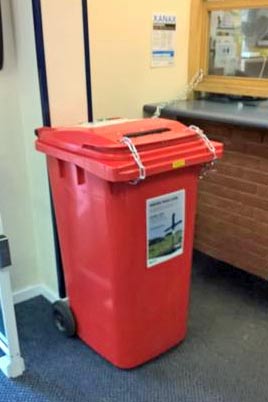 Working with professional partners including local schools, colleges and Trading Standards;
Knife surrender bin at Amersham Police Station;
Information and advice being posted on social media; look out for #OpSceptre hashtag
Enforcement patrols
Any type of knife or bladed article can be safely deposited in the red surrender bin at Amersham police station (behind Chiltern District Council offices). This is the ideal time to dispose of these items that you are not sure what to do with.
If you are worried about knife crime in your area or if you want to speak to anyone about a specific concern then please do get in touch, please call 101 or alternatively please ring CrimeStoppers on 0800 555 111
Other Recent Posts
Monday, December 5th, 2022
Video recording of Burglary Event held by Thames Valley Police for South Buckinghamshire residents on 1st December 2022 Read More...
Wednesday, February 1st, 2023
The Knife Angel spent a month at Arbour Park, Slough. We hope that its inspiring and thought provoking message has an abiding effect. Read More...
Friday, January 20th, 2023
Update on rural crime, including operations by the TVP Rural Crime team, crime trends, upcoming events, crime reduction advice and much more! Read More...
Friday, January 6th, 2023
Are you one of many residents who say we need more policing resource at a local/community level? If so, please take the opportunity to say so! Read More...
Friday, December 16th, 2022
We encourage residents to contribute their views to Thames Valley PCC Matthew Barber's consultation on crime and the policing budget for 2023/24. Read More...
Wednesday, November 30th, 2022
Neighbourhood Police INspector and colleagues will speak to residents about concerns of an increase in burglaries via a Microsoft Teams meeting, 7pm Thursday 1st December. Read More...