Knife Crime Awareness Week 11-17 March
Friday, March 8th, 2019
Thames Valley Police, along with other forces, will be taking part in a variety of activities between Monday 11th March and Sunday 17th March, designed to challenge and reduce the threat of knife crime.
These include: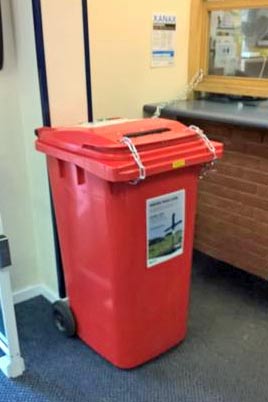 Working with professional partners including local schools, colleges and Trading Standards;
Knife surrender bin at Amersham Police Station;
Information and advice being posted on social media; look out for #OpSceptre hashtag
Enforcement patrols
Any type of knife or bladed article can be safely deposited in the red surrender bin at Amersham police station (behind Chiltern District Council offices). This is the ideal time to dispose of these items that you are not sure what to do with.
If you are worried about knife crime in your area or if you want to speak to anyone about a specific concern then please do get in touch, please call 101 or alternatively please ring CrimeStoppers on 0800 555 111
Other Recent Posts
Friday, August 7th, 2020
WHY it is important to report crime and concerns: we can do more to help focus Policing support and attention on our own locality, and even help in the fight against broader crime. Read More...
Monday, June 14th, 2021
A guide to Nitrous Oxide abuse, published by Buckinghamshire Council Community Safety team in its latest Community Safety Newsletter. Read More...
Monday, June 14th, 2021
We welcome Chief Inspector Rachel Patterson in her new role as Deputy Commander, Chiltern & South Buckinghamshire Local Policing Area (LPA) Read More...
Monday, June 7th, 2021
Packed edition of Buckinghamshire Community Safety newsletter. Anti-social behaviour, Scams, Nitrous Oxide, Neighbourhood Watch and much more! Read More...
Friday, May 28th, 2021
Rental e-scooters are being trialled in nearby towns, so why are privately-owned scooters on allowed on the roads? Guidance on the rules around e-Scooters Read More...
Saturday, May 22nd, 2021
Advice on preventing catalytic converter theft, and a video showing removal of a catalytic conveter in less than a minute. Read More...
Friday, April 30th, 2021
Following many media and social media reports of dog thefts, we publish advice on keeping your pets safe from theft. Read More...