Listen to Boycie: fight Fly Tipping
Monday, September 28th, 2020
Clearwaste is launching a TV ad campaign today, featuring John Challis ('Boycie' in Only Fools and Horses). Launched in mid-2019 by a businessman fed up with fly tipping in his locality, this is a web site and app which allows users, at no cost, to search quotes from registered waste carriers. It also enables reporting of fly tipping, which is then reported directly to the council or registered land owner. It is therefore a very useful tool, in addition to those available through Buckinghamshire Council and the Environment Agency.
Our television ad goes live today 😀

Please Follow us and Retweet to help us stop fly-tippers and always report #flytipping on our free app, wherever you are in the UK pic.twitter.com/SSBKRNiqzf

— We Hate Fly-Tipping (@ClearWasteApp) September 28, 2020
Litter and Fly Tipping: a leading Concern for Chiltern Residents
Litter is one of the 22 priorities on which residents are asked to vote in our Quarterly Surveys.
The Forum's surveys seek to identify areas of concern. These are used to enable decisions to be taken on Neighbourhood Policing priorities, and also to identify and provide information on how individuals and the community can play their part in helping improve matters.
There's no doubt that residents view litter as a matter for concern: it appears regularly in the top 5 concerns. Comments express great frustration at fly tipping. With depressing frequency we see or hear of piles of rubbish being dumped, obstructing roads, creating environmental damage, and hazards for wildlife as well as people.
Fly Tipping – how we can fight back
Fly tipping is a crime, punishable by a fine of up to £50,000 or 12 months imprisonment if convicted in a Magistrates' Court. The offence can attract an unlimited fine and up to 5 years imprisonment if convicted in a Crown Court. (Update: we are informed by BucksFlyTipping that unlimited fines are also now possible at Magistrates' Courts – depending on the circumstances of the offence, the offender's ability to pay and the guidance of the Sentencing Council.)
Buckinghamshire residents can report instances of fly tipping to Buckinghamshire Council through 'Fix My Street': https://www.fixmystreet.buckscc.gov.uk/
It is also incumbent on residents to ensure that we use REGISTERED waste carriers. It's not just in order to do the right thing – householders have a duty of care to check that anyone removing their waste is a registered waste carrier. If our rubbish ends up being fly tipped, we can end up liable to prosecution.
Checking if a Waste Carrier is registered
You should ask whether your waste carrier is registered. To check their registration, you can search the Environment Agency's Public Register of Waste Carriers or phone their authorisations team on 03708 506 506.
Bucks Fly Tipping recommends paying online and not by cash (or value of scrap metal removed etc) which makes the waste carrier much more traceable. We are advised also to record the registration number of any vehicle removing waste – this should also mean that if it is later dumped illegally, they should face prosecution and not you.
The Clearwaste website and app does not provide a list of registered waste carriers – it operates as a free price comparison tool allowing users to search quotes from registered waste carriers. It also enables the reporting of fly tipping, which is then reported directly to the council or registered land owner.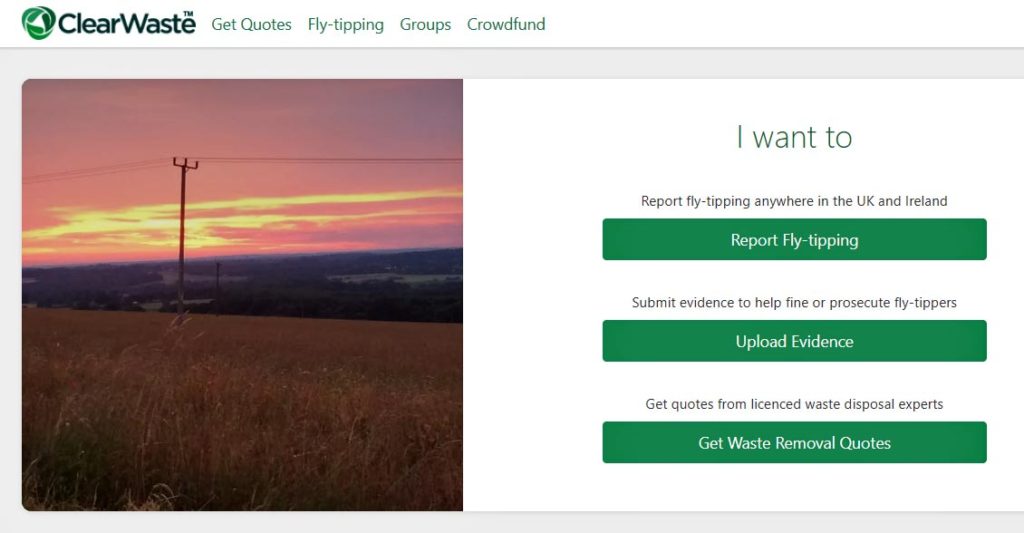 Other Recent Posts
Monday, December 5th, 2022
Video recording of Burglary Event held by Thames Valley Police for South Buckinghamshire residents on 1st December 2022 Read More...
Wednesday, November 30th, 2022
Neighbourhood Police INspector and colleagues will speak to residents about concerns of an increase in burglaries via a Microsoft Teams meeting, 7pm Thursday 1st December. Read More...
Tuesday, November 22nd, 2022
A short explainer video by Thames Valley Police on Stop and Search. Explains the process and the rights of anyone involved. Read More...
Sunday, October 16th, 2022
The Safer Buckinghamshire Board's annual Community Safety survey is seeking residents' views and is open until October 30th. Read More...
Thursday, October 13th, 2022
All residents are invited to participate in the Forum's survey of residents' concerns. These will inform discussion at the subsequent meeting of residents and Neighbourhood Police, and the setting of Neighbourhood Policing focus areas. Read More...
Tuesday, September 20th, 2022
Latest TVP Rural Crime update. making Country Watch members and residents aware of current crime trends to allow them to take action and develop working practices to reduce crime. Read More...