Meeting with Thames Valley Police & Crime Commissioner
Tuesday, January 22nd, 2019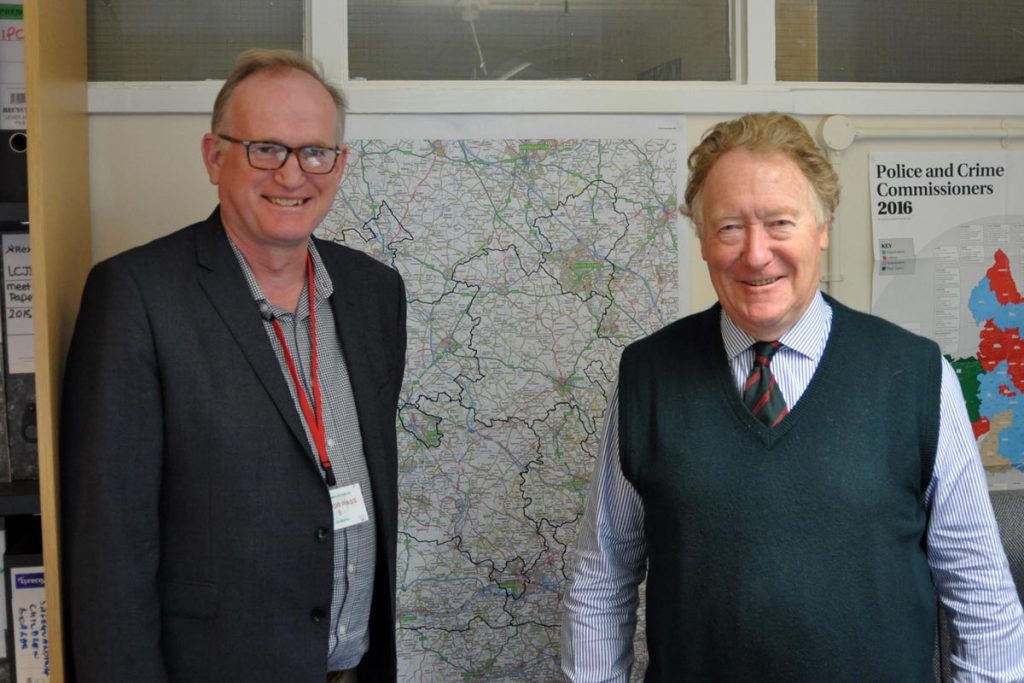 Chiltern Community Forum Chairman Andy Garnett and Robert Gibson recently met Thames Valley Police & Crime Commissioner (PCC) Anthony Stansfeld at his office at Thames Valley Police Headquarters at Kidlington. A useful discussion was had on how the Forum can complement, at a grass roots neighbourhood level, the work of the PCC and senior police authorities.
Following the meeting, Anthony Stansfeld encouraged the Chiltern Community to support and participate in the Forum:
A police force that enjoys the support and trust of the public requires transparent, accountable neighbourhood policing.

As Police and Crime Commissioner, a major part of my role is to be the voice of the community and hold the police to account. By ensuring communication between police and public, and working in partnership across a range of agencies at local and national level, I seek to ensure a unified approach to preventing and reducing crime.

It's heartening, therefore, to meet Chiltern Community Forum, and learn of its very similar approach at a grass roots level.

Chiltern Community Forum works in conjunction with Chiltern District Council's Community Safety Partnership and Thames Valley Police. In the first place, it exists to discuss and set neighbourhood policing priorities for the Chiltern district, comprising Chesham, Amersham, the Chalfonts and the Missendens.

Quarterly public meetings are held to set local policing priorities. Beforehand, residents are invited to express their views and preferences through an online survey. A separate survey is held for young people. These help inform decisions on priorities taken at the meeting. The meeting is also an opportunity to meet members of the neighbourhood policing team, and for informed discussion on policing and crime.

In addition, the Forum seeks to promote community engagement, and encourage involvement by individuals, businesses and other stakeholders within the area. It asks the question: how can we as citizens help make our community a better and safer place?

Through its website (www.chilterncommunityforum.org) and active Twitter presence (@ChilternForum), Chiltern Community Forum seeks to spread the word on matters important to individual and community safety, 'join the dots' between needs and community support organisations, and point visitors in the right direction to report or request assistance for crime-related and other concerns.

Budget cuts since 2010/11 exceed £100 millions per year within Thames Valley Police. Initiatives such as Chiltern Community Forum are therefore not just welcome, but necessary to complement the work of neighbourhood policing teams.

I encourage all Chiltern residents and businesses to participate in the quarterly survey, attend meetings and visit the website and Twitter page.
📽️ This @AssocPCCs video provides an overview of the role of the Police and Crime Commissioner (PCC) in Thames Valley:

🗳️ Your PCC is elected by you
⚖️ They help improve the local criminal justice system
👮 They appoint @ThamesVP Chief Constable#PCCsMakingADifference pic.twitter.com/dgPU7kSH5i

— Thames Valley PCC (@TV_PCC) August 11, 2020
Other Recent Posts
Monday, December 5th, 2022
Video recording of Burglary Event held by Thames Valley Police for South Buckinghamshire residents on 1st December 2022 Read More...
Wednesday, February 1st, 2023
The Knife Angel spent a month at Arbour Park, Slough. We hope that its inspiring and thought provoking message has an abiding effect. Read More...
Friday, January 20th, 2023
Update on rural crime, including operations by the TVP Rural Crime team, crime trends, upcoming events, crime reduction advice and much more! Read More...
Friday, January 6th, 2023
Are you one of many residents who say we need more policing resource at a local/community level? If so, please take the opportunity to say so! Read More...
Friday, December 16th, 2022
We encourage residents to contribute their views to Thames Valley PCC Matthew Barber's consultation on crime and the policing budget for 2023/24. Read More...
Wednesday, November 30th, 2022
Neighbourhood Police INspector and colleagues will speak to residents about concerns of an increase in burglaries via a Microsoft Teams meeting, 7pm Thursday 1st December. Read More...