New Forum Survey and Open Meeting
Monday, June 27th, 2022
All residents are invited to participate in the Forum's survey of residents' concerns and the subsequent open meeting with representatives of Thames Valley Police. New Chiltern and South Bucks Policing Issues Forum cycle of residents' survey – public meeting with Thames Valley Police – setting of Neighbourhood Policing focus areas is under way.
The brief survey is available at www.csb-forum.org/june22-survey/.
The survey's results help inform discussion at the meeting of residents and representatives of TVP South Buckinghamshire, and the setting of focus areas for Neighbourhood Policing teams. These currently stand at 'Serious Acquisitive Crime', 'Speeding' and 'Anti Social Behaviour'.
The updated focus areas, set by the 7 Chairs of Community Boards within the area, form part of officers' patrol and reporting schedules. Comments from the survey are also passed on to the area Sergeants for action. This is a real opportunity to help shape the work of your Neighbourhood Policing Team.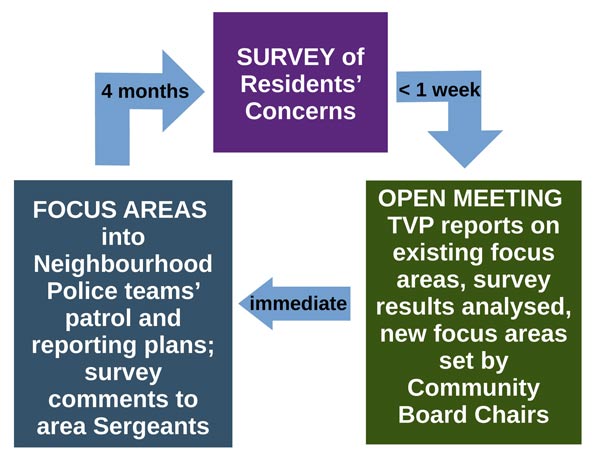 The open meeting will be held on Tuesday 12th July. Venue: The Packhorse Room, The Memorial Centre, 8 East Common Gerrards Cross Bucks SL9 7AD, commencing at 6.30pm. ALL are welcome. Expect a frank and informative discussion regarding concerns and policing matters. Those who prefer to continue to attend via Zoom can request a link via the survey or by e-mailing contact@csb-forum.org.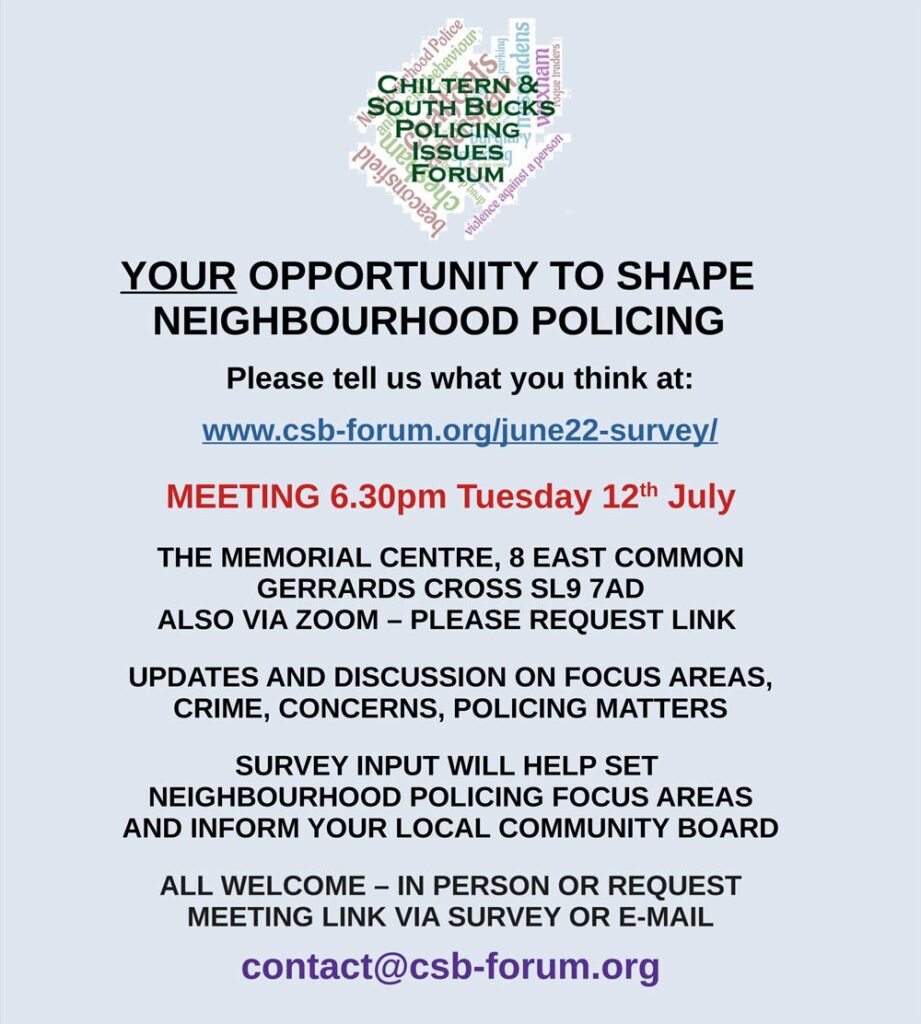 Other Recent Posts
Wednesday, August 9th, 2023
At least three organisations invite residents of Chiltern and South Bucks to participate in periodic or rolling surveys relating to crime and community safety. We explain how all three contribute to our overall safety. Read More...
Wednesday, June 28th, 2023
Survey inviting victim-survivors of rape and other sexual offences to take part in a survey about their experience with the police. The findings will help the police to improve their handling and process. Read More...
Monday, June 26th, 2023
The stars may be aligning as Thames Valley Police and Crime Commissioner, Thames Valley Police and the Safer Buckinghamshire Partnership all publish documents promising prioritisation of neighbourhood crime. Read More...
Tuesday, April 18th, 2023
Report, minutes and video recordinig of Forum meeting April 5th 2023. Focus choices made for Neighbourhood Policing teams: Burglary – Speeding – Drugs Read More...
Tuesday, April 18th, 2023
Recent proposals by UK Government, Thames Valley Police and Thames Valley Police & Crime Commissioner (PCC) all make promises of increased resources for Neighbourhood Policing and greater focus on neighbourhood crime. Read More...
Tuesday, April 11th, 2023
Proposals have been made for a major review of local policing within Thames Valley. Active participation will make the point that we care about local policing, and retaining and rebuilding a local presence. Please express your views. Read More...