New Website Checking Tool
Tuesday, July 5th, 2022
Get Safe Online has partnered with Cifas, the UK's leading fraud prevention service, to launch 'Check a Website'.
'Check a Website' is a new, easy-to-use online tool which helps determine whether a website is likely to be legitimate or a scam… before you visit it. It is hoped to prevent thousands of people in the UK falling victim to unwanted online scams every year.
To use, simply type in the address of the website you want to check, and your results will appear within seconds. To try it out simply visit www.getsafeonline.org/checkawebsite/
Sample output – using our own site
Fortunately, we passed!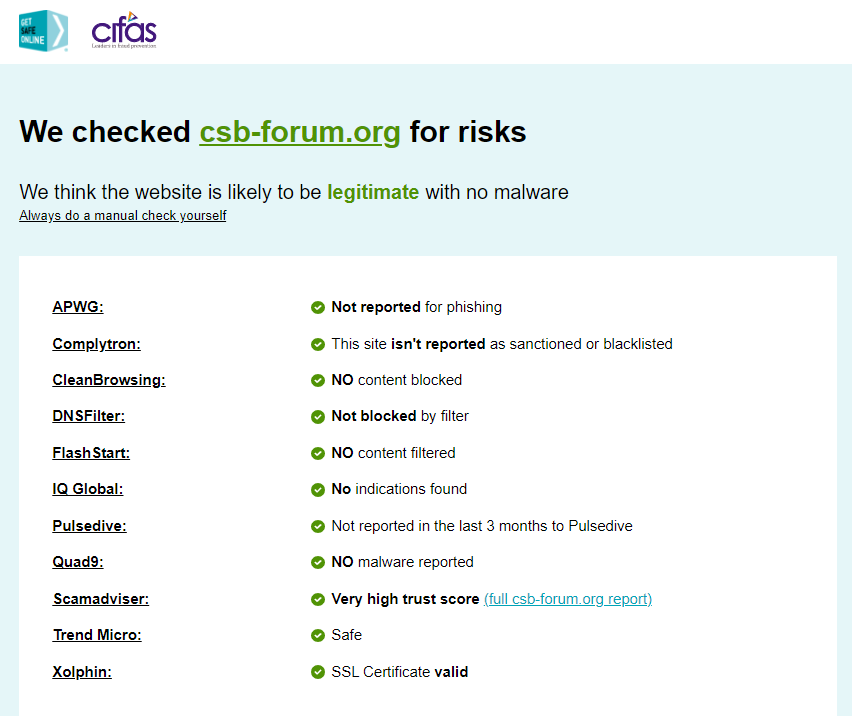 Other Recent Posts
Wednesday, August 9th, 2023
At least three organisations invite residents of Chiltern and South Bucks to participate in periodic or rolling surveys relating to crime and community safety. We explain how all three contribute to our overall safety. Read More...
Wednesday, June 28th, 2023
Survey inviting victim-survivors of rape and other sexual offences to take part in a survey about their experience with the police. The findings will help the police to improve their handling and process. Read More...
Monday, June 26th, 2023
The stars may be aligning as Thames Valley Police and Crime Commissioner, Thames Valley Police and the Safer Buckinghamshire Partnership all publish documents promising prioritisation of neighbourhood crime. Read More...
Tuesday, April 18th, 2023
Report, minutes and video recordinig of Forum meeting April 5th 2023. Focus choices made for Neighbourhood Policing teams: Burglary – Speeding – Drugs Read More...
Tuesday, April 18th, 2023
Recent proposals by UK Government, Thames Valley Police and Thames Valley Police & Crime Commissioner (PCC) all make promises of increased resources for Neighbourhood Policing and greater focus on neighbourhood crime. Read More...
Tuesday, April 11th, 2023
Proposals have been made for a major review of local policing within Thames Valley. Active participation will make the point that we care about local policing, and retaining and rebuilding a local presence. Please express your views. Read More...