Nitrous Oxide (NOS) – The Facts
Monday, June 14th, 2021
Thank you to the Buckinghamshire Council Community Safety team, who included this valuable guide in its latest Community Safety Newsletter.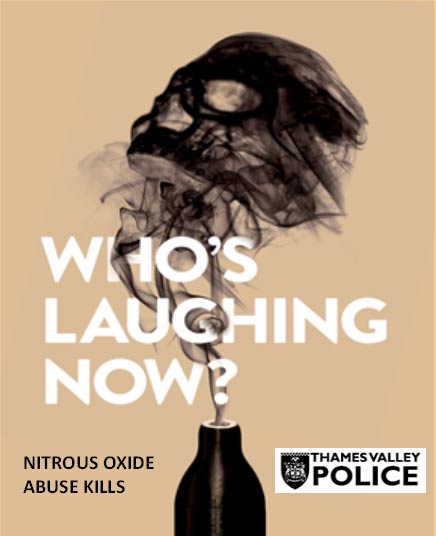 Also known as: NOS, laughing gas, whippet, hippy crack, balloons.
What is nitrous oxide?
This colourless gas is used for several legitimate uses, for example, to numb pain during medical procedures such as dental work and in whipped cream aerosol cans.
What are the Effects?
Nitrous oxide is a depressant-type drug, which means it slows down your brain and your body's responses.
The effects vary depending on how much is inhaled – from feelings of euphoria, fits of laughter, relaxation and calmness to dizziness, difficulty in thinking straight, sound distortions, headaches, nausea and hallucinations.
How is it taken?
The most common way is via a balloon. The small metal canisters often used in soda steams or whipped cream are opened and the gas is transferred to a balloon for inhalation.
What are the risks?
Coordination and judgment can be affected increasing the likelihood of having an accident or taking silly risks.
Heavy regular use can lead to deficiency of vitamin B12 leading to anaemia and serious nerve damage.
Regular use may also depress formation of white blood cells.
There is a risk of death. People have fallen unconscious and have suffocated from lack of oxygen. According to Office of National Statistics there were over 30 associated deaths between 2001 – 2016.
The Law
This is a psychoactive drug and is covered by the 2016 Psychoactive Substances Act, which means it's illegal to supply or import nitrous oxide for human consumption.
Supply and production can get you up to seven years in prison, an unlimited fine or both.
Like drink-driving, driving when high is dangerous and illegal. If you're caught driving under the influence, you may receive a heavy fine, driving ban, or a prison sentence.
Anti-Social Behaviour
Nitrous oxide is known to be taken by predominantly young persons, which in large groups can appear to be intimidating and often cause a noise nuisance. If you have any anti-social behaviour concerns, please report via the link below:
https://www.buckinghamshire.gov.uk/community-and-safety/community-safety/anti-social-behaviour/
Littering
Discarded small cylindrical shaped canisters often silver in colour, and whipped cream dispensers can be left on the ground along with the packaging. (The canisters can be especially dangerous if discarded in a park and run over by a gang mower – they can be fired out and become lethal missiles.)
Any litter left on council land can be reported to our Waste team via the street cleansing link below. Once reported, our waste contractor will arrange a collection.
https://www.buckinghamshire.gov.uk/bin-collection-recycling-and-waste/report-litter-or-street-cleaning-problem/
Other Recent Posts
Friday, August 7th, 2020
WHY it is important to report crime and concerns: we can do more to help focus Policing support and attention on our own locality, and even help in the fight against broader crime. Read More...
Monday, July 19th, 2021
Congratulations to PCSOs Jacqueline Day, Jen Shrager and Lesley Roche for their recent Commendations. Here are the inspiring stories behind their awards. Read More...
Tuesday, June 29th, 2021
Includes video, in which newly elected PCC Matthew Barber explains the five strands of his Police & Criminal Justice Plan. Point 1 is a focus on strong local (including Neighbourhood) policing. Read More...
Wednesday, June 23rd, 2021
Social media – web content – promotion – community boards. Just some of the creative and interesting opportunities for volunteers to help the work of the Forum. Could it be you? Read More...
Monday, June 14th, 2021
We welcome Chief Inspector Rachel Patterson in her new role as Deputy Commander, Chiltern & South Buckinghamshire Local Policing Area (LPA) Read More...
Monday, June 7th, 2021
Packed edition of Buckinghamshire Community Safety newsletter. Anti-social behaviour, Scams, Nitrous Oxide, Neighbourhood Watch and much more! Read More...
Friday, May 28th, 2021
Rental e-scooters are being trialled in nearby towns, so why are privately-owned scooters on allowed on the roads? Guidance on the rules around e-Scooters Read More...