Notes from Forum Meeting September 4th
Saturday, September 8th, 2018
Following review of the survey results and subsequent discussion, the following policing priorities were agreed for the coming quarter:
Drug dealing and misuse
Burglary
Anti-social behaviour
Click here for minutes of the meeting (PDF. 820kb). A brief summary follows:
There was a discussion about priorities set by the Thames Valley Police and Crime Commissioner (PCC), with responsibility for delivery lying with the Chief Constable, and how these can often be different to the priorities that the neighbourhood wishes to see being addressed. The PCC was reported to be particularly concerned by the decrease in confidence in rural areas, and the prevalence of fraud. The team of dedicated rural and wildlife officers is being strengthened, and all neighbourhood officers are being trained in advice on cyber crime.
Inspector Richard Vine updated activity over the past 3 months on the previous neighbourhood priorities, Drug Dealing and Usage, Speeding Enforcement and Burglary Prevention. Detailed numbers are available in the minutes.
The neighbourhood team had suffered some losses in personnel, but new appointments have been made.
Priorities for the coming three months were agreed, as above. Whilst Drugs did not appear in the top 3 of the survey, the mood of the meeting was that they were a root cause of many of the other concerns. The meeting also noted that there is widespread community Speedwatch participation across the region, which will continue to receive support.
The new website went live in August, and Robert Gibson of Dovedale Design gave a brief presentation. Focus will now be given to getting the word around via local forums, newsletters, magazines etc.
The meeting was informed by the following survey results: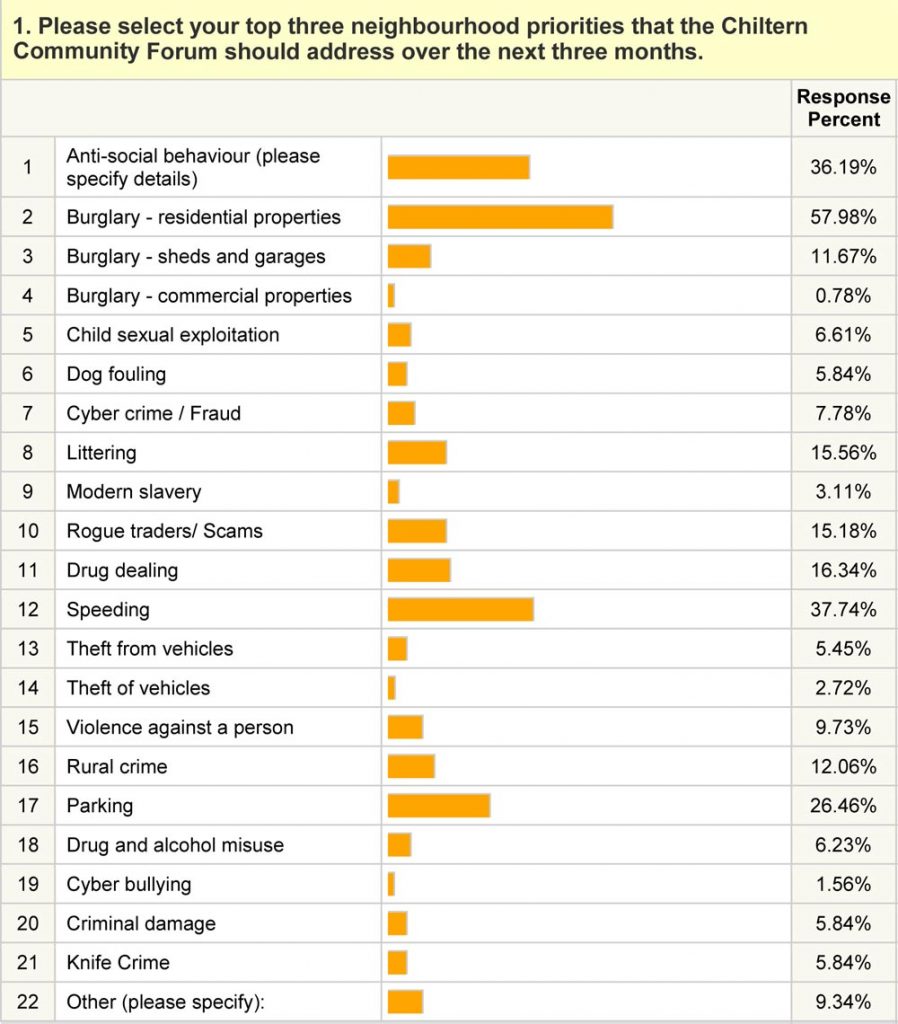 Other Recent Posts
Friday, August 7th, 2020
WHY it is important to report crime and concerns: we can do more to help focus Policing support and attention on our own locality, and even help in the fight against broader crime. Read More...
Tuesday, September 20th, 2022
Latest TVP Rural Crime update. making Countyr Watch members and residents aware of current crime trends to allow them to take action and develop working practices to reduce crime. Read More...
Friday, August 12th, 2022
The roll out of CSW groups under the new arrangements continues. An update on how concerned residents can get involved Read More...
Friday, July 15th, 2022
Our first hybrid meeting was, thankfully, a success. But meeting residents face to face was a pleasure and, we hope, very productive. Our immediate future is hybrid! Read More...
Wednesday, July 6th, 2022
Buckinghamshire Council is asking for residents' views on its proposal to extend an existing Public Spaces Protection Order (PSPO) covering areas of Amersham and Chesham. Read More...
Tuesday, July 5th, 2022
Excellent new tool from GetSafeOnline and Cifas, helping determine whether a website is likely to be legitimate or a scam. Read More...
Monday, June 27th, 2022
All residents are invited to participate in the Forum's survey of residents' concerns and the July 12th open meeting with representatives of Thames Valley Police. Read More...