Older Drivers Awareness Week 2018
Monday, September 17th, 2018
This year's Older Drivers Awareness Week will run from Monday 1st October to Friday 4th October 2018.
Older Drivers Forum events are being held in Thames Valley at Bicester, and at Wendover. The latter, from 9.30am to 6pm on Thursday 4th October at Wyevale Garden Centre, Aylesbury Road, Wendover, HP22 6BD, is likely to be the more convenient for Chiltern residents.
The Older Drivers Forum describes itself as follows:
…keeping mature motorists on the road safely for longer. Whether that's helping giving you practical and informative help and support to continue driving or pointing you in the right direction for an assessment to identify your driving needs – from wing mirror adapters to an elevated driving seat – we're here to help.

We're a not-for-profit organisation made up of experts in road safety – from representatives from the emergency services, to charities, local authorities and businesses specialising in keeping older people on the road.

We do not perform any legal function and do not have the authority to remove driving licences. We are merely here to assist you, or the older person in your life, with staying mobile for as long as possible.
You can learn more on the Older Drivers Forum website.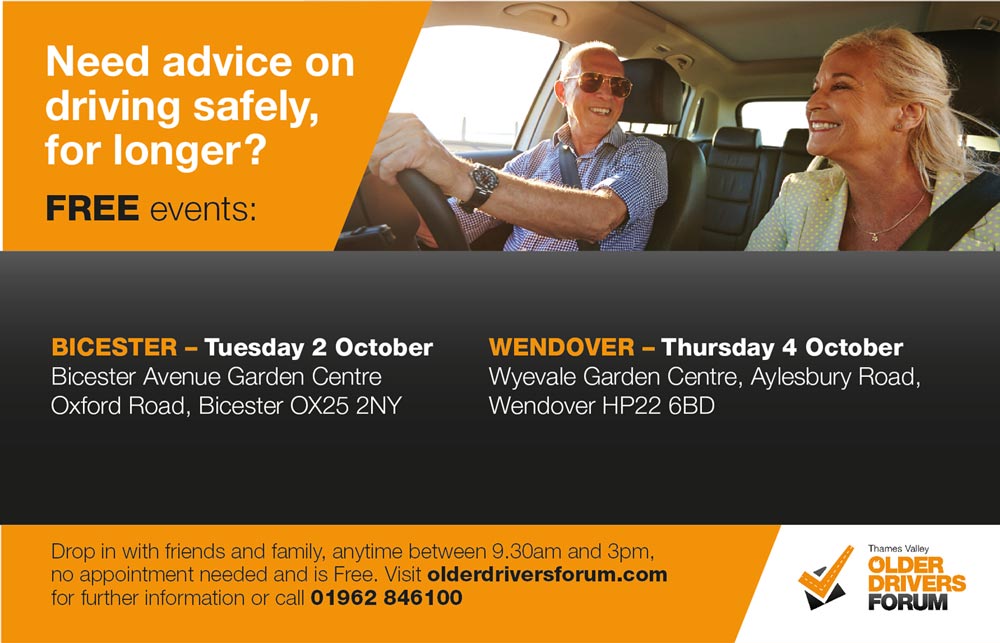 Other Recent Posts
Monday, November 27th, 2023
The Police and Crime Commissioner invites residents to participate in a consultation on Police funding for 2024-2025 Read More...
Thursday, November 9th, 2023
Thames Valley Police and Crime Commissioner addresses a well attended meeting on Community Speedwatch at Great Missenden Memorial Hall. Read More...
Tuesday, October 24th, 2023
A 'Let's Talk About Speeding' meeting has been arranged for residents of the Missendens Community Board area on the evening of Tuesday 7th November, at the Great Missenden Memorial Hall. Read More...
Monday, October 23rd, 2023
Annual Community Safety survey from Buckinghamshire Council, informing strategy to reduce crime and anti-social behaviour in Buckinghamshire. Read More...
Sunday, October 22nd, 2023
Do we want a proactive, problem solving approach from our Police, or a service focussed simply on implementing a legal code? The 'right' answer is "the former", but requires trust and confidence of communities in their Police service Read More...
Thursday, October 19th, 2023
Shoplifting is becoming a growing scourge. It's misguided to consider it a 'victimless crime', absorbed by businesses and causing limited real harm. Read More...