Older Drivers Awareness Week 2018
Monday, September 17th, 2018
This year's Older Drivers Awareness Week will run from Monday 1st October to Friday 4th October 2018.
Older Drivers Forum events are being held in Thames Valley at Bicester, and at Wendover. The latter, from 9.30am to 6pm on Thursday 4th October at Wyevale Garden Centre, Aylesbury Road, Wendover, HP22 6BD, is likely to be the more convenient for Chiltern residents.
The Older Drivers Forum describes itself as follows:
…keeping mature motorists on the road safely for longer. Whether that's helping giving you practical and informative help and support to continue driving or pointing you in the right direction for an assessment to identify your driving needs – from wing mirror adapters to an elevated driving seat – we're here to help.

We're a not-for-profit organisation made up of experts in road safety – from representatives from the emergency services, to charities, local authorities and businesses specialising in keeping older people on the road.

We do not perform any legal function and do not have the authority to remove driving licences. We are merely here to assist you, or the older person in your life, with staying mobile for as long as possible.
You can learn more on the Older Drivers Forum website.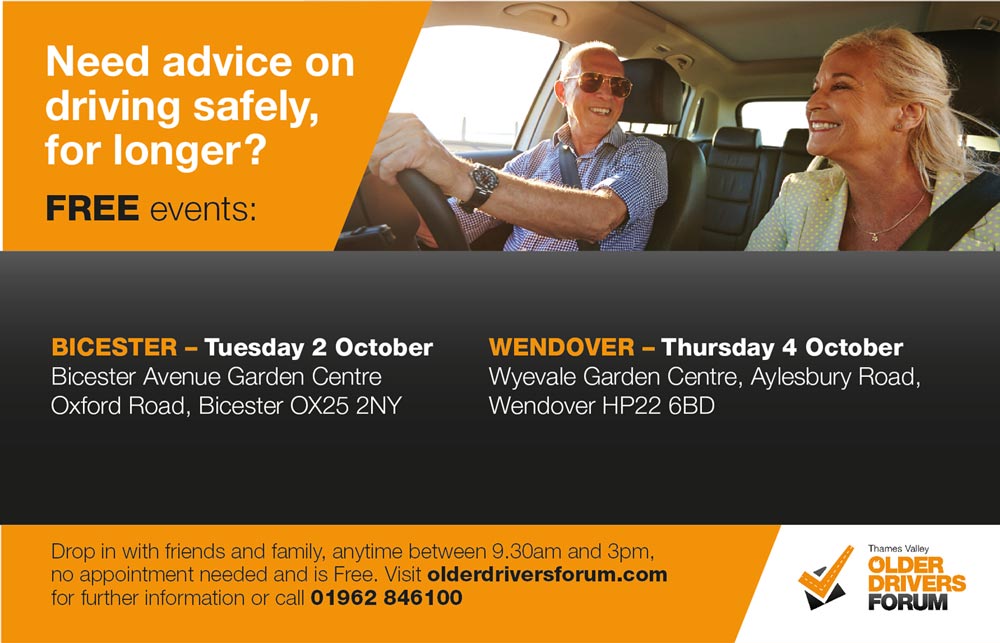 Other Recent Posts
Friday, August 7th, 2020
WHY it is important to report crime and concerns: we can do more to help focus Policing support and attention on our own locality, and even help in the fight against broader crime. Read More...
Monday, June 27th, 2022
All residents are invited to participate in the Forum's survey of residents' concerns and the July 12th open meeting with representatives of Thames Valley Police. Read More...
Friday, June 24th, 2022
Congratulations to Sergeant Dan Ryder, awarded community officer of the year at TVP's community Policing awards 2022. Read More...
Monday, June 20th, 2022
A new South Buckinghamshire local policing area (LPA) has been formed by amalgamating our former Chiltern & South Bucks policing area with Wycombe policing area. Read More...
Friday, June 17th, 2022
The official Annual Report for 2021/22 from Thames Valley Police and Crime Commissioner. Read More...
Thursday, June 16th, 2022
The Forum would like to thank Inspector Richard Vine for his consistent support and encouragement of the Forum and its efforts over the past four years. Read More...
Thursday, June 9th, 2022
The Chesham neighbourhood team has moved to a new permanent office location within Chesham library Read More...