Older Drivers Awareness Week 2018
Monday, September 17th, 2018
This year's Older Drivers Awareness Week will run from Monday 1st October to Friday 4th October 2018.
Older Drivers Forum events are being held in Thames Valley at Bicester, and at Wendover. The latter, from 9.30am to 6pm on Thursday 4th October at Wyevale Garden Centre, Aylesbury Road, Wendover, HP22 6BD, is likely to be the more convenient for Chiltern residents.
The Older Drivers Forum describes itself as follows:
…keeping mature motorists on the road safely for longer. Whether that's helping giving you practical and informative help and support to continue driving or pointing you in the right direction for an assessment to identify your driving needs – from wing mirror adapters to an elevated driving seat – we're here to help.

We're a not-for-profit organisation made up of experts in road safety – from representatives from the emergency services, to charities, local authorities and businesses specialising in keeping older people on the road.

We do not perform any legal function and do not have the authority to remove driving licences. We are merely here to assist you, or the older person in your life, with staying mobile for as long as possible.
You can learn more on the Older Drivers Forum website.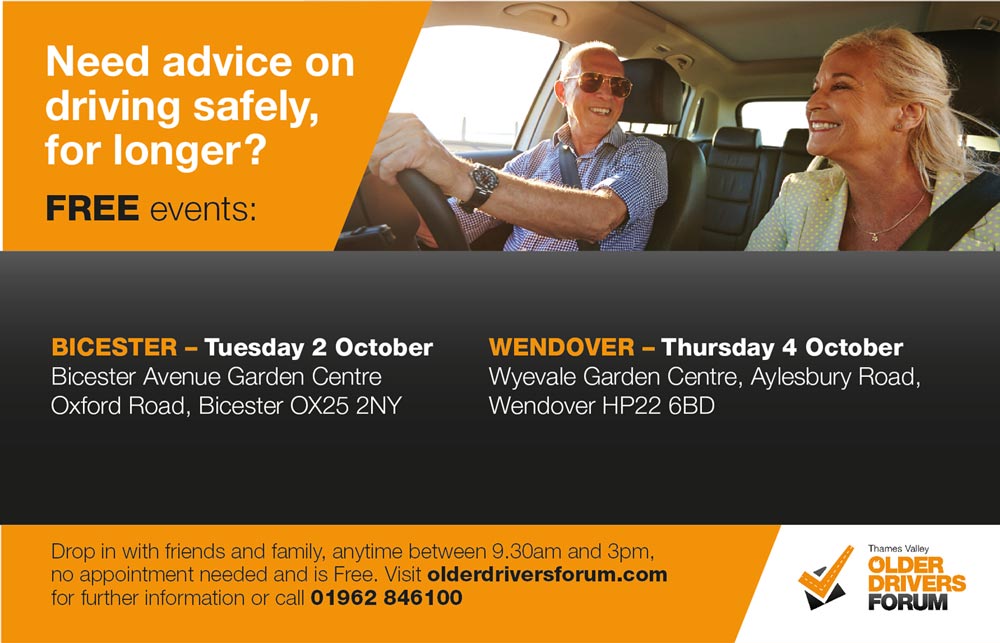 Other Recent Posts
Tuesday, April 18th, 2023
Report, minutes and video recordinig of Forum meeting April 5th 2023. Focus choices made for Neighbourhood Policing teams: Burglary – Speeding – Drugs Read More...
Tuesday, April 18th, 2023
Recent proposals by UK Government, Thames Valley Police and Thames Valley Police & Crime Commissioner (PCC) all make promises of increased resources for Neighbourhood Policing and greater focus on neighbourhood crime. Read More...
Tuesday, April 11th, 2023
Proposals have been made for a major review of local policing within Thames Valley. Active participation will make the point that we care about local policing, and retaining and rebuilding a local presence. Please express your views. Read More...
Wednesday, April 5th, 2023
Open letter and video sharing the priorities of new Chief Constable Jason Hogg; "supporting victims, fighting crime, and building trust and confidence amongst our communities." Read More...
Monday, February 13th, 2023
Neighbourhood Watch is running a series of free Crime Prevention webinars throughout February. Places available on Psychology of Scams and Preventing Burglary with WIDEN. Read More...
Wednesday, February 8th, 2023
Residents wishing to be kept up to date about local crime issues can sign up to the newly launched Police and Crime Commissioner WhatsApp broadcast group. Read More...