Older Drivers Awareness Week 2018
Monday, September 17th, 2018
This year's Older Drivers Awareness Week will run from Monday 1st October to Friday 4th October 2018.
Older Drivers Forum events are being held in Thames Valley at Bicester, and at Wendover. The latter, from 9.30am to 6pm on Thursday 4th October at Wyevale Garden Centre, Aylesbury Road, Wendover, HP22 6BD, is likely to be the more convenient for Chiltern residents.
The Older Drivers Forum describes itself as follows:
…keeping mature motorists on the road safely for longer. Whether that's helping giving you practical and informative help and support to continue driving or pointing you in the right direction for an assessment to identify your driving needs – from wing mirror adapters to an elevated driving seat – we're here to help.

We're a not-for-profit organisation made up of experts in road safety – from representatives from the emergency services, to charities, local authorities and businesses specialising in keeping older people on the road.

We do not perform any legal function and do not have the authority to remove driving licences. We are merely here to assist you, or the older person in your life, with staying mobile for as long as possible.
You can learn more on the Older Drivers Forum website.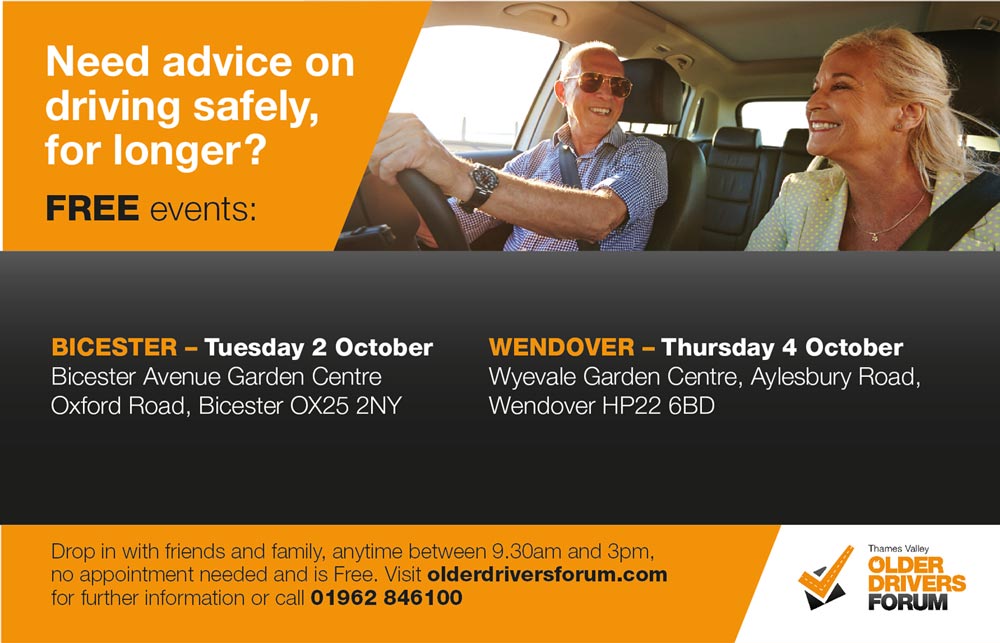 Other Recent Posts
Friday, August 7th, 2020
WHY it is important to report crime and concerns: we can do more to help focus Policing support and attention on our own locality, and even help in the fight against broader crime. Read More...
Monday, June 14th, 2021
A guide to Nitrous Oxide abuse, published by Buckinghamshire Council Community Safety team in its latest Community Safety Newsletter. Read More...
Monday, June 14th, 2021
We welcome Chief Inspector Rachel Patterson in her new role as Deputy Commander, Chiltern & South Buckinghamshire Local Policing Area (LPA) Read More...
Monday, June 7th, 2021
Packed edition of Buckinghamshire Community Safety newsletter. Anti-social behaviour, Scams, Nitrous Oxide, Neighbourhood Watch and much more! Read More...
Friday, May 28th, 2021
Rental e-scooters are being trialled in nearby towns, so why are privately-owned scooters on allowed on the roads? Guidance on the rules around e-Scooters Read More...
Saturday, May 22nd, 2021
Advice on preventing catalytic converter theft, and a video showing removal of a catalytic conveter in less than a minute. Read More...
Friday, April 30th, 2021
Following many media and social media reports of dog thefts, we publish advice on keeping your pets safe from theft. Read More...