Protecting your Dog from Theft
Friday, April 30th, 2021
There has recently been considerable media interest and social media comment around dog thefts. A recent study by the charity DogLost estimates a 250% increase in dog thefts nationwide during the pandemic.
We are advised by the Police that these have been thankfully rare in Chiltern & South Bucks, but they appreciate that there is a lot of concern, and every instance of a dog theft is heart breaking for its owners.
Hence they urge dog owners to follow sensible precautions.
Here are the basics: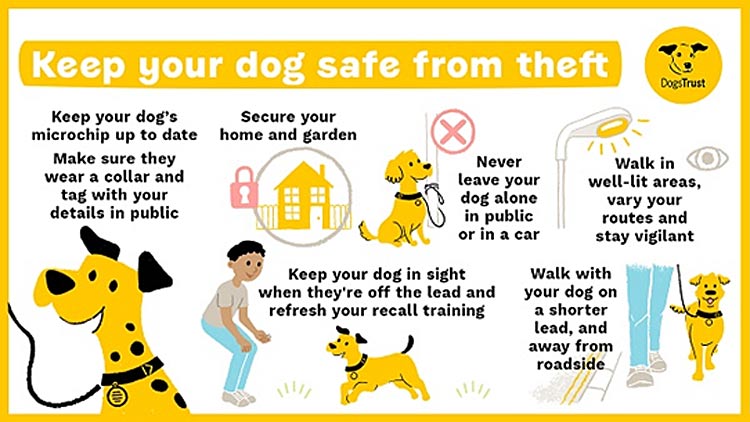 What to do if a Theft does occur
Theft is a criminal offence and in the event that your dog does go missing, we urge residents to REPORT the incident to the Police, with as much detail about the dog and the circumstances of the incident as possible. This is both for the sake of their own pet, and in order to add to the overall intelligence picture.
CSB Forum post: The Importance of REPORTING Crime and Bad Behaviour
Be sure also to contact your microchip company.
Be aware, too, of the Council's Dog Warden service – dog wardens are responsible for missing dogs while the police are responsible for stolen dogs, but it's still worth alerting the dog warden as your dog may end up in their care. Buckinghamshore Council – Dogs and Animal Welfare
Another useful resource is DogLost – "The UK's largest lost and found dog service".
Fuller advice is available from The Blue Cross – Pet Theft and how to prevent it and from The Dogs Trust – How to keep your dog safe from thieves and what to do if your dog goes missing
Update – "Taskforce launched to investigate reported rise in pet thefts"
Link to Press Release announcing setting up of taskforce, 8th May 2021
Other Recent Posts
Monday, November 27th, 2023
The Police and Crime Commissioner invites residents to participate in a consultation on Police funding for 2024-2025 Read More...
Thursday, November 9th, 2023
Thames Valley Police and Crime Commissioner addresses a well attended meeting on Community Speedwatch at Great Missenden Memorial Hall. Read More...
Tuesday, October 24th, 2023
A 'Let's Talk About Speeding' meeting has been arranged for residents of the Missendens Community Board area on the evening of Tuesday 7th November, at the Great Missenden Memorial Hall. Read More...
Monday, October 23rd, 2023
Annual Community Safety survey from Buckinghamshire Council, informing strategy to reduce crime and anti-social behaviour in Buckinghamshire. Read More...
Sunday, October 22nd, 2023
Do we want a proactive, problem solving approach from our Police, or a service focussed simply on implementing a legal code? The 'right' answer is "the former", but requires trust and confidence of communities in their Police service Read More...
Thursday, October 19th, 2023
Shoplifting is becoming a growing scourge. It's misguided to consider it a 'victimless crime', absorbed by businesses and causing limited real harm. Read More...