Protecting your Dog from Theft
Friday, April 30th, 2021
There has recently been considerable media interest and social media comment around dog thefts. A recent study by the charity DogLost estimates a 250% increase in dog thefts nationwide during the pandemic.
We are advised by the Police that these have been thankfully rare in Chiltern & South Bucks, but they appreciate that there is a lot of concern, and every instance of a dog theft is heart breaking for its owners.
Hence they urge dog owners to follow sensible precautions.
Here are the basics: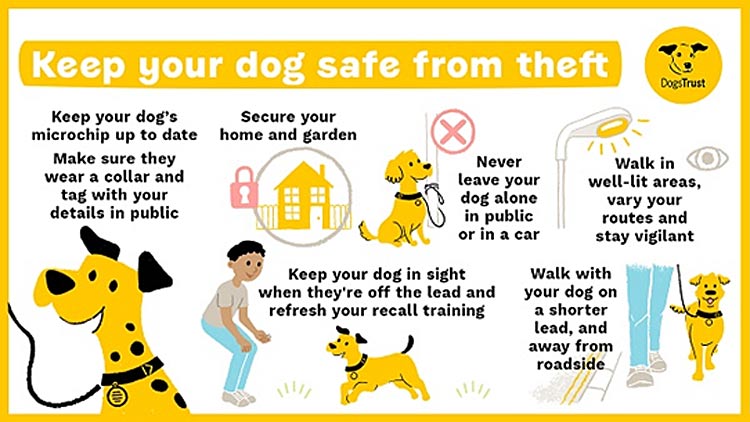 What to do if a Theft does occur
Theft is a criminal offence and in the event that your dog does go missing, we urge residents to REPORT the incident to the Police, with as much detail about the dog and the circumstances of the incident as possible. This is both for the sake of their own pet, and in order to add to the overall intelligence picture.
CSB Forum post: The Importance of REPORTING Crime and Bad Behaviour
Be sure also to contact your microchip company.
Be aware, too, of the Council's Dog Warden service – dog wardens are responsible for missing dogs while the police are responsible for stolen dogs, but it's still worth alerting the dog warden as your dog may end up in their care. Buckinghamshore Council – Dogs and Animal Welfare
Another useful resource is DogLost – "The UK's largest lost and found dog service".
Fuller advice is available from The Blue Cross – Pet Theft and how to prevent it and from The Dogs Trust – How to keep your dog safe from thieves and what to do if your dog goes missing
Update – "Taskforce launched to investigate reported rise in pet thefts"
Link to Press Release announcing setting up of taskforce, 8th May 2021
Other Recent Posts
Monday, December 5th, 2022
Video recording of Burglary Event held by Thames Valley Police for South Buckinghamshire residents on 1st December 2022 Read More...
Wednesday, November 30th, 2022
Neighbourhood Police INspector and colleagues will speak to residents about concerns of an increase in burglaries via a Microsoft Teams meeting, 7pm Thursday 1st December. Read More...
Tuesday, November 22nd, 2022
A short explainer video by Thames Valley Police on Stop and Search. Explains the process and the rights of anyone involved. Read More...
Sunday, October 16th, 2022
The Safer Buckinghamshire Board's annual Community Safety survey is seeking residents' views and is open until October 30th. Read More...
Thursday, October 13th, 2022
All residents are invited to participate in the Forum's survey of residents' concerns. These will inform discussion at the subsequent meeting of residents and Neighbourhood Police, and the setting of Neighbourhood Policing focus areas. Read More...
Tuesday, September 20th, 2022
Latest TVP Rural Crime update. making Country Watch members and residents aware of current crime trends to allow them to take action and develop working practices to reduce crime. Read More...