Recycling is good – but not with passwords!
Tuesday, April 30th, 2019
Earlier this month, the UK's National Cyber Security Centre (NCSC) published a list of at-risk passwords, alongside its first 'UK Cyber Survey'.
The list comprises the 100,000 most commonly re-occurring passwords that have been accessed by third parties in global cyber breaches. The results show a huge number of regularly used passwords, and words included within passwords, that have caused vulnerability.
Alarmingly, the list of compromised passwords was put together from global breaches that are already in the public domain, having been sold or shared by hackers.
Perhaps not surprisingly, easily the most hacked password – with more than 23 million breaches – was 123456. The third-highest (3.8m) was QWERTY and the fourth (3.6m) was 'Password'. The table below highlights how use of your favourite football team, pop act or superhero can render you vulnerable.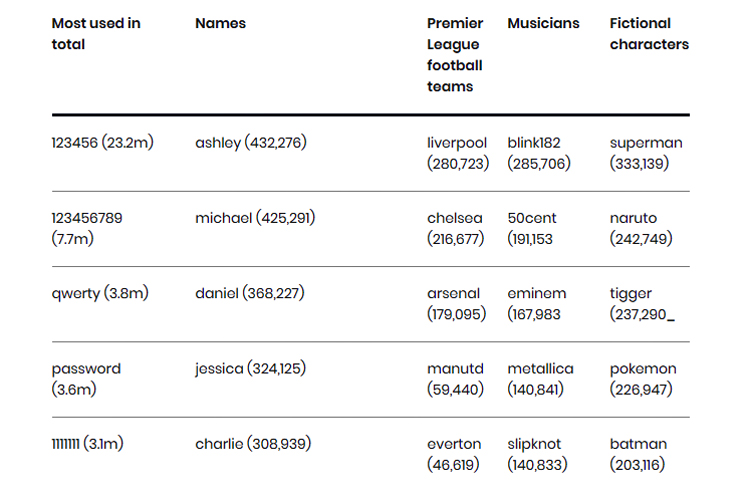 The full list of 100,000 most hacked passwords can be found here. By using the 'Find' option on your browser you can check to see if your password is already on the list. (Examples: 'Liverpool' appears in 28 variants – liverpool1, liverpool, liverpool8, liverpoolfc etc – 'Arsenal' in 27 variants, and 'Beyonce' in 5 variants.)
If it is, then you should change that password immediately.
Just as importantly – maybe more so – you should guard against reusing passwords across multiple accounts. We are asked to set up usernames and passwords for so many purposes these days, and there is a natural human propensity to reuse passwords. Often we have no choice of username, which may be our e-mail address, which puts greater importance on a secure password.
Some sites and platforms will be more secure than others. A data breach at one organisation (and we constantly hear of them even at organisations we might expect to be secure) opens a realm of possibilities to hackers. By using automated software, they can try the same username and password combinations across a multitude of accounts, networks and sites. As noted above, lists obtained from breaches may be shared or sold among hackers.
The NCSC Cyber Survey demonstrated the concerns across the UK's population about cyber security. For example:
42% of those surveyed expect to lose money to online fraud;
70% believe they will likely be a victim of at least one specific type of cyber crime over the
next two years;
Just over one in three (37%) agree that losing money or personal details over the internet is
unavoidable these days.
Carrying out the full list of online protection recommendations can seem daunting, but everyone can make a start by managing their passwords securely. Thames Valley Police advises: "use a strong password or passphrase, which is at least 12 characters long and contains a mixture of letters, numbers and symbols." Dr Ian Levy, NCSC Technical Director, suggests: "Using hard-to-guess passwords is a strong first step and we recommend combining three random but memorable words. Be creative and use words memorable to you, so people can't guess your password."
And please try to avoid reusing passwords!
Liverpool may be back in top of the Premier League, but our table of breached passwords linked to teams isn't one @LFC fans will want to be leading…https://t.co/EGpLAO5gVk pic.twitter.com/lApZgjVdmk

— NCSC UK (@NCSC) April 21, 2019
Other Recent Posts
Monday, November 27th, 2023
The Police and Crime Commissioner invites residents to participate in a consultation on Police funding for 2024-2025 Read More...
Thursday, November 9th, 2023
Thames Valley Police and Crime Commissioner addresses a well attended meeting on Community Speedwatch at Great Missenden Memorial Hall. Read More...
Tuesday, October 24th, 2023
A 'Let's Talk About Speeding' meeting has been arranged for residents of the Missendens Community Board area on the evening of Tuesday 7th November, at the Great Missenden Memorial Hall. Read More...
Monday, October 23rd, 2023
Annual Community Safety survey from Buckinghamshire Council, informing strategy to reduce crime and anti-social behaviour in Buckinghamshire. Read More...
Sunday, October 22nd, 2023
Do we want a proactive, problem solving approach from our Police, or a service focussed simply on implementing a legal code? The 'right' answer is "the former", but requires trust and confidence of communities in their Police service Read More...
Thursday, October 19th, 2023
Shoplifting is becoming a growing scourge. It's misguided to consider it a 'victimless crime', absorbed by businesses and causing limited real harm. Read More...