Rural Spotters Event, November 30
Friday, October 22nd, 2021
UPDATE: THIS MEETING HAS HAD TO BE CANCELLED/POSTPONED. WE SHALL POST WHEN FURTHER INFORMATION IS AVAILABLE
From Helen Evans, Thames Valley Police Equine Liaison Volunteer, via Neighbourhood Alert
Thames Valley Police are inviting interested horse riders to attend a Rural Spotters Evening on TUESDAY 30th NOVEMBER 2021 at Amersham for 19.15 registration and a 19.30 start. The meeting aims to give you information about Rural Spotters, the opportunity to ask questions and to join up.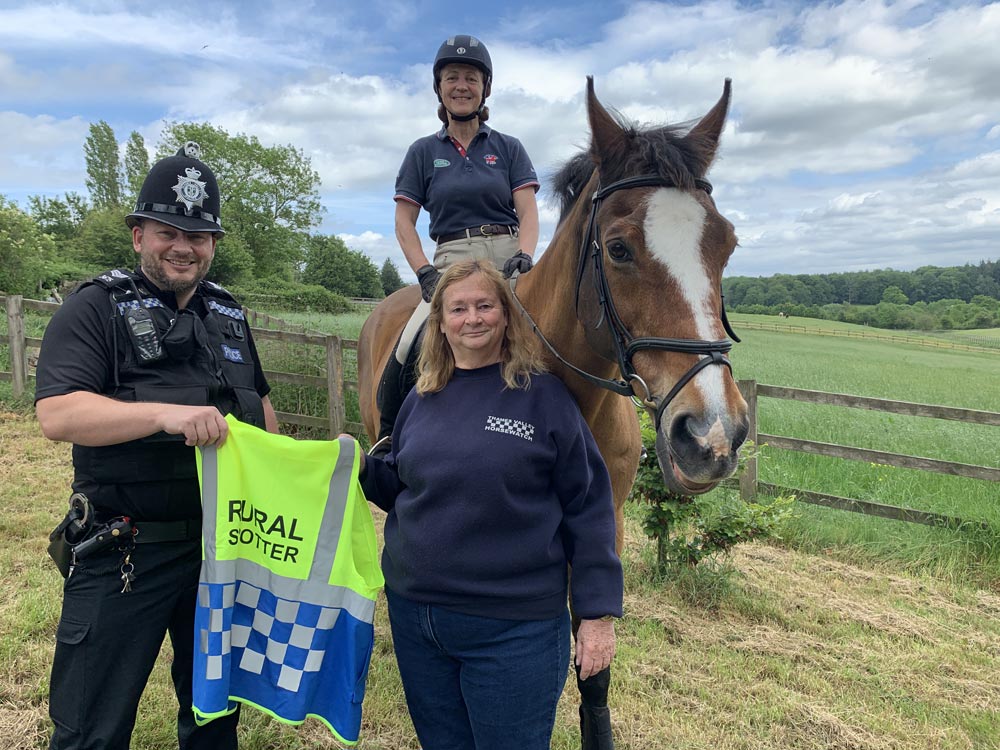 Rural Spotters are volunteers who act as the eyes and ears of the Police in rural areas, and liaise with their local community. They will be riders who look out for anything suspicious whilst out on their normal hacking routes. Training will be given, assessments made, Hi Vis vests handed out. We already have an active team of enthusiastic Spotters and are looking to recruit more.
Bookings in advance only please. You will not be admitted if you haven't booked. Please confirm that you have been double vaccinated against Covid 19. If you test Covid positive during the 7 days prior to the meeting please advise us and do not attend.
For more details, please contact me, via email RuralSpottersCSB@thamesvalley.pnn.police.uk.
Looking forward to meeting you.
Helen Evans
TVP Equine Liaison Volunteer
Other Recent Posts
Wednesday, August 9th, 2023
At least three organisations invite residents of Chiltern and South Bucks to participate in periodic or rolling surveys relating to crime and community safety. We explain how all three contribute to our overall safety. Read More...
Wednesday, June 28th, 2023
Survey inviting victim-survivors of rape and other sexual offences to take part in a survey about their experience with the police. The findings will help the police to improve their handling and process. Read More...
Monday, June 26th, 2023
The stars may be aligning as Thames Valley Police and Crime Commissioner, Thames Valley Police and the Safer Buckinghamshire Partnership all publish documents promising prioritisation of neighbourhood crime. Read More...
Tuesday, April 18th, 2023
Report, minutes and video recordinig of Forum meeting April 5th 2023. Focus choices made for Neighbourhood Policing teams: Burglary – Speeding – Drugs Read More...
Tuesday, April 18th, 2023
Recent proposals by UK Government, Thames Valley Police and Thames Valley Police & Crime Commissioner (PCC) all make promises of increased resources for Neighbourhood Policing and greater focus on neighbourhood crime. Read More...
Tuesday, April 11th, 2023
Proposals have been made for a major review of local policing within Thames Valley. Active participation will make the point that we care about local policing, and retaining and rebuilding a local presence. Please express your views. Read More...