Rural Spotters Event, November 30
Friday, October 22nd, 2021
UPDATE: THIS MEETING HAS HAD TO BE CANCELLED/POSTPONED. WE SHALL POST WHEN FURTHER INFORMATION IS AVAILABLE
From Helen Evans, Thames Valley Police Equine Liaison Volunteer, via Neighbourhood Alert
Thames Valley Police are inviting interested horse riders to attend a Rural Spotters Evening on TUESDAY 30th NOVEMBER 2021 at Amersham for 19.15 registration and a 19.30 start. The meeting aims to give you information about Rural Spotters, the opportunity to ask questions and to join up.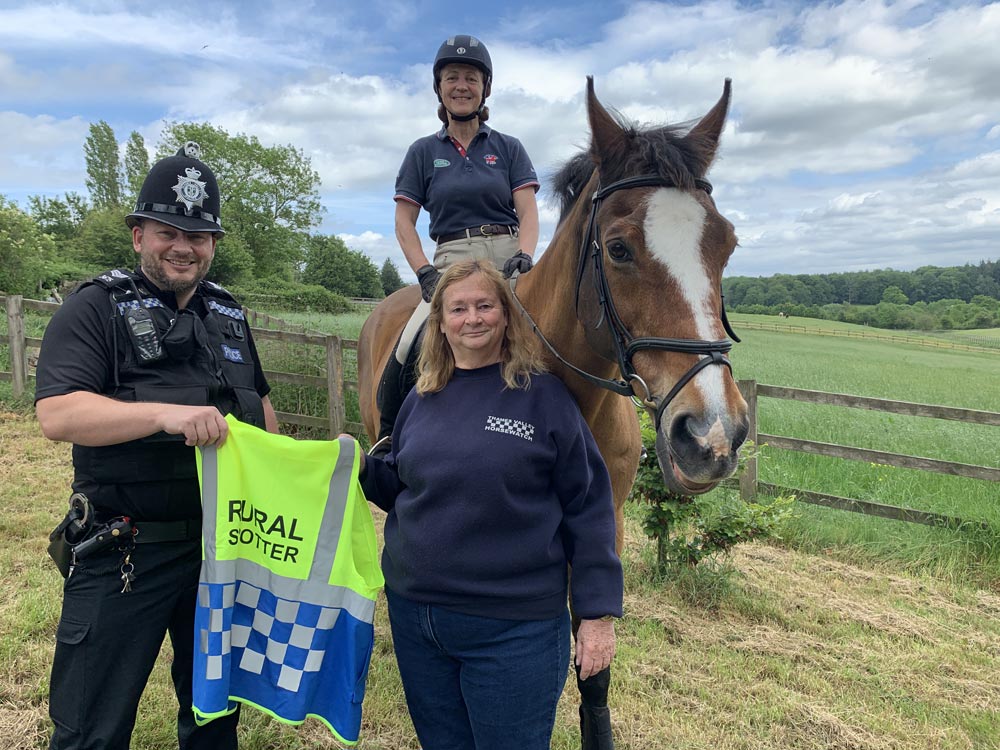 Rural Spotters are volunteers who act as the eyes and ears of the Police in rural areas, and liaise with their local community. They will be riders who look out for anything suspicious whilst out on their normal hacking routes. Training will be given, assessments made, Hi Vis vests handed out. We already have an active team of enthusiastic Spotters and are looking to recruit more.
Bookings in advance only please. You will not be admitted if you haven't booked. Please confirm that you have been double vaccinated against Covid 19. If you test Covid positive during the 7 days prior to the meeting please advise us and do not attend.
For more details, please contact me, via email RuralSpottersCSB@thamesvalley.pnn.police.uk.
Looking forward to meeting you.
Helen Evans
TVP Equine Liaison Volunteer
Other Recent Posts
Friday, August 7th, 2020
WHY it is important to report crime and concerns: we can do more to help focus Policing support and attention on our own locality, and even help in the fight against broader crime. Read More...
Thursday, May 12th, 2022
Latest TVP Rural Crime update, reporting on activity to thwart rural crime. Includes details of Twitter account and WhatsApp groups for Chiltern and South Bucks. Read More...
Saturday, April 2nd, 2022
Survey for victims, and professionals who work with victims, on design of future support services in the Thames Valley. Read More...
Monday, March 14th, 2022
Road Safety Summit announced by PCC is to be welcomed if it helps address behaviours which make speeding and anti social driving leading concerns of local residents. Read More...
Friday, March 11th, 2022
A comprehensive round-up of community safety news and initiatives, the latest Buckinghamshire Council Community Safety Newsletter is now available. Read More...
Wednesday, March 2nd, 2022
Information on joining the NEW Chiltern Rural Community WhatsApp Group. Administered by the public, with direct engagement with the Neighbourhood Policing team, it will be a tool to share information with community and Police Read More...
Tuesday, March 1st, 2022
Following a change in legislation, Buckinghamshire Council plans to apply for powers to monitor and enforce moving traffic contraventions. It is seeking residents' opinions in a consultation closing on 4th April. Read More...