Rural Spotters Event, November 30
Friday, October 22nd, 2021
UPDATE: THIS MEETING HAS HAD TO BE CANCELLED/POSTPONED. WE SHALL POST WHEN FURTHER INFORMATION IS AVAILABLE
From Helen Evans, Thames Valley Police Equine Liaison Volunteer, via Neighbourhood Alert
Thames Valley Police are inviting interested horse riders to attend a Rural Spotters Evening on TUESDAY 30th NOVEMBER 2021 at Amersham for 19.15 registration and a 19.30 start. The meeting aims to give you information about Rural Spotters, the opportunity to ask questions and to join up.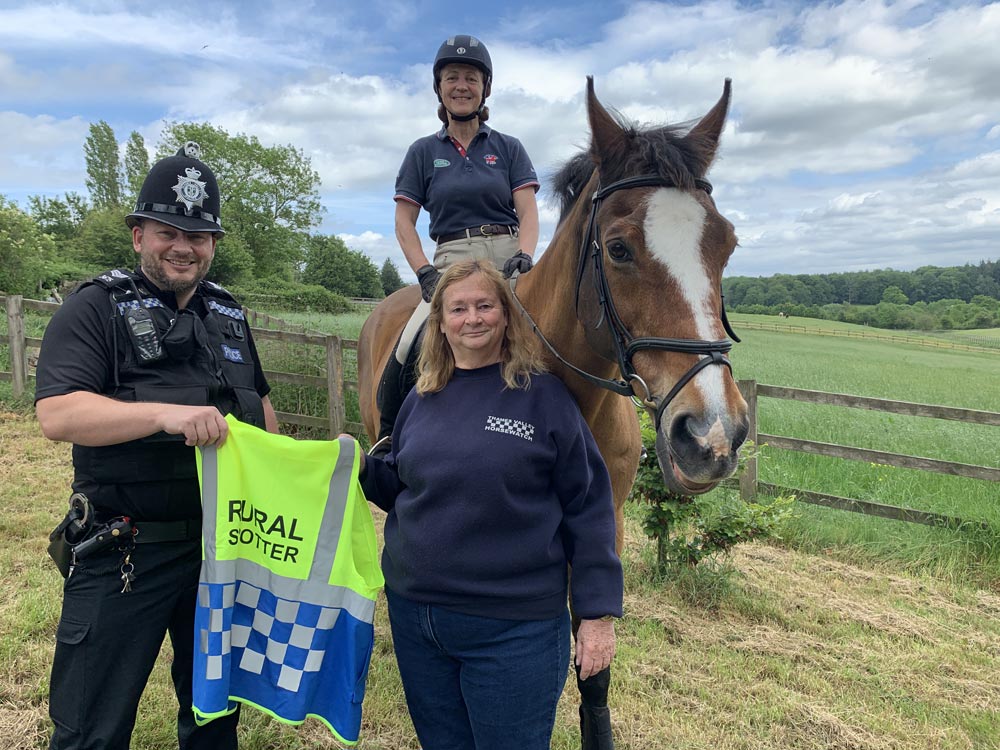 Rural Spotters are volunteers who act as the eyes and ears of the Police in rural areas, and liaise with their local community. They will be riders who look out for anything suspicious whilst out on their normal hacking routes. Training will be given, assessments made, Hi Vis vests handed out. We already have an active team of enthusiastic Spotters and are looking to recruit more.
Bookings in advance only please. You will not be admitted if you haven't booked. Please confirm that you have been double vaccinated against Covid 19. If you test Covid positive during the 7 days prior to the meeting please advise us and do not attend.
For more details, please contact me, via email RuralSpottersCSB@thamesvalley.pnn.police.uk.
Looking forward to meeting you.
Helen Evans
TVP Equine Liaison Volunteer
Other Recent Posts
Friday, August 7th, 2020
WHY it is important to report crime and concerns: we can do more to help focus Policing support and attention on our own locality, and even help in the fight against broader crime. Read More...
Tuesday, September 20th, 2022
Latest TVP Rural Crime update. making Countyr Watch members and residents aware of current crime trends to allow them to take action and develop working practices to reduce crime. Read More...
Friday, August 12th, 2022
The roll out of CSW groups under the new arrangements continues. An update on how concerned residents can get involved Read More...
Friday, July 15th, 2022
Our first hybrid meeting was, thankfully, a success. But meeting residents face to face was a pleasure and, we hope, very productive. Our immediate future is hybrid! Read More...
Wednesday, July 6th, 2022
Buckinghamshire Council is asking for residents' views on its proposal to extend an existing Public Spaces Protection Order (PSPO) covering areas of Amersham and Chesham. Read More...
Tuesday, July 5th, 2022
Excellent new tool from GetSafeOnline and Cifas, helping determine whether a website is likely to be legitimate or a scam. Read More...
Monday, June 27th, 2022
All residents are invited to participate in the Forum's survey of residents' concerns and the July 12th open meeting with representatives of Thames Valley Police. Read More...