Rural Spotters Scheme launched
Tuesday, June 4th, 2019
Thames Valley Police has launched a new team of volunteer rural crime spotters in Chiltern and South Bucks.
More on Rural Crime – one of 22 Priorities in our quarterly surveys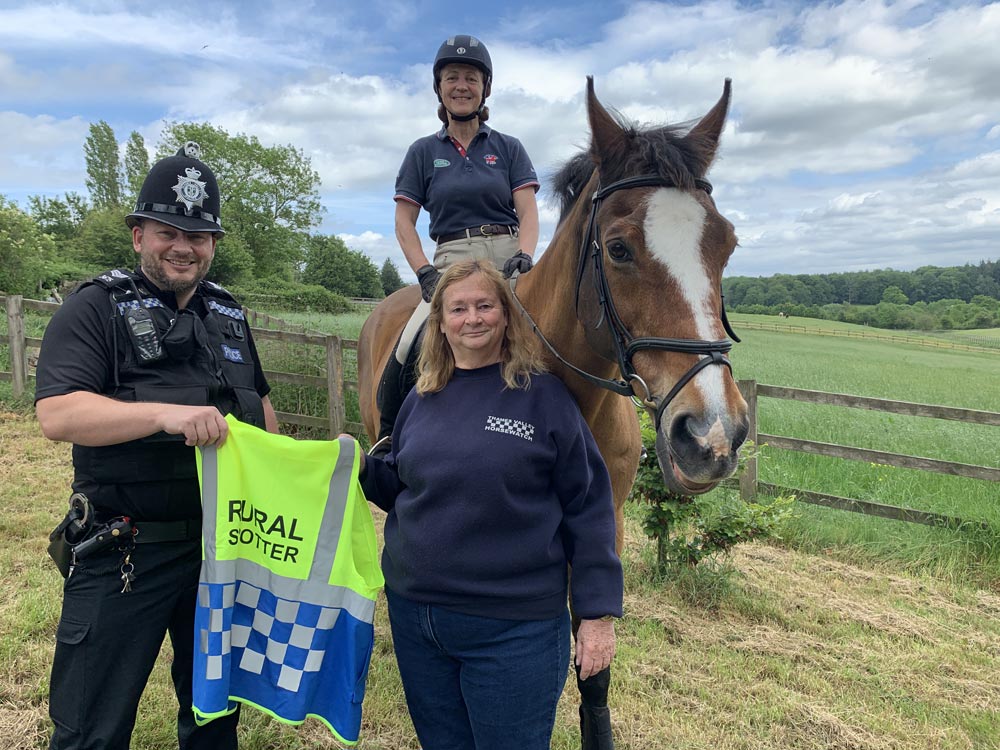 The volunteers are all horse riders who will engage with the rural community whilst out on their normal hacking route and assist in rural and equine crime prevention. The role is voluntary and has no police powers attached. The role builds on the work of the Thames Valley Horse Watch network which brings local horse owners, riders and equestrian workers together with their local police team.
Who can be a Rural Spotter?
Riders must pass the application process.
A short training course must be attended by all candidates.
Riders must be over 18 years of age.
Riders must have their own horse.
All riders must carry their own personal liability insurance.
Riders must demonstrate a level of competence on and off road.
Riders must have their own transport.
Riders must not have a criminal record.
Riders must have safe equipment and be well presented.
Reporting Suspicious Activity
The volunteers will report any suspicious activity, including fly tipping, unauthorised off road biking and hare coursing to the NFU Rural Crime Reporting line on a free phone number 0800 7830137. This should have a shorter wait rather than 101 and is run by Crime Stoppers. Reports can also be made via the Rural Crime Reporting Line. This is run by the National Farmers Union in conjunction with Crimestoppers and supported by the Police. This national, anonymous reporting system allows offences and activity to be directed to the correct agency. For example, fly-tipping is dealt with by the local authority. Where a crime is in progress, spotters will report this directly to the police.
Signing Up
For further details please email Helen Evans, Thames Valley Police Equine Liaison Volunteer.
More Information
The rural crime spotters initiative was the vision of Helen Evans. She said: "Within the equine community we have an untapped source of people who are able to act as the eyes and ears of the police in rural areas. Recognising this, and researching other schemes run by police forces across the country, I devised the rural spotters scheme. Riders have the unique ability to go to fairly inaccessible places and have the advantage of height to see over hedges. My hope is that the scheme will make the countryside a safer place for all."
Neighbourhood Sergeant Darren Walsh said: "I am pleased that as part of national volunteers' week, we can highlight the work we have undertaken with Helen and our local community to develop the Rural Spotters initiative. This scheme has the potential for horse riders to make our rural communities safer whilst on their regular rides. Those who live and work in these areas are best placed to know when something seems suspicious. By working together with the riding community, we can make criminals think twice, and deter and detect crime."
Berks, Bucks and Oxon NFU Chairman Jeff Powell said: "The NFU is delighted that Thames Valley Police is working with rural communities in launching this ingenious initiative to harness the eyes and ears of mounted volunteers in the fight against rural crime. Rural Spotters on horseback will be well placed to report any unusual or suspicious behaviour in the Buckinghamshire countryside and then log this anonymously through the NFU's Rural Crime Reporting Line, run in partnership with Crimestoppers. The Rural Crime Reporting Line is a key part of the NFU's ongoing work to tackle rural criminal behaviour on farms and in the wider countryside."
Deputy Police and Crime Commissioner Matthew Barber said: "The support that volunteers give to the police is vital to keep our communities safe. We all have a responsibility to report crime and suspicious activity and it is great to recognise the work of these rural crime spotters in assisting the work of Thames Valley Police across the countryside."
Rural Crime Reporting Line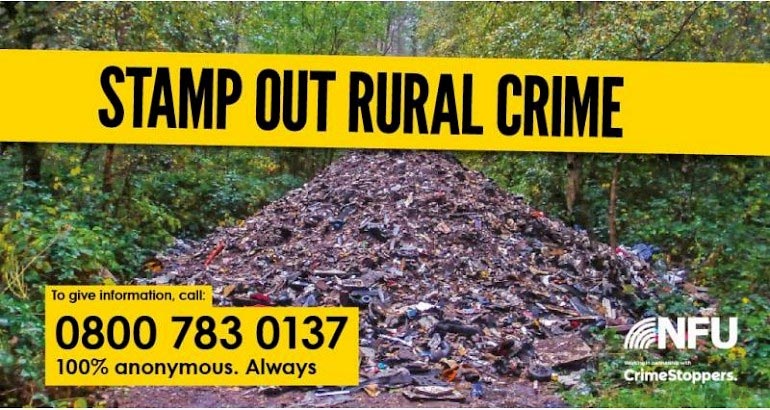 By ringing 0800 783 0137 or visiting www.ruralcrimereportingline.uk, farmers, rural businesses and the public can anonymously give information about crime relating to:
large-scale, industrial fly-tipping
hare coursing
machinery theft
livestock theft
Thames Valley Horse Watch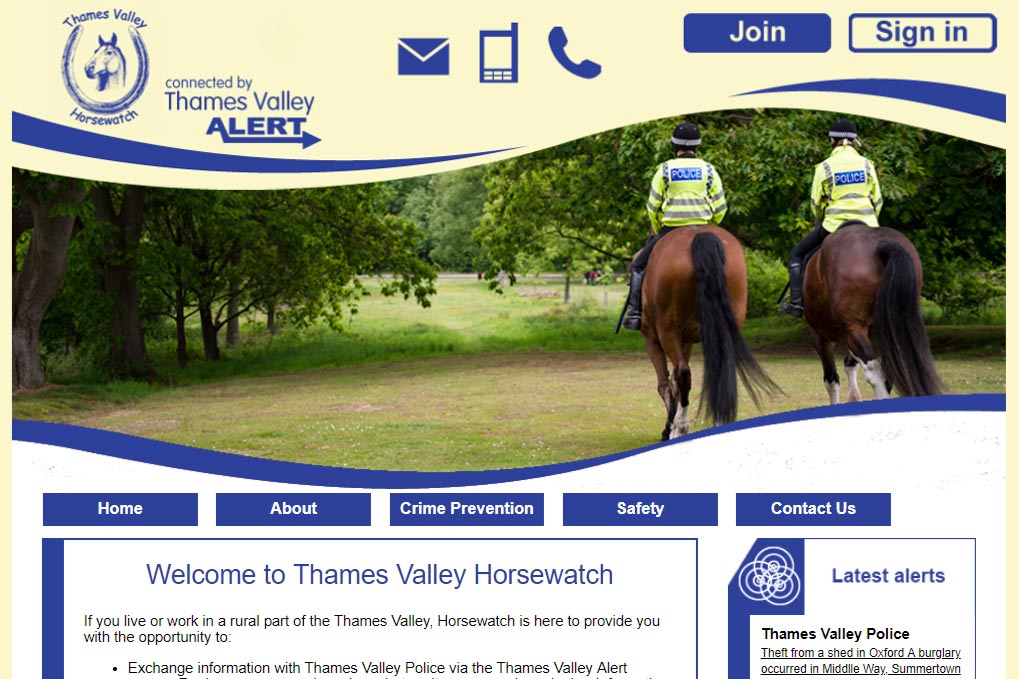 Thames Valley Horse Watch connects horse owners and riders to improve security and communication. Members do not have to own a horse, the scheme welcomes everyone, whether they are an occasional rider, own a yard or just want to assist the community.
Members receive information on security, tack marking, shows, events as well as messages through the Alert system about recent crimes, details of stolen property or suspicious persons and vehicles. Horse Watch is run solely for the benefit of its members.
Other Recent Posts
Friday, August 7th, 2020
WHY it is important to report crime and concerns: we can do more to help focus Policing support and attention on our own locality, and even help in the fight against broader crime. Read More...
Thursday, May 12th, 2022
Latest TVP Rural Crime update, reporting on activity to thwart rural crime. Includes details of Twitter account and WhatsApp groups for Chiltern and South Bucks. Read More...
Saturday, April 2nd, 2022
Survey for victims, and professionals who work with victims, on design of future support services in the Thames Valley. Read More...
Monday, March 14th, 2022
Road Safety Summit announced by PCC is to be welcomed if it helps address behaviours which make speeding and anti social driving leading concerns of local residents. Read More...
Friday, March 11th, 2022
A comprehensive round-up of community safety news and initiatives, the latest Buckinghamshire Council Community Safety Newsletter is now available. Read More...
Wednesday, March 2nd, 2022
Information on joining the NEW Chiltern Rural Community WhatsApp Group. Administered by the public, with direct engagement with the Neighbourhood Policing team, it will be a tool to share information with community and Police Read More...
Tuesday, March 1st, 2022
Following a change in legislation, Buckinghamshire Council plans to apply for powers to monitor and enforce moving traffic contraventions. It is seeking residents' opinions in a consultation closing on 4th April. Read More...