Scam Awareness Month June 2018
Tuesday, June 26th, 2018
Scams affect the lives of millions of people across the UK. People who are scammed often experience shame and social isolation as a result. Part of the answer in staying safe against scams is by being aware of potential pitfalls and remaining vigilant. June 2018 has been dubbed 'Scam Awareness Month' by Friends Against Scams, which is leading the way in promoting such understanding.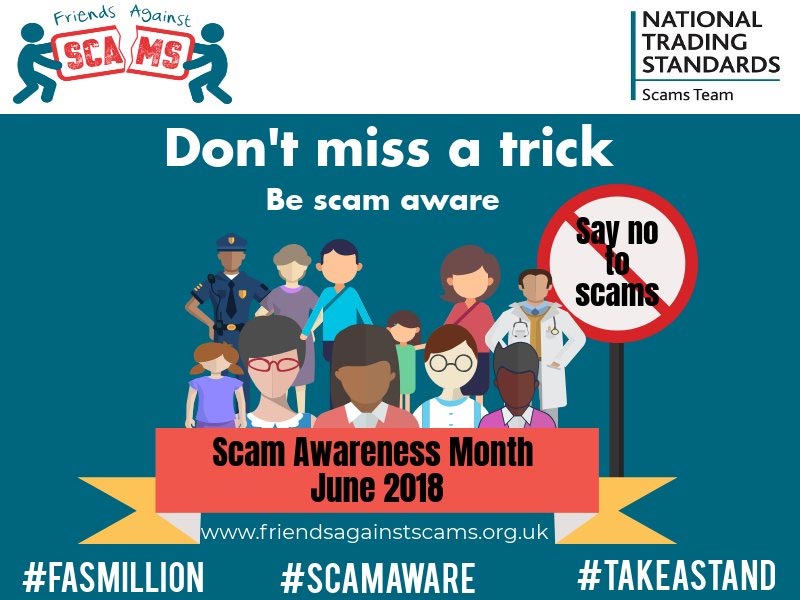 Friends Against Scams is a National Trading Standards (NTS) Scams Team initiative, which aims to protect and prevent people from becoming victims of scams by empowering communities to "Take a Stand Against Scams".
Friends Against Scams has been created to tackle the lack of scams awareness by providing information about scams and those who fall victim to them. This information enables communities and organisations to understand scams, talk about scams and cascade messages throughout communities about scams prevention and protection.
Friends Against Scams encourages communities and organisations to take the knowledge learnt and turn it into action.
Anybody can join Friends Against Scams and make a difference in their own way.
Contacts:
Website: https://www.friendsagainstscams.org.uk/
Twitter: https://twitter.com/AgainstScams
Facebook: https://www.facebook.com/groups/135184000373967/ (closed group – you need to apply)
Other Recent Posts
Monday, December 5th, 2022
Video recording of Burglary Event held by Thames Valley Police for South Buckinghamshire residents on 1st December 2022 Read More...
Monday, February 13th, 2023
Neighbourhood Watch is running a series of free Crime Prevention webinars throughout February. Places available on Psychology of Scams and Preventing Burglary with WIDEN. Read More...
Wednesday, February 8th, 2023
Residents wishing to be kept up to date about local crime issues can sign up to the newly launched Police and Crime Commissioner WhatsApp broadcast group. Read More...
Wednesday, February 1st, 2023
The Knife Angel spent a month at Arbour Park, Slough. We hope that its inspiring and thought provoking message has an abiding effect. Read More...
Friday, January 20th, 2023
Update on rural crime, including operations by the TVP Rural Crime team, crime trends, upcoming events, crime reduction advice and much more! Read More...
Friday, January 6th, 2023
Are you one of many residents who say we need more policing resource at a local/community level? If so, please take the opportunity to say so! Read More...
Friday, December 16th, 2022
We encourage residents to contribute their views to Thames Valley PCC Matthew Barber's consultation on crime and the policing budget for 2023/24. Read More...