Scam Awareness Month June 2018
Tuesday, June 26th, 2018
Scams affect the lives of millions of people across the UK. People who are scammed often experience shame and social isolation as a result. Part of the answer in staying safe against scams is by being aware of potential pitfalls and remaining vigilant. June 2018 has been dubbed 'Scam Awareness Month' by Friends Against Scams, which is leading the way in promoting such understanding.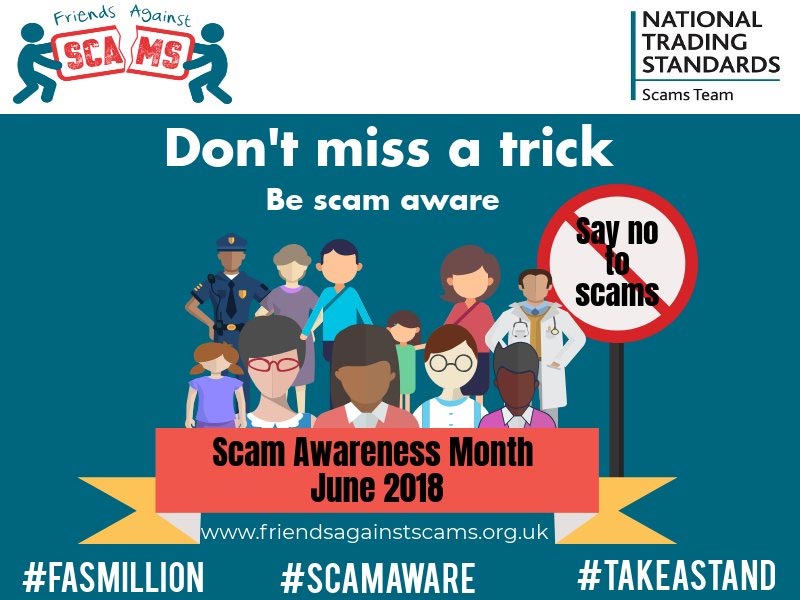 Friends Against Scams is a National Trading Standards (NTS) Scams Team initiative, which aims to protect and prevent people from becoming victims of scams by empowering communities to "Take a Stand Against Scams".
Friends Against Scams has been created to tackle the lack of scams awareness by providing information about scams and those who fall victim to them. This information enables communities and organisations to understand scams, talk about scams and cascade messages throughout communities about scams prevention and protection.
Friends Against Scams encourages communities and organisations to take the knowledge learnt and turn it into action.
Anybody can join Friends Against Scams and make a difference in their own way.
Contacts:
Website: https://www.friendsagainstscams.org.uk/
Twitter: https://twitter.com/AgainstScams
Facebook: https://www.facebook.com/groups/135184000373967/ (closed group – you need to apply)
Other Recent Posts
Friday, August 7th, 2020
WHY it is important to report crime and concerns: we can do more to help focus Policing support and attention on our own locality, and even help in the fight against broader crime. Read More...
Tuesday, September 14th, 2021
With the success of previously announced pilots, a new Community Speedwatch system will be rolled out across the Thames Valley Police area. Read More...
Tuesday, September 14th, 2021
Rural crime update from TVP: Countrywatch, Working with the Travelling Community, new WhatsApp group, Crime Trends, Businesses Against Scams Read More...
Friday, August 6th, 2021
Article by Sgt Dan Ryder updating community on initiatives including disrupting criminals through traffic patrols. Request to residents to help by sharing info on TVP Chiltern & S Bucks social media accounts. Read More...
Friday, August 6th, 2021
Are you a horse rider, interested in helping keep an aye out on behalf of your local community? Details of Introduction to Rural Spotters event on September 7th. Read More...
Monday, July 19th, 2021
Congratulations to PCSOs Jacqueline Day, Jen Shrager and Lesley Roche for their recent Commendations. Here are the inspiring stories behind their awards. Read More...
Tuesday, June 29th, 2021
Includes video, in which newly elected PCC Matthew Barber explains the five strands of his Police & Criminal Justice Plan. Point 1 is a focus on strong local (including Neighbourhood) policing. Read More...