Scam Awareness Month June 2018
Tuesday, June 26th, 2018
Scams affect the lives of millions of people across the UK. People who are scammed often experience shame and social isolation as a result. Part of the answer in staying safe against scams is by being aware of potential pitfalls and remaining vigilant. June 2018 has been dubbed 'Scam Awareness Month' by Friends Against Scams, which is leading the way in promoting such understanding.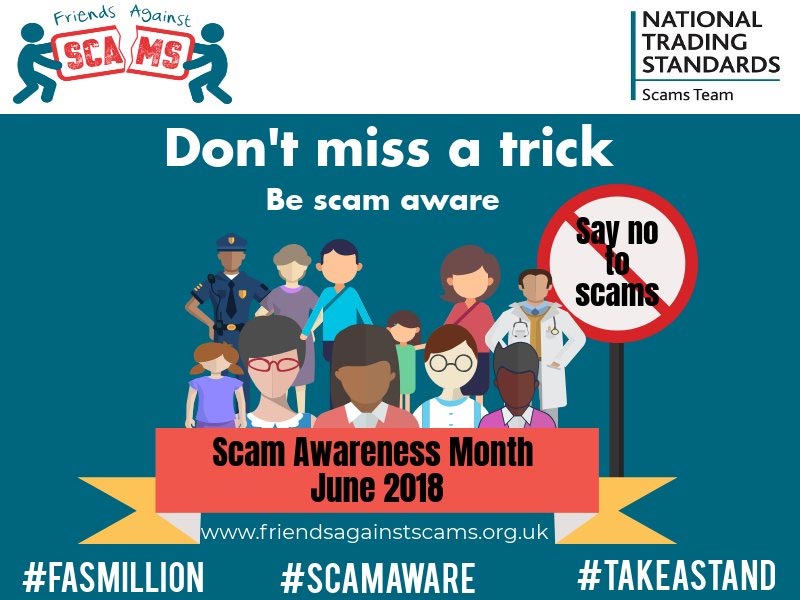 Friends Against Scams is a National Trading Standards (NTS) Scams Team initiative, which aims to protect and prevent people from becoming victims of scams by empowering communities to "Take a Stand Against Scams".
Friends Against Scams has been created to tackle the lack of scams awareness by providing information about scams and those who fall victim to them. This information enables communities and organisations to understand scams, talk about scams and cascade messages throughout communities about scams prevention and protection.
Friends Against Scams encourages communities and organisations to take the knowledge learnt and turn it into action.
Anybody can join Friends Against Scams and make a difference in their own way.
Contacts:
Website: https://www.friendsagainstscams.org.uk/
Twitter: https://twitter.com/AgainstScams
Facebook: https://www.facebook.com/groups/135184000373967/ (closed group – you need to apply)
Other Recent Posts
Friday, August 7th, 2020
WHY it is important to report crime and concerns: we can do more to help focus Policing support and attention on our own locality, and even help in the fight against broader crime. Read More...
Wednesday, January 12th, 2022
Details of the current consultation over a proposed increase in precept to fund Thames Valley Police. The Forum encourages all residents to participate. Read More...
Thursday, December 2nd, 2021
Detailed winter Rural Crime newsletter issued by Sgt Darren Walsh. Includes crime prevention tips and news of a new WhatsApp group Read More...
Friday, November 19th, 2021
How the Forum has facilitated engagement between residents and Police over the past four years, and thanking residents for their inputs. Read More...
Sunday, November 14th, 2021
An unpleasant incident on the Forum's November meeting reminds us of the need to protect ourselves proactively against hackers and cyber crime. Read More...
Friday, October 29th, 2021
Invitation to free webinar providing in-depth view on County Lines, Tuesday 9th November Read More...
Wednesday, October 27th, 2021
Update on the creation of a Rural Crime Task Force. Read More...