Scam Awareness Month June 2018
Tuesday, June 26th, 2018
Scams affect the lives of millions of people across the UK. People who are scammed often experience shame and social isolation as a result. Part of the answer in staying safe against scams is by being aware of potential pitfalls and remaining vigilant. June 2018 has been dubbed 'Scam Awareness Month' by Friends Against Scams, which is leading the way in promoting such understanding.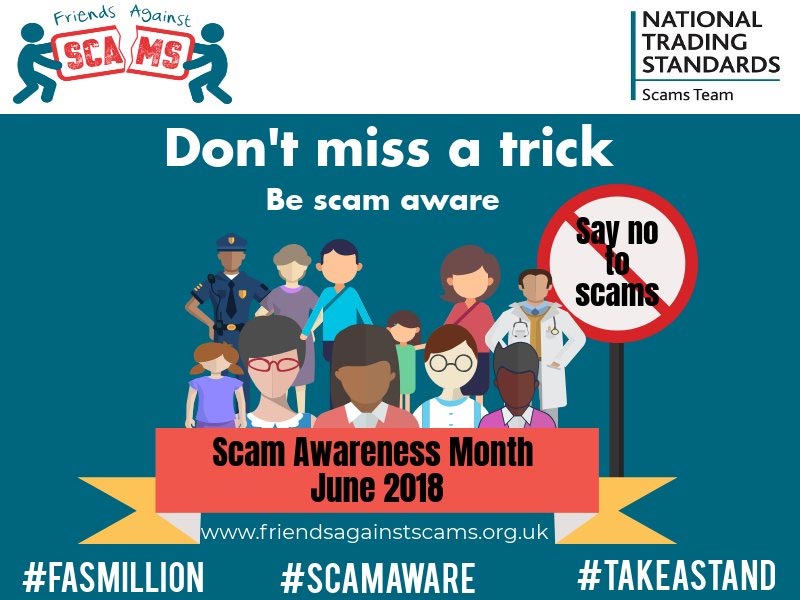 Friends Against Scams is a National Trading Standards (NTS) Scams Team initiative, which aims to protect and prevent people from becoming victims of scams by empowering communities to "Take a Stand Against Scams".
Friends Against Scams has been created to tackle the lack of scams awareness by providing information about scams and those who fall victim to them. This information enables communities and organisations to understand scams, talk about scams and cascade messages throughout communities about scams prevention and protection.
Friends Against Scams encourages communities and organisations to take the knowledge learnt and turn it into action.
Anybody can join Friends Against Scams and make a difference in their own way.
Contacts:
Website: https://www.friendsagainstscams.org.uk/
Twitter: https://twitter.com/AgainstScams
Facebook: https://www.facebook.com/groups/135184000373967/ (closed group – you need to apply)
Other Recent Posts
Friday, August 7th, 2020
WHY it is important to report crime and concerns: we can do more to help focus Policing support and attention on our own locality, and even help in the fight against broader crime. Read More...
Monday, June 14th, 2021
A guide to Nitrous Oxide abuse, published by Buckinghamshire Council Community Safety team in its latest Community Safety Newsletter. Read More...
Monday, June 14th, 2021
We welcome Chief Inspector Rachel Patterson in her new role as Deputy Commander, Chiltern & South Buckinghamshire Local Policing Area (LPA) Read More...
Monday, June 7th, 2021
Packed edition of Buckinghamshire Community Safety newsletter. Anti-social behaviour, Scams, Nitrous Oxide, Neighbourhood Watch and much more! Read More...
Friday, May 28th, 2021
Rental e-scooters are being trialled in nearby towns, so why are privately-owned scooters on allowed on the roads? Guidance on the rules around e-Scooters Read More...
Saturday, May 22nd, 2021
Advice on preventing catalytic converter theft, and a video showing removal of a catalytic conveter in less than a minute. Read More...
Friday, April 30th, 2021
Following many media and social media reports of dog thefts, we publish advice on keeping your pets safe from theft. Read More...