Sgt Dan Ryder in 'In and Around Iver'
Friday, August 6th, 2021
Below is an interesting page written for In and Around Iver by Sgt Dan Ryder, of the Neighbourhood Policing team across Denham, Gerrards Cross, The Ivers, Fulmer, George Green, Hedgerley and Wexham.
In particular, Sgt Ryder explains the tactic of disrupting criminality by intercepting suspected cross border offenders through traffic patrols. Those who have attended Forum meetings in the past will be familiar with this method.
We have noticed more activity on the TVP Chiltern & South Bucks social media platforms, and now we know why! Sgt Ryder asks the community to follow their accounts, and spread the word by SHARING posts on local community groups.
TVP Chiltern & South Bucks on Twitter
TVP Chiltern & South Bucks Facebook page
The enhanced profile on social media is to be welcomed. Residents should remain aware, however, that they SHOULD NOT REPORT CRIME through these channels. This was explained last year in our post "The Importance of REPORTING Crime and Bad Behaviour"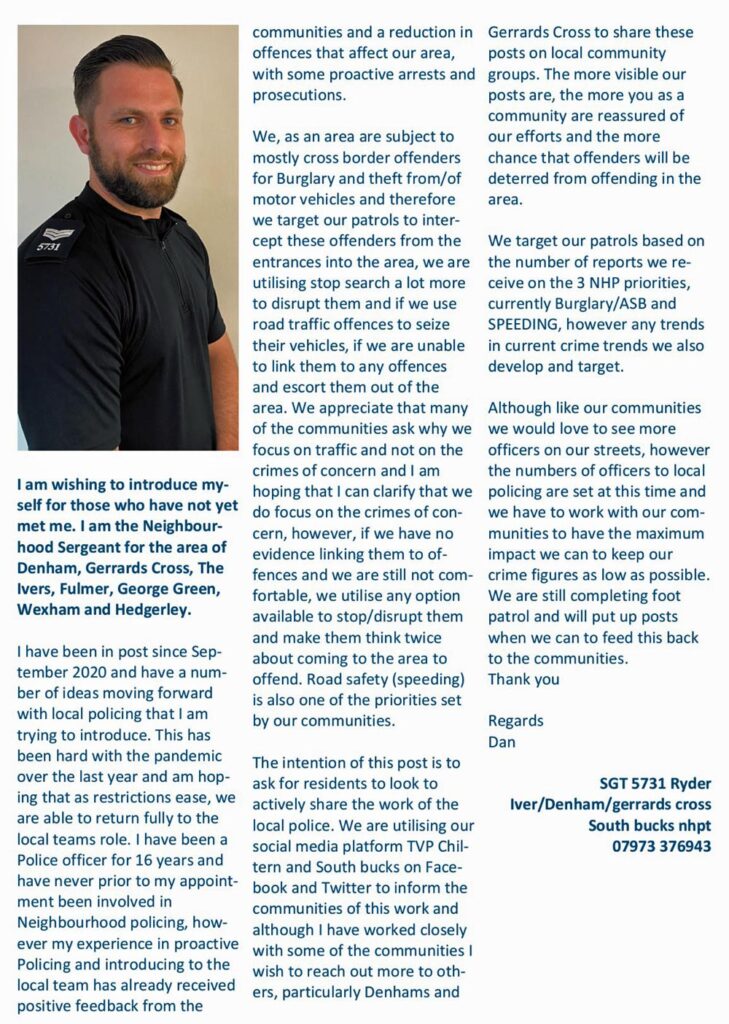 Other Recent Posts
Tuesday, April 18th, 2023
Report, minutes and video recordinig of Forum meeting April 5th 2023. Focus choices made for Neighbourhood Policing teams: Burglary – Speeding – Drugs Read More...
Tuesday, April 18th, 2023
Recent proposals by UK Government, Thames Valley Police and Thames Valley Police & Crime Commissioner (PCC) all make promises of increased resources for Neighbourhood Policing and greater focus on neighbourhood crime. Read More...
Tuesday, April 11th, 2023
Proposals have been made for a major review of local policing within Thames Valley. Active participation will make the point that we care about local policing, and retaining and rebuilding a local presence. Please express your views. Read More...
Wednesday, April 5th, 2023
Open letter and video sharing the priorities of new Chief Constable Jason Hogg; "supporting victims, fighting crime, and building trust and confidence amongst our communities." Read More...
Monday, February 13th, 2023
Neighbourhood Watch is running a series of free Crime Prevention webinars throughout February. Places available on Psychology of Scams and Preventing Burglary with WIDEN. Read More...
Wednesday, February 8th, 2023
Residents wishing to be kept up to date about local crime issues can sign up to the newly launched Police and Crime Commissioner WhatsApp broadcast group. Read More...