Sgt Dan Ryder in 'In and Around Iver'
Friday, August 6th, 2021
Below is an interesting page written for In and Around Iver by Sgt Dan Ryder, of the Neighbourhood Policing team across Denham, Gerrards Cross, The Ivers, Fulmer, George Green, Hedgerley and Wexham.
In particular, Sgt Ryder explains the tactic of disrupting criminality by intercepting suspected cross border offenders through traffic patrols. Those who have attended Forum meetings in the past will be familiar with this method.
We have noticed more activity on the TVP Chiltern & South Bucks social media platforms, and now we know why! Sgt Ryder asks the community to follow their accounts, and spread the word by SHARING posts on local community groups.
TVP Chiltern & South Bucks on Twitter
TVP Chiltern & South Bucks Facebook page
The enhanced profile on social media is to be welcomed. Residents should remain aware, however, that they SHOULD NOT REPORT CRIME through these channels. This was explained last year in our post "The Importance of REPORTING Crime and Bad Behaviour"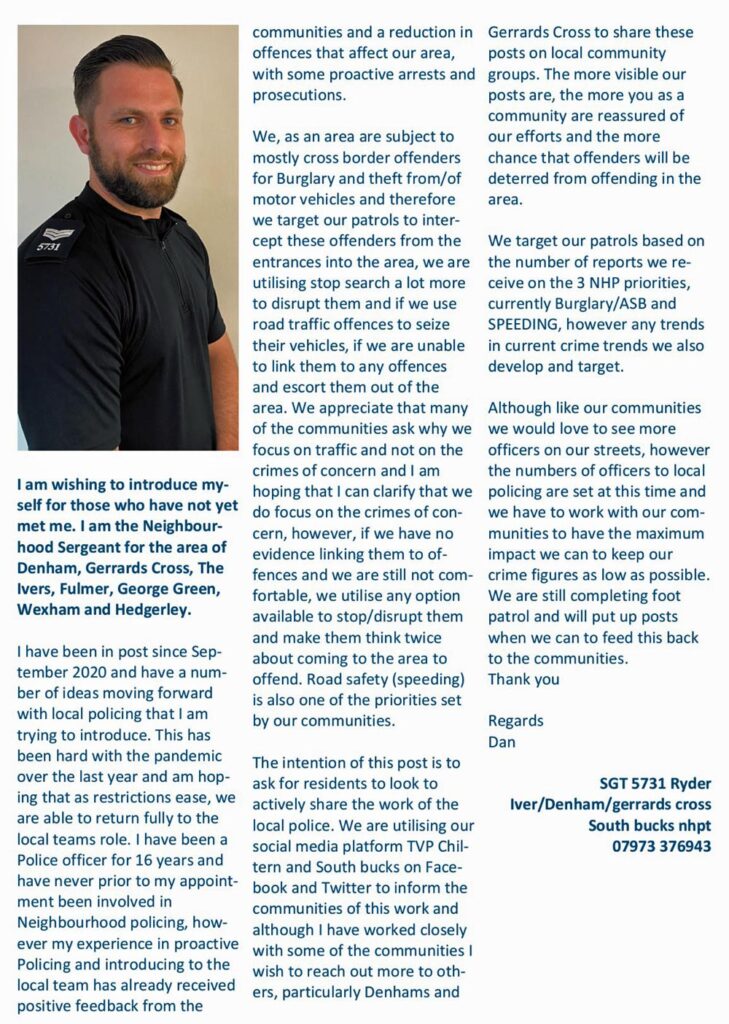 Other Recent Posts
Friday, August 7th, 2020
WHY it is important to report crime and concerns: we can do more to help focus Policing support and attention on our own locality, and even help in the fight against broader crime. Read More...
Thursday, December 2nd, 2021
Detailed winter Rural Crime newsletter issued by Sgt Darren Walsh. Includes crime prevention tips and news of a new WhatsApp group Read More...
Friday, November 19th, 2021
How the Forum has facilitated engagement between residents and Police over the past four years, and thanking residents for their inputs. Read More...
Sunday, November 14th, 2021
An unpleasant incident on the Forum's November meeting reminds us of the need to protect ourselves proactively against hackers and cyber crime. Read More...
Friday, October 29th, 2021
Invitation to free webinar providing in-depth view on County Lines, Tuesday 9th November Read More...
Wednesday, October 27th, 2021
Update on the creation of a Rural Crime Task Force. Read More...
Friday, October 22nd, 2021
UPDATE: THIS MEETING HAS HAD TO BE CANCELLED/POSTPONED. WE SHALL POST WHEN FURTHER INFORMATION IS AVAILABLE Read More...