Sgt Dan Ryder in 'In and Around Iver'
Friday, August 6th, 2021
Below is an interesting page written for In and Around Iver by Sgt Dan Ryder, of the Neighbourhood Policing team across Denham, Gerrards Cross, The Ivers, Fulmer, George Green, Hedgerley and Wexham.
In particular, Sgt Ryder explains the tactic of disrupting criminality by intercepting suspected cross border offenders through traffic patrols. Those who have attended Forum meetings in the past will be familiar with this method.
We have noticed more activity on the TVP Chiltern & South Bucks social media platforms, and now we know why! Sgt Ryder asks the community to follow their accounts, and spread the word by SHARING posts on local community groups.
TVP Chiltern & South Bucks on Twitter
TVP Chiltern & South Bucks Facebook page
The enhanced profile on social media is to be welcomed. Residents should remain aware, however, that they SHOULD NOT REPORT CRIME through these channels. This was explained last year in our post "The Importance of REPORTING Crime and Bad Behaviour"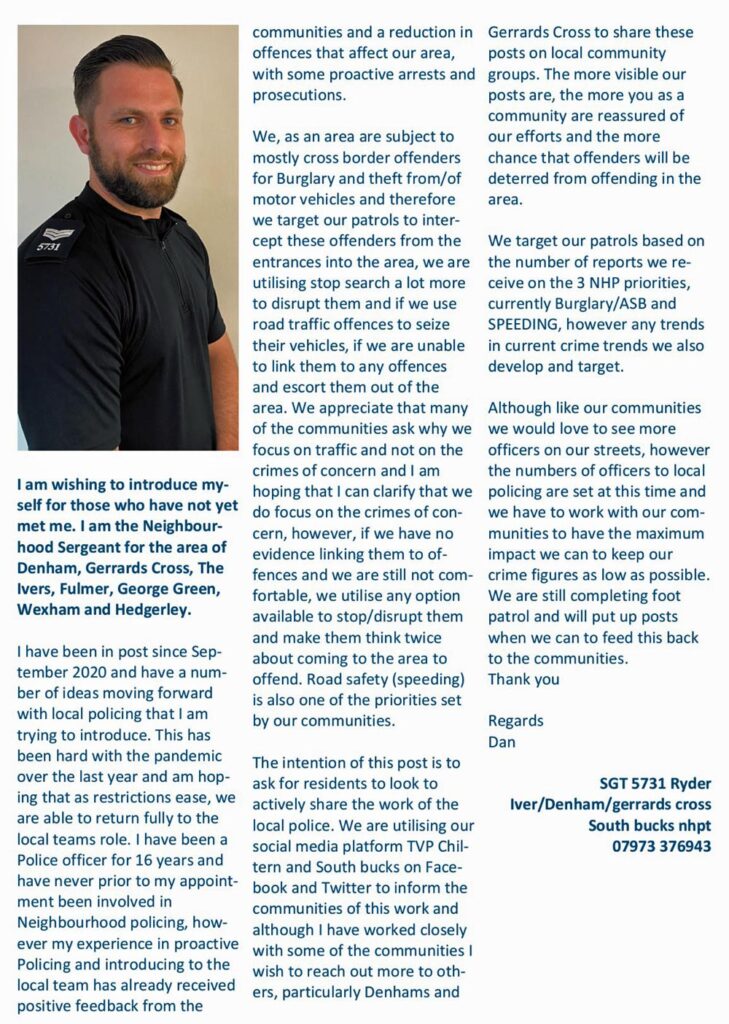 Other Recent Posts
Monday, December 5th, 2022
Video recording of Burglary Event held by Thames Valley Police for South Buckinghamshire residents on 1st December 2022 Read More...
Wednesday, February 1st, 2023
The Knife Angel spent a month at Arbour Park, Slough. We hope that its inspiring and thought provoking message has an abiding effect. Read More...
Friday, January 20th, 2023
Update on rural crime, including operations by the TVP Rural Crime team, crime trends, upcoming events, crime reduction advice and much more! Read More...
Friday, January 6th, 2023
Are you one of many residents who say we need more policing resource at a local/community level? If so, please take the opportunity to say so! Read More...
Friday, December 16th, 2022
We encourage residents to contribute their views to Thames Valley PCC Matthew Barber's consultation on crime and the policing budget for 2023/24. Read More...
Wednesday, November 30th, 2022
Neighbourhood Police INspector and colleagues will speak to residents about concerns of an increase in burglaries via a Microsoft Teams meeting, 7pm Thursday 1st December. Read More...