South Buckinghamshire Rural Crime Newsletter Spring/Summer 2023
Sunday, September 24th, 2023
Dear Country Watch Member,
This summer the team focused on heritage crime, conducting visits to our churches and places of worship to offer crime reduction advice. This followed a sharp increase in churches being burgled nationally and lead from roofs being targeted.
We've proactively been tackling rural crimes, by using analytical data and reviewing patterns from last year, a dedicated operation was put in place to target poachers, hare coursers and hunters who caused issues last summer. PC Jed Russell led a spring operation to tackle late night offending. Over 4 days he and PC Sophie Parfit conducted a number of patrols to the more vulnerable and hidden areas of the area and conducted a number of stop checks. During this operation, whilst completing a road check, their car was rammed and the offenders accelerated off whilst PC Russell was holding onto the driver trying to get him out of the car. Luckily, no one was injured but this shows the risk that the police face when dealing with people who give no thought to the harm they could cause in trying to get away. A further operation will take place in the autumn.
Neighbourhood Teams have been patrolling identified areas. A joint operation in April with neighbouring forces resulted in 102 people being arrested, (18 in TVP) and 80 vehicles being seized (16 in TVP). A wider joint operation in July resulted in over £250,000 worth of cash being seized, over 150 arrests (16 in Thames Valley), 81 cars being seized (13 in Thames Valley) and 74 instances where drugs were seized (14 of which occurred in South Bucks).
Well done to our Rural Crime Taskforce, who marked their first anniversary, by being named the most pro-active countryside crime team in the country. The 'Rob Oliver' Award was awarded, in February, by the Construction Equipment Association as they made over 120 checks against their CESAR database. Three taskforce officers also received CESAR champion awards. The taskforce recovered stolen goods worth more than £1.5m and their proactive approach has seen a significant impact in reducing hare coursing offences.
In March the Home Secretary, Suella Braverman joined Thames Valley's Police & Crime Commissioner, Matthew Barber and Buckingham MP Greg Smith to discuss the work of the Taskforce. Matthew Barber said "It was great to showcase some of the work being done by Thames Valley Police to protect our rural communities. The Home Secretary heard from farmers and the NFU about the challenges that theft of machinery and tools present to those farming in Thames Valley. It also provided an opportunity to explain the work being done to improve forensic marking of machinery and equipment". Greg Smith, Member of Parliament for Buckingham, has sponsored a Private Members Bill that makes the marking and registration of such machinery a legal requirement. The Equipment Theft (Prevention) Bill has made its way through Parliament, and the visit provided an opportunity to demonstrate to the Home Secretary some of the measures that can be put in place to safeguard machinery.
---
Events
We had a stall at the Bucks Country Show in Penn,the Chalfont St Giles Show and the Henley Show. Local events also took place at the Broadway Baptish Church in Chesham, St Peters Parish Church in Iver, St Marys Parish Church in Denham, Hughenden Manor in High Wycombe and Peterley Manor Farm in Gt Missenden.
Last year Thames Valley Police and The Kimblewick Hunt ran a rural event for farmers and landowners in improving farm and land security at Cholsey Grange Farm, Ibstone. Topics included advice on: gated access, fly-tipping, hare coursing, CCTV systems and cattle rustling. Key information that came from the meeting was the need to control who comes onto your land and putting in place suitable obstacles to frustrate would-be criminals.
Insp Hutchins from the Rural Taskforce advised landowners of the importance of knowing locations for their land (The benefits of knowing exact locations for emergency services and how What 3 Words can benefit landowners). He advised of the frustration when items are recovered from thieves but the police are unable to identify the owner to prove they are stolen. This highlights the need for property marking, which includes Data Tag for larger items, Cremark, Smartwater or engraving your house number and postcode, and the advantage in recording property on the National Property Register (www.immobilise.com).
This year we are planning a second show to be held at The Grove Riding School in
Lane End on 23rd October 2023.
---
Crime and Trends
Nationally: There have been a large amount of seizures of vehicles at ports with Range Rovers and Toyota (Rav 4s) being very popular. Motorcycle thefts have increased by over 50% with Yamaha and Honda accounting for nearly half of these.
Locally: A review of incidents shows there has been 187 incidents for the first 6 months. This included 4 arsons, 19 business burglaries, 12 residential burglaries, 21 criminal damages, 8 dog incidents, 5 public order incidents and 31 theft incidents. In the business burglaries, power tools are mostly what criminals targeted. Also taken were; diggers, tractors, fuel, vehicles in storage, wood, feed, tractor sat navs, cabling and even an honesty box.
Common crimes include criminal damage, with fences and gates being targeted by hare coursers and drivers of off-road vehicles. There were a number of complaints of hunting and concerns for wildlife being affected by building or garden developments. There were eight rural dog attacks on livestock.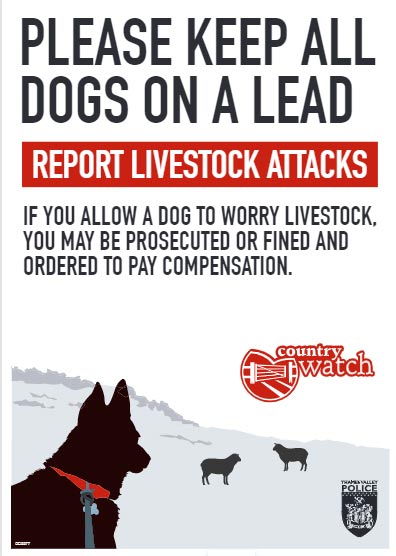 I have obtained a number of signs for farmers who have public footpaths going through fields where there is livestock. To reduce dog incidents, we will be running a campaign around livestock attacks. If you would like signs for your land please contact darren.walsh@thamesvalley.police.uk Reviewing figures from last year, we are also doing more work around hare coursing and working with farmers and landowners who have been targeted.
---
Crime Reduction Advice
To defeat criminals we need to work together with the most important partner – you! Please ensure that your site has set security procedures i.e.:
Site access – Is it secure? Are your gates locked?
Challenge stranger protocol: Does your team challenge strangers?
Could the police identify your farm in an emergency? Is there a visible name sign? Have you recorded What3Words location markers for your fields to assist call handlers?
Serial numbers: Have you recorded the serial numbers of tools and plant?
You can register, for free at www.immobilise.com. Have postcodes been etched on tools? This is essential for police to identify stolen property, as it is likely to be moved around the country.
Key security: Could an intruder easily access keys and steal your plant machinery?
Quad bikes: These are highly wanted by criminals. Keep out of sight and store in a locked location. Could items be blocked in or double locked?
Country Watch Signs: Available from the police if signed up to Countrywatch.
Let people know that you do take your security seriously.
The above are basic, but effective, security procedures that should not cost you the earth and could save you a small packet.
---
Country Watch
Sign up to Thames Valley Alerts to receive crime and policing updates directly from your local Neighbourhood Team as well as more crime and policing issues. Sign up to the service online at: www.thamesvalleyalert.co.uk or speak with one of your Neighbourhood Policing Team.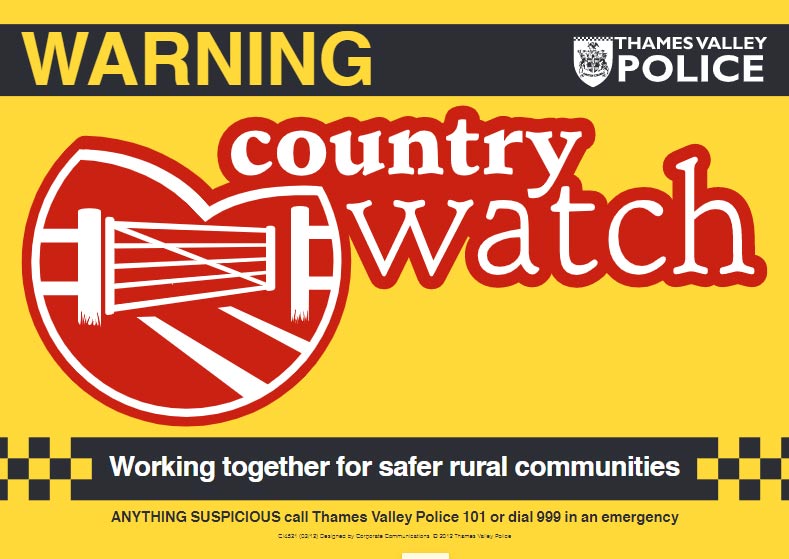 ---
Whats App
Following the launch of the Chiltern Rural Community Group Whats App Group is now up and running. The group is run by the public for you. If you would like to sign up please e-mail Nicole at clerk@pennparish.org.uk. There is the Land Watch Whats App group for South Bucks. Tabish from Beaconsfield Parish Council administrates this scheme and if you would like to join please e-mail Projectsupport@beaconsfieldtowncouncil.gov.uk or call 01494 675173.
It is important to report all crimes. We need information to target resources and develop intelligence. Tell us if you think an offence has or is about to be committed. If it is happening now, ring 999. If you have information that does not require an immediate response report it to Thames Valley Police online or by calling 101. You can report or pass information about rural crime anonymously to the Crimestoppers on 0800 555 111 or online.
Stay safe and keep those eyes peeled.
Yours sincerely,
PS 3675 Darren Walsh, South Buckinghamshire Neighbourhood Policing Team
Other Recent Posts
Monday, November 27th, 2023
The Police and Crime Commissioner invites residents to participate in a consultation on Police funding for 2024-2025 Read More...
Thursday, November 9th, 2023
Thames Valley Police and Crime Commissioner addresses a well attended meeting on Community Speedwatch at Great Missenden Memorial Hall. Read More...
Tuesday, October 24th, 2023
A 'Let's Talk About Speeding' meeting has been arranged for residents of the Missendens Community Board area on the evening of Tuesday 7th November, at the Great Missenden Memorial Hall. Read More...
Monday, October 23rd, 2023
Annual Community Safety survey from Buckinghamshire Council, informing strategy to reduce crime and anti-social behaviour in Buckinghamshire. Read More...
Sunday, October 22nd, 2023
Do we want a proactive, problem solving approach from our Police, or a service focussed simply on implementing a legal code? The 'right' answer is "the former", but requires trust and confidence of communities in their Police service Read More...
Thursday, October 19th, 2023
Shoplifting is becoming a growing scourge. It's misguided to consider it a 'victimless crime', absorbed by businesses and causing limited real harm. Read More...