Street Association free Awareness raising Workshops
Tuesday, March 3rd, 2020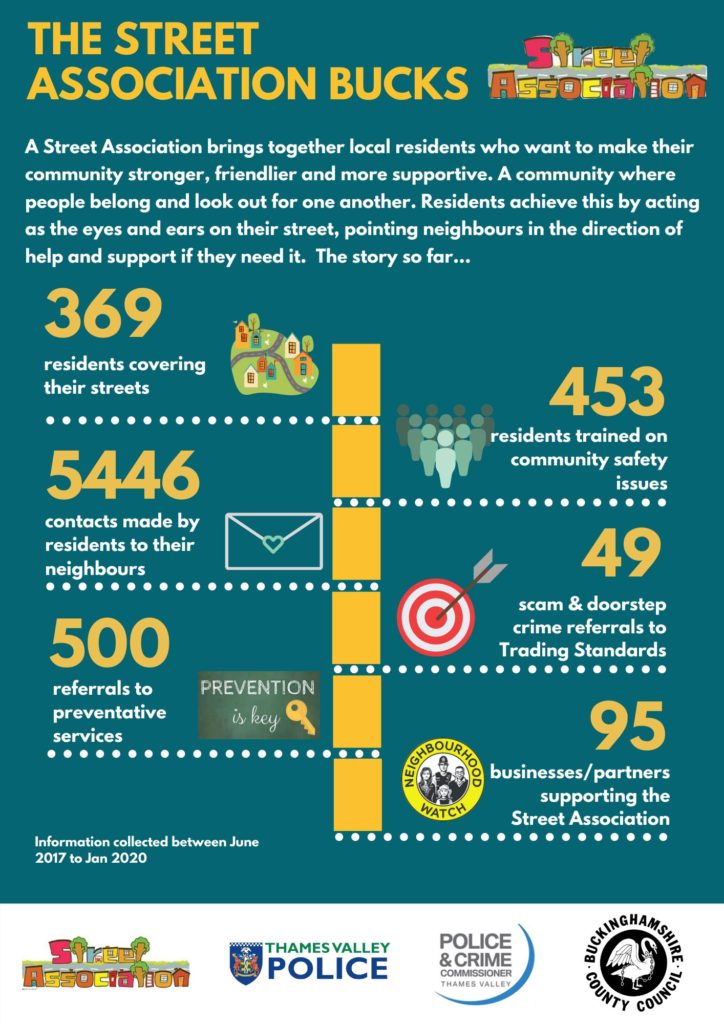 The Street Association is one of the community organisations that shares with Chiltern Community Forum the goal to encourage a stronger, more resilient community.
The Street Association works with local residents to help provide eyes and ears in the community, to hold Street Association information packs, and to share resources or signpost support to neighbours in need of some assistance. The infographic shows some of the excellent impacts they have achieved in the past couple of years.
As part of its work, The Street Association has developed a programme of free awareness raising workshops to help residents identify and react to some important issues. It is now inviting local organisations and groups to submit requests for training sessions from the remarkably diverse list below, or to make suggestions if there is a subject not covered.something missing.
Helen Cavill, Project Lead, is asking for responses by Monday 9th March. Please let her know what programmes are of interest, and your location. Once feedback has been received, a programme of events will be planned in different locations based on responses and demand. You can contact Helen on helencavillSA@hotmail.com.
Training courses available:
Domestic abuse
Sexual abuse
Exploitation: Human Trafficking, Domestic Servitude, Sexual Exploitation, Forced Labour/Slavery, County Lines, Cuckooing
Extremism and the different types (extreme political or religious views)
Isolation/loneliness – how to identify/how to support
Hoarding
Suicide Prevention
Food Prep/Healthy eating
Scams: investment, romance, text, email, phone, courier fraud
Internet Safety
Cyber Crime/Bullying
Alcohol and substance misuse
Mental Health
Dementia
Financial advice/support (Citizen's Advice Services)
Fire Safety in the Home
Support for carers
Avoiding a fall (trips and falls older people)
Understanding services and using the Street Association Directory of Services to signpost effectively
Helen is also planning to hold residents' coffee meetings as a platform to discuss local issues. If you're interested, please let her know, and whether Morning/Afternoon/Evening is more suitable.
Other Recent Posts
Friday, August 7th, 2020
WHY it is important to report crime and concerns: we can do more to help focus Policing support and attention on our own locality, and even help in the fight against broader crime. Read More...
Wednesday, November 30th, 2022
Neighbourhood Police INspector and colleagues will speak to residents about concerns of an increase in burglaries via a Microsoft Teams meeting, 7pm Thursday 1st December. Read More...
Tuesday, November 22nd, 2022
A short explainer video by Thames Valley Police on Stop and Search. Explains the process and the rights of anyone involved. Read More...
Sunday, October 16th, 2022
The Safer Buckinghamshire Board's annual Community Safety survey is seeking residents' views and is open until October 30th. Read More...
Thursday, October 13th, 2022
All residents are invited to participate in the Forum's survey of residents' concerns. These will inform discussion at the subsequent meeting of residents and Neighbourhood Police, and the setting of Neighbourhood Policing focus areas. Read More...
Tuesday, September 20th, 2022
Latest TVP Rural Crime update. making Country Watch members and residents aware of current crime trends to allow them to take action and develop working practices to reduce crime. Read More...
Friday, August 12th, 2022
The roll out of CSW groups under the new arrangements continues. An update on how concerned residents can get involved Read More...