Street Association free Awareness raising Workshops
Tuesday, March 3rd, 2020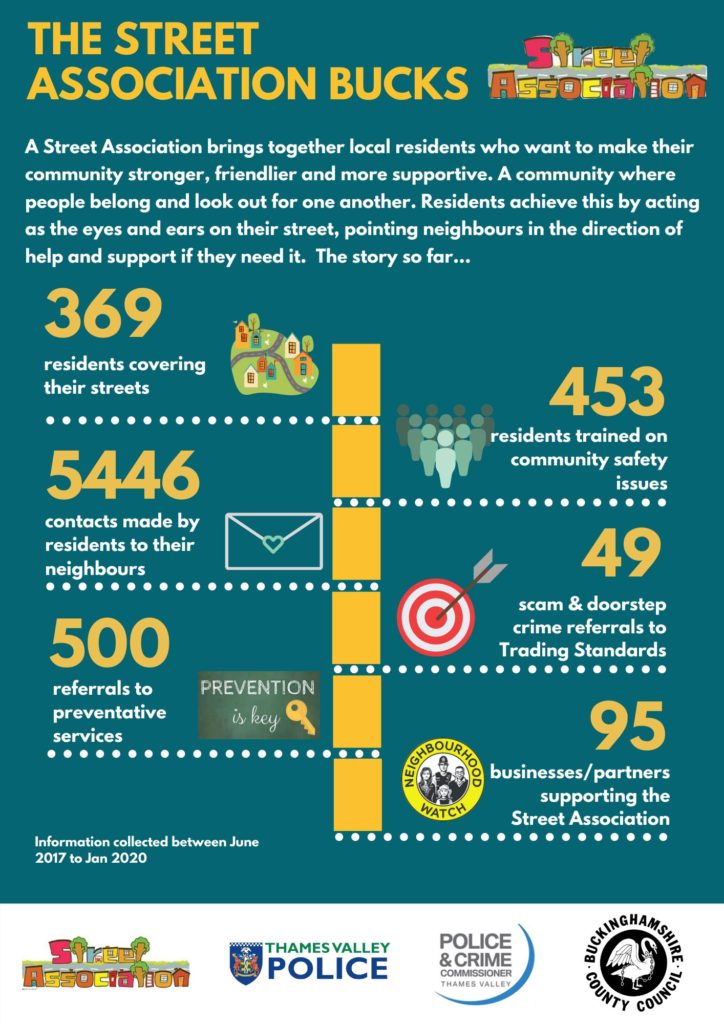 The Street Association is one of the community organisations that shares with Chiltern Community Forum the goal to encourage a stronger, more resilient community.
The Street Association works with local residents to help provide eyes and ears in the community, to hold Street Association information packs, and to share resources or signpost support to neighbours in need of some assistance. The infographic shows some of the excellent impacts they have achieved in the past couple of years.
As part of its work, The Street Association has developed a programme of free awareness raising workshops to help residents identify and react to some important issues. It is now inviting local organisations and groups to submit requests for training sessions from the remarkably diverse list below, or to make suggestions if there is a subject not covered.something missing.
Helen Cavill, Project Lead, is asking for responses by Monday 9th March. Please let her know what programmes are of interest, and your location. Once feedback has been received, a programme of events will be planned in different locations based on responses and demand. You can contact Helen on helencavillSA@hotmail.com.
Training courses available:
Domestic abuse
Sexual abuse
Exploitation: Human Trafficking, Domestic Servitude, Sexual Exploitation, Forced Labour/Slavery, County Lines, Cuckooing
Extremism and the different types (extreme political or religious views)
Isolation/loneliness – how to identify/how to support
Hoarding
Suicide Prevention
Food Prep/Healthy eating
Scams: investment, romance, text, email, phone, courier fraud
Internet Safety
Cyber Crime/Bullying
Alcohol and substance misuse
Mental Health
Dementia
Financial advice/support (Citizen's Advice Services)
Fire Safety in the Home
Support for carers
Avoiding a fall (trips and falls older people)
Understanding services and using the Street Association Directory of Services to signpost effectively
Helen is also planning to hold residents' coffee meetings as a platform to discuss local issues. If you're interested, please let her know, and whether Morning/Afternoon/Evening is more suitable.
Other Recent Posts
Monday, December 5th, 2022
Video recording of Burglary Event held by Thames Valley Police for South Buckinghamshire residents on 1st December 2022 Read More...
Monday, February 13th, 2023
Neighbourhood Watch is running a series of free Crime Prevention webinars throughout February. Places available on Psychology of Scams and Preventing Burglary with WIDEN. Read More...
Wednesday, February 8th, 2023
Residents wishing to be kept up to date about local crime issues can sign up to the newly launched Police and Crime Commissioner WhatsApp broadcast group. Read More...
Wednesday, February 1st, 2023
The Knife Angel spent a month at Arbour Park, Slough. We hope that its inspiring and thought provoking message has an abiding effect. Read More...
Friday, January 20th, 2023
Update on rural crime, including operations by the TVP Rural Crime team, crime trends, upcoming events, crime reduction advice and much more! Read More...
Friday, January 6th, 2023
Are you one of many residents who say we need more policing resource at a local/community level? If so, please take the opportunity to say so! Read More...
Friday, December 16th, 2022
We encourage residents to contribute their views to Thames Valley PCC Matthew Barber's consultation on crime and the policing budget for 2023/24. Read More...