The Law around E-Scooters
Friday, May 28th, 2021
E-scooters have become a great deal more prevalent in recent months. With trial rental schemes in nearby towns, it is perhaps not surprising that there is confusion over the law on privately-owned scooters. Driving in London recently I was struck by the ubiquity of E-scooters – weaving in and out of traffic, on pavements, and some guy doing wheelies on the pavement.
The policing exercise below is an example of the confusion. Warnings were issued to over 30 e-scooter riders who were committing offences around Slough, but were unaware of the rules. It is fair to say that some of the comments on social media are not entirely sympathetic to the rules or enforcement.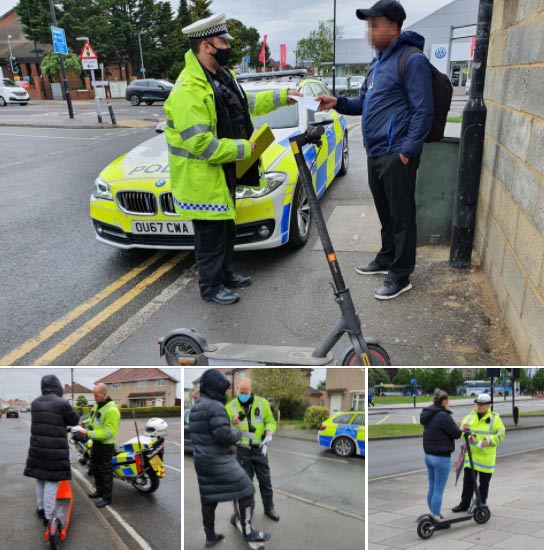 We thought it would be useful, therefore, to publish guidance and links on the law surrounding E-scooters. These are taken from the Thames Valley Police website: Thames Valley Police: E-scooters – what are the rules?
Can I ride my e-scooter on the road?
A privately owned e-scooter can only legally be used on private land and with the permission of the land owner.
In legislation, an e-scooter is classed as a powered transporter and are treated as a motor vehicle and so fall under the Road Traffic Act. This means that they are subject to all the same legal requirements as motor vehicles; MOT, tax, licensing, insurance and specific construction regulations.
As e-scooters can't currently meet these requirements, riding a privately-owned e-scooter on a public road, pavement or other public area is a road traffic offence.
What happens if I ride my e-scooter in a public place?
Any person who uses a powered transporter on a public road, pavement or other prohibited space is committing a criminal offence and can be prosecuted.
Some of the potential offences committed can include driving without a valid licence and driving without insurance. The penalty for driving without insurance is a fine of £300 and up to 6 points on your driving licence if you have one. Your e-scooter may also be seized under section 165 of the Road Traffic Act for being used without insurance.
If you are using an e-scooter in public in an anti-social manner, you can also risk the e-scooter being seized under section 59 of the Police Reform Act.
What are the rules for rental e-scooters?
Currently, there are government trials taking place in certain areas of the UK where rental e-scooters can be used legally, however riders have to hire the scooter from specific companies who will have provided the relevant motor insurance.
The rental companies will have their own policies for use of their e-scooters but general rules to be aware of are:
You must be over 16
You must hold a full or provisional driving licence endorsed with category q
They can be used on public roads and cycle lanes but not on pavements. For those living in Milton Keynes, rental e-scooters can be used on redways.
Only one person can use them at any time and they must not be used to tow anything.
Riders are still subject to road traffic legislation around the safe use of vehicles including careless or dangerous driving, using a mobile phone whilst driving and using a vehicle whilst drunk or intoxicated.
It is still illegal to use privately owned scooters in public within the designated trial area.
Other Recent Posts
Friday, August 7th, 2020
WHY it is important to report crime and concerns: we can do more to help focus Policing support and attention on our own locality, and even help in the fight against broader crime. Read More...
Tuesday, July 5th, 2022
Excellent new tool from GetSafeOnline and Cifas, helping determine whether a website is likely to be legitimate or a scam. Read More...
Monday, June 27th, 2022
All residents are invited to participate in the Forum's survey of residents' concerns and the July 12th open meeting with representatives of Thames Valley Police. Read More...
Friday, June 24th, 2022
Congratulations to Sergeant Dan Ryder, awarded community officer of the year at TVP's community Policing awards 2022. Read More...
Monday, June 20th, 2022
A new South Buckinghamshire local policing area (LPA) has been formed by amalgamating our former Chiltern & South Bucks policing area with Wycombe policing area. Read More...
Friday, June 17th, 2022
The official Annual Report for 2021/22 from Thames Valley Police and Crime Commissioner. Read More...
Thursday, June 16th, 2022
The Forum would like to thank Inspector Richard Vine for his consistent support and encouragement of the Forum and its efforts over the past four years. Read More...