Valuing the Role of our Neighbourhood PCSOs
Sunday, February 23rd, 2020
It can be hard for members of the public to understand how policing fits together in their neighbourhood. And it is a frequently-heard complaint that there are insufficient Police resources in neighbourhoods, including lower numbers visibly 'on the beat'.
In an illuminating presentation to a recent Chesham Rotary lunch, Supt Amy Clements, LPA Commander for Chiltern & South Bucks, exhorted those present to value the work of Neighbourhood Policing Teams, and in particular to understand the importance of Police Community Support Officers (PCSOs) within Thames Valley Police – "underestimate them at your peril, they are our eyes and ears within the community."
The College of Policing defines the key features of neighbourhood policing as:
Police officers, staff and volunteers accessible to, responsible for and accountable to communities;
Community engagement that builds trust and develops a sophisticated understanding of community needs;
Collaborative problem-solving with communities supported by integrated working with private, public and voluntary sectors.
In other words, it's all about community, in particular protection of local neighbourhoods and communities, crime prevention, and safeguarding vulnerable people. Neighbourhood police has ready access to more specialised policing services; for Chiltern & South Bucks, this includes a 6-strong 'problem solving' team based in Amersham. They also work with multiple agencies to provide a broader approach to community concerns and needs. In particular, with Chiltern Community Forum's other partner, the Community Safety team of Chiltern & South Bucks District Councils.
From the above, it is apparent that local intelligence and a two-way dialogue between the Police and the public are critical. As the most visible consistent police presence around our neighbourhoods, that's why PCSOs are so important.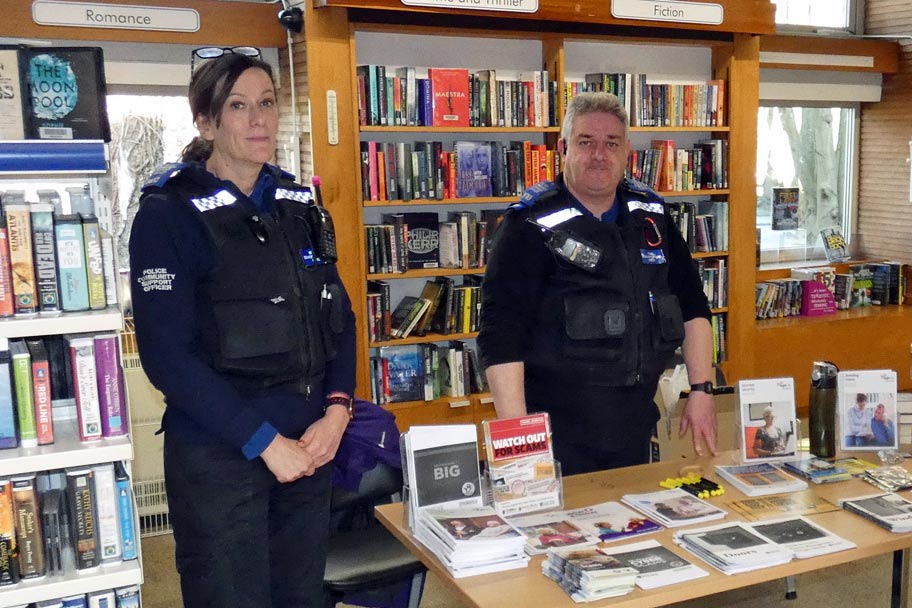 We would encourage residents to take a moment where possible to get to know their local PCSOs. This could be by stopping for a chat when they meet them on the street. Or by coming along to one of the monthly 'Have Your Say' meetings held by Neighbourhood Policing and Community Safety in each of the neighbourhood areas (Chesham, Amersham, Chalfonts, Missendens) – pictured are PCSOs Jennifer Shraga and Chris Hinkley-Ging at a recent 'Have Your Say' at Great Missenden Library. Here you can raise concerns, or just have a chat and browse the literature (and an occasional safety-related goodie!) on offer.
Upcoming 'Have Your Say' meetings can be found on the Diary Dates page of this website.
'A Day in the Life of a PCSO'
The following video was made by Thames Valley Police, covering the activities of PCSOs within the Reading area.

Neighbourhood Policing – Who's who
Below is a summary of the current neighbourhood policing teams across our four areas. For updated information, follow the links to the Police.UK website.
The Chiltern Neighbourhood Policing team, including Chesham, Amersham, the Chalfonts and Missendens, is led by Inspector Richard Vine.
Chesham's team consist of Sergeant Roy Evans, with Police Constables Gavin McVeigh and Gillian Gillespie, and PCSOs Lesley Roche, Matt Sansom, Harry Carter, Lee Bryan and Matthew King. View Chesham Neighbourhood Policing Team.
The team for Amersham consists of Sergeant Darren Walsh, with Police Constables Matt Carson and Matt Cumming, and PCSOs Mike Shepherd, Jacqueline Day and Lucy Sandford. View Amersham Neighbourhood Policing Team.
The Chalfonts team consists of Sergeant Darren Walsh, with Police Constables Matt Carson and Matt Cumming, and PCSOs Jen Shraga and Gary Tugwell. View Chalfonts Neighbourhood Policing Team.
The Missendens team consists of Sergeant Darren Walsh, with Police Constables Matt Carson and Matt Cumming, and PCSOs Chris Hinkley-Ging and Lucy Groves. View Missendens Neighbourhood Policing Team.
Other Recent Posts
Monday, December 5th, 2022
Video recording of Burglary Event held by Thames Valley Police for South Buckinghamshire residents on 1st December 2022 Read More...
Monday, February 13th, 2023
Neighbourhood Watch is running a series of free Crime Prevention webinars throughout February. Places available on Psychology of Scams and Preventing Burglary with WIDEN. Read More...
Wednesday, February 8th, 2023
Residents wishing to be kept up to date about local crime issues can sign up to the newly launched Police and Crime Commissioner WhatsApp broadcast group. Read More...
Wednesday, February 1st, 2023
The Knife Angel spent a month at Arbour Park, Slough. We hope that its inspiring and thought provoking message has an abiding effect. Read More...
Friday, January 20th, 2023
Update on rural crime, including operations by the TVP Rural Crime team, crime trends, upcoming events, crime reduction advice and much more! Read More...
Friday, January 6th, 2023
Are you one of many residents who say we need more policing resource at a local/community level? If so, please take the opportunity to say so! Read More...
Friday, December 16th, 2022
We encourage residents to contribute their views to Thames Valley PCC Matthew Barber's consultation on crime and the policing budget for 2023/24. Read More...