Virtual Community Forum June 26th
Thursday, June 28th, 2018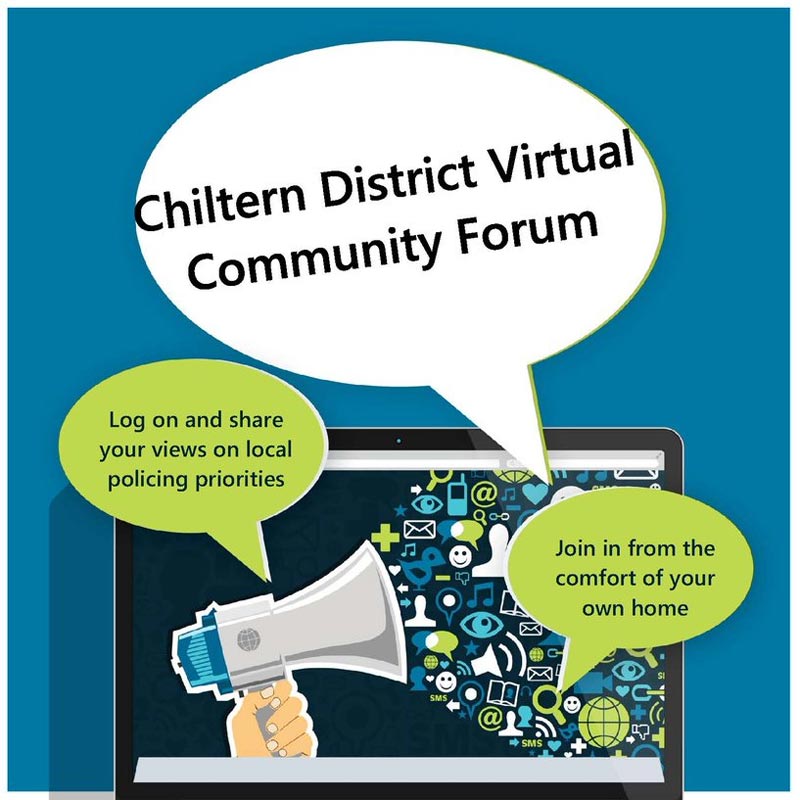 The latest virtual community forum was held on Tuesday, 26th June.
The panel of representatives available to answer questions included Katie Galvin and Hannah Tomlin from Chiltern and South Bucks District Council's Community Team, Sgt Paul Cossey, Sgt Roy Evans, PCSO Chris Ging, and Paul Hodson from Bucks County Council Communities Team.
Here are some of the questions covered:
Q: "I've just moved here and I would like to get involved with my community. How do I find out about Neighbourhood Watch? How does it work?"
A: Please watch our short video about which shows how Neighbourhood Watch works and how easy it is to set up a scheme in your road:
If you want to start a Neighbourhood Watch scheme, join one already operating in your road, or find out more about how Neighbourhood Watch works, please contact the Community Safety team, 01494 586535, communitysafety@chiltern.gov.uk
Q: The three priorities for local policing are Anti Social Behaviour, Speeding and Drugs. With fewer Officers now available how can you make headway against issues?
A: As a team we are working hard to tackle these issues. Recently we had a group of youths causing significant ASB issues in the Amersham area. A number of arrests were made by the Neighbourhood Policing Team and 5 offenders have since been charged with offences including Drugs, Public Order, Assault and theft. This has resulted in a decrease in this type of offending. We are also attending local schools giving talks around drug use and ASB.
Re Speeding we have a number of community groups and residents working together conducting speed watch initiatives. We would encourage more initiatives like this to support the police in tackling speeding motorists. Should you feel that speeding is a problem where you live, we would always recommend you consider the Community Speedwatch scheme. This requires the gathering of a six member group, prepared to donate their time to monitoring speeds on a nearby road. Letters are then sent to the registered keepers of the offending vehicles and has been shown as a far more effective tool in influencing a longer-term reduction in speeds. The data from Community Speedwatch is also added to that acquired from other sources, to develop a clearer picture of where police enforcement should be placed. Should you be interested, more details can be provided by calling 101 and asking for your local neighbourhood officer or emailing:
AmershamNHPT@thamesvalley.pnn.police.uk
MissendensNHPT@thamesvalley.pnn.police.uk
ChalfontsNHPT@thamesvalley.pnn.police.uk
CheshamNHPT@thamesvalley.pnn.police.uk
Q: I recently had my bike stolen. Do you have any advice for how I can stop thieves trying to take my new one?
A: There are many ways you can protect your bike from being stolen.
Chiltern District Council and South Bucks District Council are encouraging residents to be more conscious of how secure their bikes are and if they haven't already, get them marked to reduce the risk of theft. Whilst some bicycles are returned to their owners, most are never seen again because they have no markings on them, or no recorded details such as frame serial numbers and size, make, model, colour or a picture.
Bike marking is a simple solution to this problem and means that the police are more likely to identify the bike and return it to the owner: a simple sticker with your postcode on, stuck to the inside of your bike frame, will inform the police of ownership.
If you would like a bike marking label please email communitysafety@chiltern.gov.uk
Other Recent Posts
Monday, December 5th, 2022
Video recording of Burglary Event held by Thames Valley Police for South Buckinghamshire residents on 1st December 2022 Read More...
Monday, February 13th, 2023
Neighbourhood Watch is running a series of free Crime Prevention webinars throughout February. Places available on Psychology of Scams and Preventing Burglary with WIDEN. Read More...
Wednesday, February 8th, 2023
Residents wishing to be kept up to date about local crime issues can sign up to the newly launched Police and Crime Commissioner WhatsApp broadcast group. Read More...
Wednesday, February 1st, 2023
The Knife Angel spent a month at Arbour Park, Slough. We hope that its inspiring and thought provoking message has an abiding effect. Read More...
Friday, January 20th, 2023
Update on rural crime, including operations by the TVP Rural Crime team, crime trends, upcoming events, crime reduction advice and much more! Read More...
Friday, January 6th, 2023
Are you one of many residents who say we need more policing resource at a local/community level? If so, please take the opportunity to say so! Read More...
Friday, December 16th, 2022
We encourage residents to contribute their views to Thames Valley PCC Matthew Barber's consultation on crime and the policing budget for 2023/24. Read More...