What type of Policing do we want?
Sunday, October 22nd, 2023
There is more than one answer to this, but the one we're focussing on is whether we want a proactive, problem solving approach from our Police, or do we want a more reactive service, focussed simply on implementing a legal code?
At the recent Thames Valley Police Neighbourhood Policing conference, this question was posed by distinguished criminologist Gloria Laycock, Professor of Crime Science at University College London.
The 'right' answer is that we need a proactive, problem solving approach. Many if not most harms cannot simply be dealt with by reactive enforcement – think in particular of knife crime, County lines, drug dealing, but this is equally applicable to many other harms.
But to achieve this, Police and communities need to come together.
3 Requirements of a problem-solving approach
Professor Laycock listed three essential components to the problem-solving approach:
DATA
INTELLIGENCE
ANALYSIS
'Data' will often come in the form of reports from the public. Gathering of 'Intelligence' also requires community involvement. In turn, however, TRUST is essential – trust in the Police, trust that reports and intelligence will be used in a timely and effective manner.
Trust and Confidence are essential
This very public issue of trust has been at the forefront of the Metropolitan Police's problems. Met Police chief Sir Mark Rowley has announced a raft of reforms as part of his plan to restore public trust in the force. Within Thames Valley, the Police and Crime Commissioner's Crimefighters strategy (subtitled "Buildiing Confidence in Policing") is said to be "a shared vision with Thames Valley Police to strengthen local policing and build the trust of all of our communities". Thames Valley Chief Constable Jason Hogg acknowledges that trust and confidence is a number one issue for policing nationally.
Link to Thames Valley Police and Crime Commissioner's Crimefighters strategy
Neighbourhood Policing: "the most effective Route to building Trust"
The conference was told that Neighbourhood Policing is the most effective route to building trust, also that Neighbourhood Policing should be recognised as "the specialism it is". This seems to represent quite a shift. Assistant Chief Constable – Local Policing, Christian Bunt, stressed the need to understand community concerns and priorities in order to meet expectations, to create more representative policing, to build relationships leading to better intelligence. He summed this up as follows: "Greater public participation leads to greater resilience", and that "every interaction is an opportunity for engagement". Professor Laycock also pointed to the need for consistency in personnel within Neighbourhood policing.
Link to Thames Valley Police – Local Policing Structures
At Chiltern & South Bucks Policing Issues Forum we have worked for nearly 6 years to assist our Neighbourhood Policing teams. We understand the need for public engagement with our residents and communities – most importantly strategically, but also from a statutory perspective. We also know that many residents are more sceptical or even cynical.
The Importance of REPORTING
Repeatedly the Forum bangs the drum about the importance of REPORTING crime and bad behaviour. Professor Laycock's remarks underline this yet again. The intentions expressed in the force review, in the PCC's Crimefighters strategy, and in the planned addition of neighbourhood resources are all to be welcomed, and we hope that confidence and trust can grow in our communities. But we must also recognise that this won't be a total panacea. That's why inputs from residents and community are essential to the reporting and intelligence gathering process.
There are various ways in which residents can report a range of crimes, harms and concerns, or engage with their local Police.
The 999 telephone line is of course one option, to be used only in cases of emergency, defined by TVP as "when a life is in danger or a crime is happening right now."
For other reports, the public is asked to call 101 or to use the online option. Below we show the options listed on the TVP web site home page (www.thamesvalley.police.uk/) under the categories 'Report' and 'Tell us about'.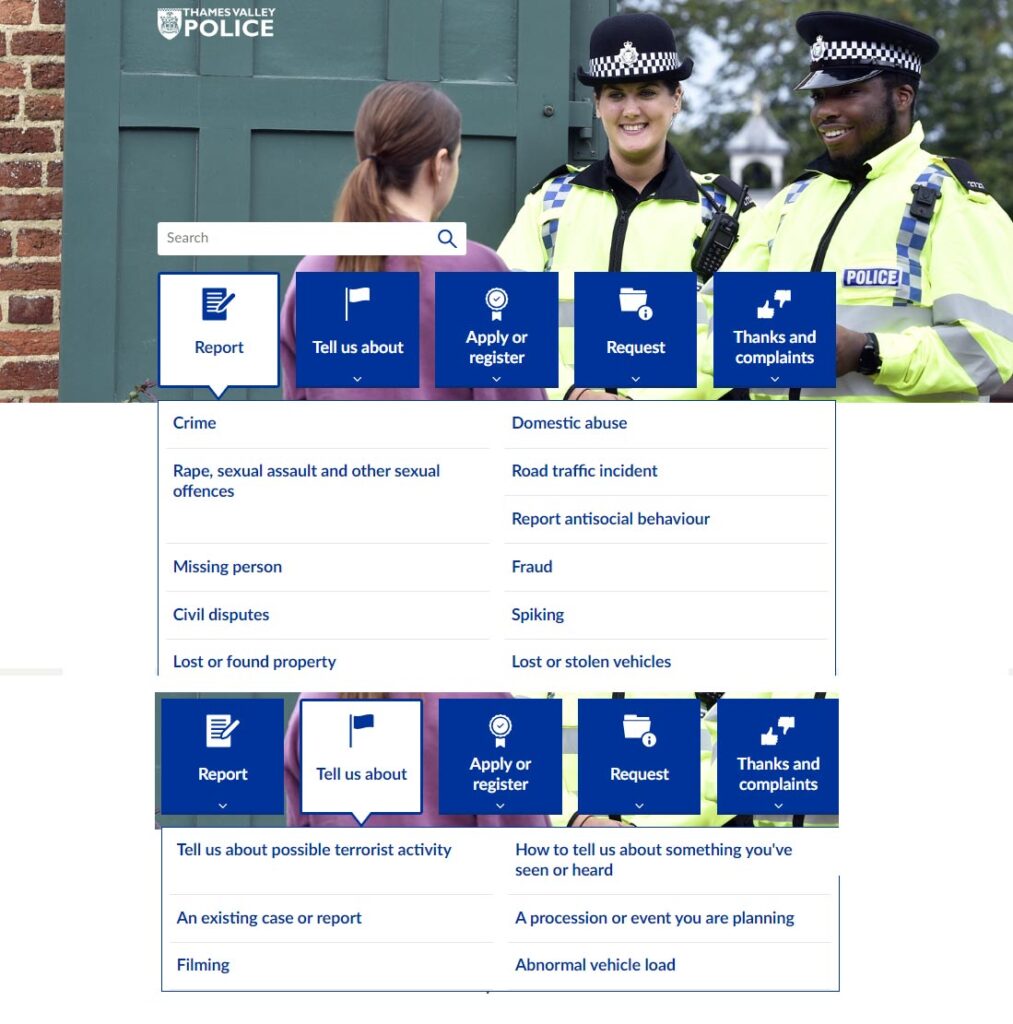 Additionally, there are a number of ways in which residents can meet their local officers and PCSOs. Neighbourhood teams routinely organise 'Have Your Say' events at pre-advertised times and venues. These are posted on TVP's social media, and where we know them, on our Diary Dates page. Or just stop one and have a chat!
Within Chiltern and South Buckinghamshire, the Forum surveys residents, arranges a meeting between residents and senior Neighbourhood officers, and sets local Neighbourhood Policing priorities. This is a unique model within the TVP Force area, covering 8 TVP neighbourhoods:
Amersham
Beaconsfield
Burnham, Farnhams & Taplow
Chalfonts
Chesham, Denham & Gerrards Cross
Missendens
Iver, Stoke Poges & Wexham.
Other Recent Posts
Monday, November 27th, 2023
The Police and Crime Commissioner invites residents to participate in a consultation on Police funding for 2024-2025 Read More...
Thursday, November 9th, 2023
Thames Valley Police and Crime Commissioner addresses a well attended meeting on Community Speedwatch at Great Missenden Memorial Hall. Read More...
Tuesday, October 24th, 2023
A 'Let's Talk About Speeding' meeting has been arranged for residents of the Missendens Community Board area on the evening of Tuesday 7th November, at the Great Missenden Memorial Hall. Read More...
Monday, October 23rd, 2023
Annual Community Safety survey from Buckinghamshire Council, informing strategy to reduce crime and anti-social behaviour in Buckinghamshire. Read More...
Thursday, October 19th, 2023
Shoplifting is becoming a growing scourge. It's misguided to consider it a 'victimless crime', absorbed by businesses and causing limited real harm. Read More...
Sunday, September 24th, 2023
Update on rural crime, including operations by the TVP Rural Crime team, crime trends, upcoming events, crime reduction advice and much more! Read More...