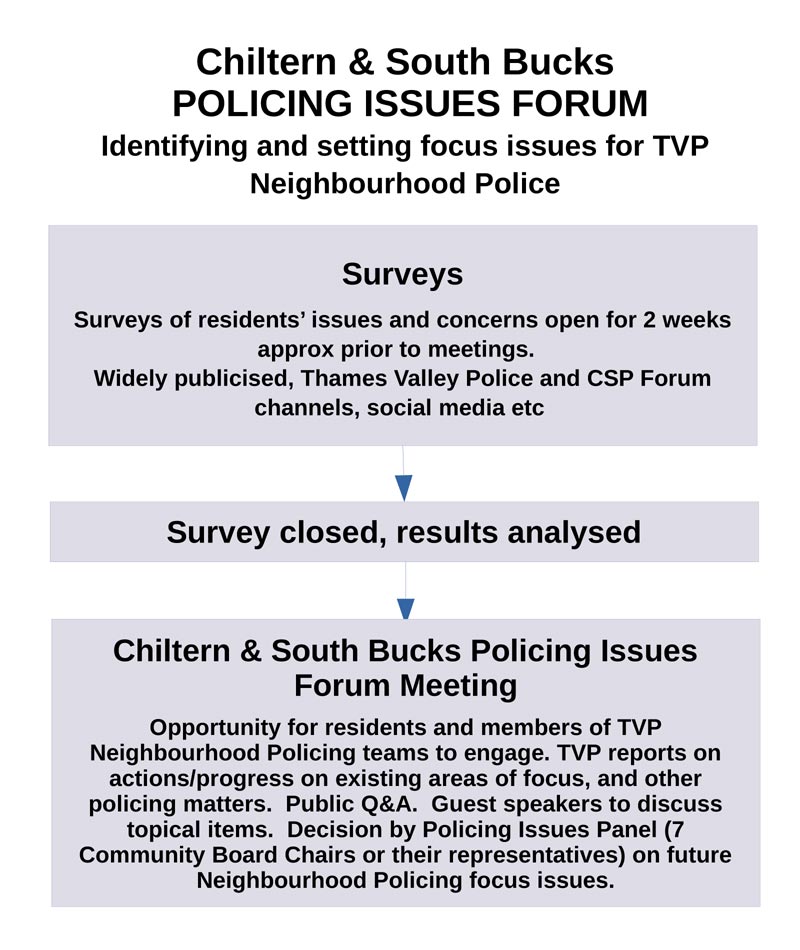 Following the move to a unitary Buckinghamshire Council, 16 Community Boards (CBs) were created. Their remit is to bring together the Council, residents, groups and organisations to look at local issues and find ways of improving them together. They replaced the previous Local Area Forums (LAF), though with greater access to financial resources. Within the Chiltern & South Bucks Local Policing Area (LPA), there are six Community Boards, with a seventh shared with an adjoining LPA.
Buckinghamshire Council and Thames Valley Police have agreed that Community Boards will be involved with setting of 'neighbourhood policing focus areas'. Decisions on Neighbourhood Policing areas of focus will therefore be taken by a Policing Issues Panel (PIP) made up of the 7 Community Board chairs or delegates, and will then cover the entire Chiltern & South Bucks Local Policing Area (LPA).
The Community Forums' meetings have proved to be a popular platform for interaction between residents and Police. There is always senior representation from Thames Valley Police and where appropriate, guest speakers and subject matter experts. The Forum helps with the logistical challenge of Chiltern & South Bucks LPA needing to participate in 7 Community Boards, far more than any other Policing Area in Buckinghamshire. Where community safety items are tabled at a Community Board meeting, Police will seek to attend meetings and be available for discussion.
Involvement with YOUR local Community Board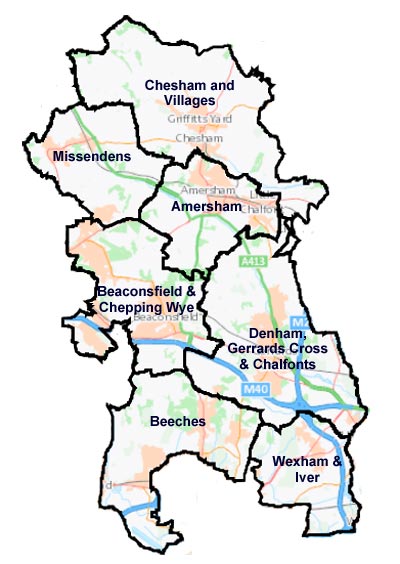 Community Board meetings are open to all members of the public. Below we show summary information about the 7 Community Boards within Chiltern & South Bucks, including contact details. You can also find out more from the Community Boards page on Buckinghamshire Council's web site.
Participation in the meetings of your local Community Board will inform you about a range of issues within your community, including policing and crime.
Community Boards meet three to four times a year. Each has agreed on a set of local priorities, and has appointed working groups relating to these priorities. Importantly, each Community Board has funding available, and can make grants for projects which can improve the local community. For those with the time and interest, these working groups are a great way of getting involved with your local community!
Chiltern & South Bucks Community Boards