Introduction to Rural Spotters event
Friday, August 6th, 2021
Thames Valley Police will be holding an "Introduction to Rural Spotters" event on TUESDAY 7TH SEPTEMBER 2021 in the evening, in Amersham. Precise venue and time to be confirmed.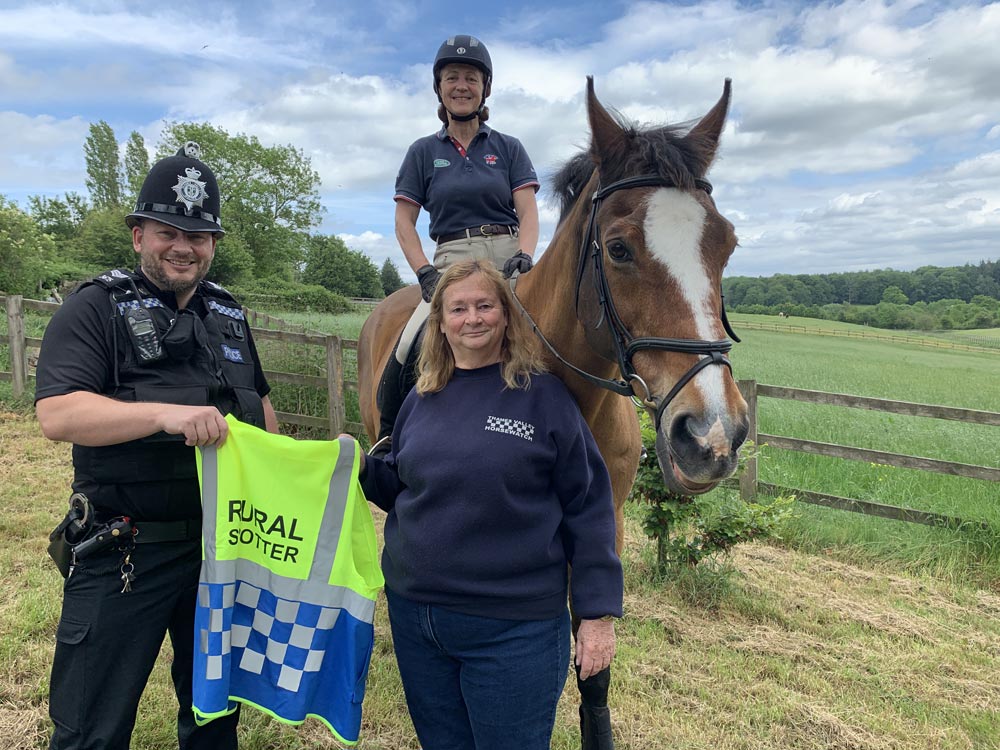 The Rural Spotters scheme was launched in mid-2019. Rural Spotters are volunteers who act as the eyes and ears of the Police in rural areas, and liaise with their local community. They will be horse riders who look out for anything suspicious whilst out on their normal hacking routes. Training will be given, assessments made, Hi Vis vests handed out.
An active team of enthusiastic Spotters already exists, and Thames Valley Police is looking to recruit more.
Those interested in learning more can contact Helen Evans, Thames Valley Police Equine Liaison Volunteer, by emailing RuralSpottersCSB@thamesvalley.pnn.police.uk.
Other Recent Posts
Friday, August 7th, 2020
WHY it is important to report crime and concerns: we can do more to help focus Policing support and attention on our own locality, and even help in the fight against broader crime. Read More...
Wednesday, November 30th, 2022
Neighbourhood Police INspector and colleagues will speak to residents about concerns of an increase in burglaries via a Microsoft Teams meeting, 7pm Thursday 1st December. Read More...
Tuesday, November 22nd, 2022
A short explainer video by Thames Valley Police on Stop and Search. Explains the process and the rights of anyone involved. Read More...
Sunday, October 16th, 2022
The Safer Buckinghamshire Board's annual Community Safety survey is seeking residents' views and is open until October 30th. Read More...
Thursday, October 13th, 2022
All residents are invited to participate in the Forum's survey of residents' concerns. These will inform discussion at the subsequent meeting of residents and Neighbourhood Police, and the setting of Neighbourhood Policing focus areas. Read More...
Tuesday, September 20th, 2022
Latest TVP Rural Crime update. making Country Watch members and residents aware of current crime trends to allow them to take action and develop working practices to reduce crime. Read More...
Friday, August 12th, 2022
The roll out of CSW groups under the new arrangements continues. An update on how concerned residents can get involved Read More...