Introduction to Rural Spotters event
Friday, August 6th, 2021
Thames Valley Police will be holding an "Introduction to Rural Spotters" event on TUESDAY 7TH SEPTEMBER 2021 in the evening, in Amersham. Precise venue and time to be confirmed.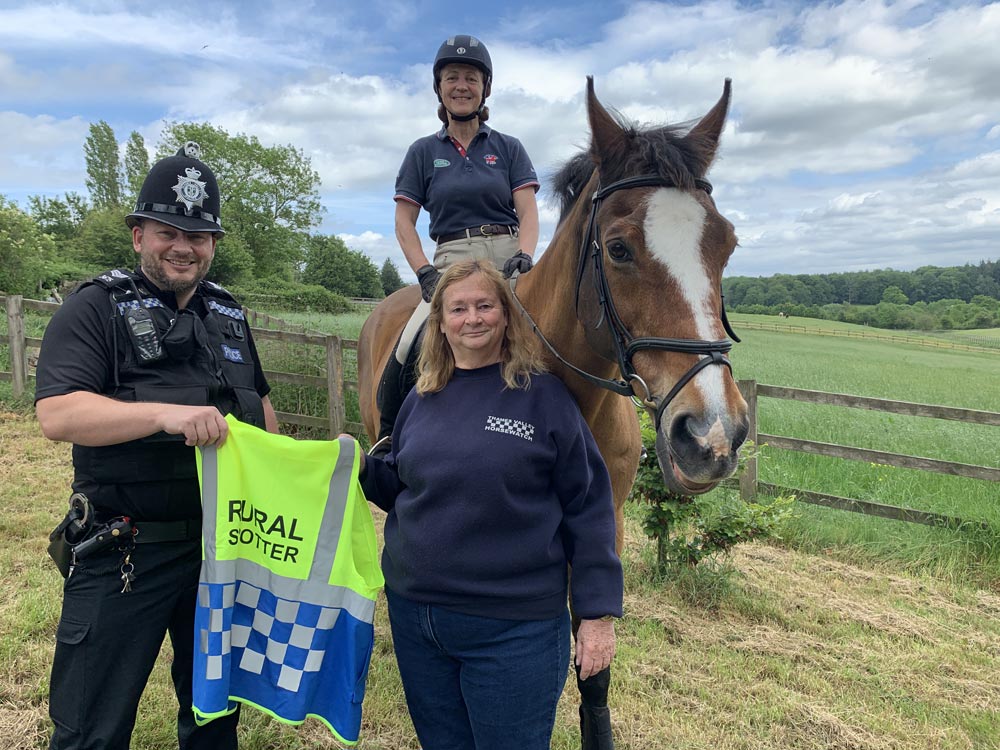 The Rural Spotters scheme was launched in mid-2019. Rural Spotters are volunteers who act as the eyes and ears of the Police in rural areas, and liaise with their local community. They will be horse riders who look out for anything suspicious whilst out on their normal hacking routes. Training will be given, assessments made, Hi Vis vests handed out.
An active team of enthusiastic Spotters already exists, and Thames Valley Police is looking to recruit more.
Those interested in learning more can contact Helen Evans, Thames Valley Police Equine Liaison Volunteer, by emailing RuralSpottersCSB@thamesvalley.pnn.police.uk.
Other Recent Posts
Friday, August 7th, 2020
WHY it is important to report crime and concerns: we can do more to help focus Policing support and attention on our own locality, and even help in the fight against broader crime. Read More...
Tuesday, September 14th, 2021
With the success of previously announced pilots, a new Community Speedwatch system will be rolled out across the Thames Valley Police area. Read More...
Tuesday, September 14th, 2021
Rural crime update from TVP: Countrywatch, Working with the Travelling Community, new WhatsApp group, Crime Trends, Businesses Against Scams Read More...
Friday, August 6th, 2021
Article by Sgt Dan Ryder updating community on initiatives including disrupting criminals through traffic patrols. Request to residents to help by sharing info on TVP Chiltern & S Bucks social media accounts. Read More...
Monday, July 19th, 2021
Congratulations to PCSOs Jacqueline Day, Jen Shrager and Lesley Roche for their recent Commendations. Here are the inspiring stories behind their awards. Read More...
Tuesday, June 29th, 2021
Includes video, in which newly elected PCC Matthew Barber explains the five strands of his Police & Criminal Justice Plan. Point 1 is a focus on strong local (including Neighbourhood) policing. Read More...
Wednesday, June 23rd, 2021
Social media – web content – promotion – community boards. Just some of the creative and interesting opportunities for volunteers to help the work of the Forum. Could it be you? Read More...