Introduction to Rural Spotters event
Friday, August 6th, 2021
Thames Valley Police will be holding an "Introduction to Rural Spotters" event on TUESDAY 7TH SEPTEMBER 2021 in the evening, in Amersham. Precise venue and time to be confirmed.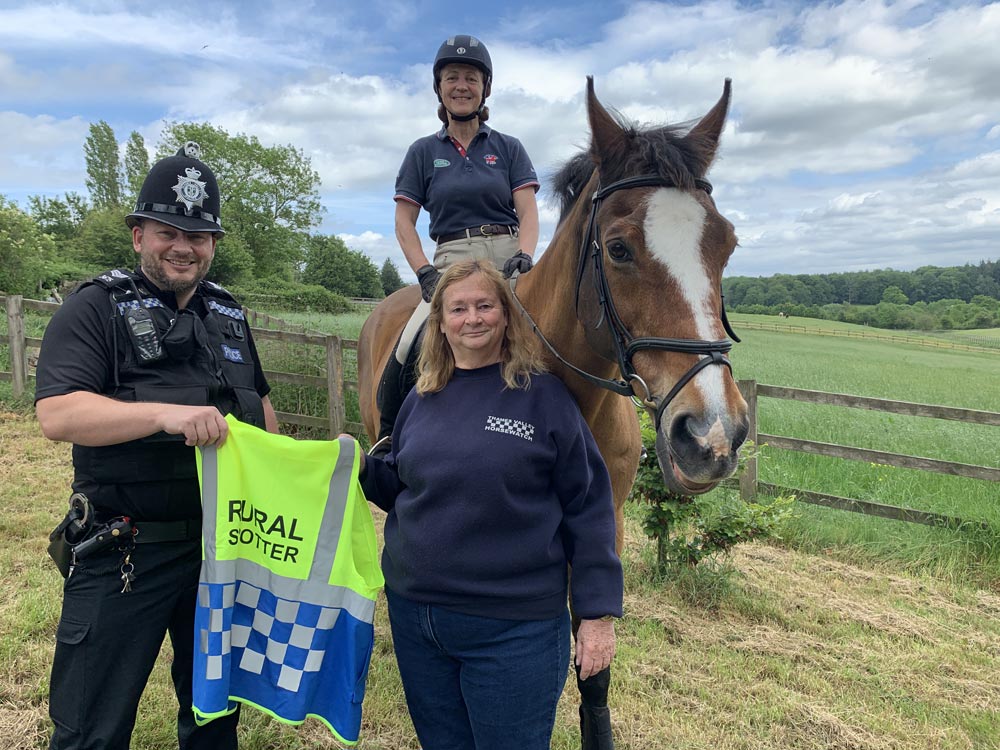 The Rural Spotters scheme was launched in mid-2019. Rural Spotters are volunteers who act as the eyes and ears of the Police in rural areas, and liaise with their local community. They will be horse riders who look out for anything suspicious whilst out on their normal hacking routes. Training will be given, assessments made, Hi Vis vests handed out.
An active team of enthusiastic Spotters already exists, and Thames Valley Police is looking to recruit more.
Those interested in learning more can contact Helen Evans, Thames Valley Police Equine Liaison Volunteer, by emailing RuralSpottersCSB@thamesvalley.pnn.police.uk.
Other Recent Posts
Friday, August 7th, 2020
WHY it is important to report crime and concerns: we can do more to help focus Policing support and attention on our own locality, and even help in the fight against broader crime. Read More...
Tuesday, July 5th, 2022
Excellent new tool from GetSafeOnline and Cifas, helping determine whether a website is likely to be legitimate or a scam. Read More...
Monday, June 27th, 2022
All residents are invited to participate in the Forum's survey of residents' concerns and the July 12th open meeting with representatives of Thames Valley Police. Read More...
Friday, June 24th, 2022
Congratulations to Sergeant Dan Ryder, awarded community officer of the year at TVP's community Policing awards 2022. Read More...
Monday, June 20th, 2022
A new South Buckinghamshire local policing area (LPA) has been formed by amalgamating our former Chiltern & South Bucks policing area with Wycombe policing area. Read More...
Friday, June 17th, 2022
The official Annual Report for 2021/22 from Thames Valley Police and Crime Commissioner. Read More...
Thursday, June 16th, 2022
The Forum would like to thank Inspector Richard Vine for his consistent support and encouragement of the Forum and its efforts over the past four years. Read More...