Introduction to Rural Spotters event
Friday, August 6th, 2021
Thames Valley Police will be holding an "Introduction to Rural Spotters" event on TUESDAY 7TH SEPTEMBER 2021 in the evening, in Amersham. Precise venue and time to be confirmed.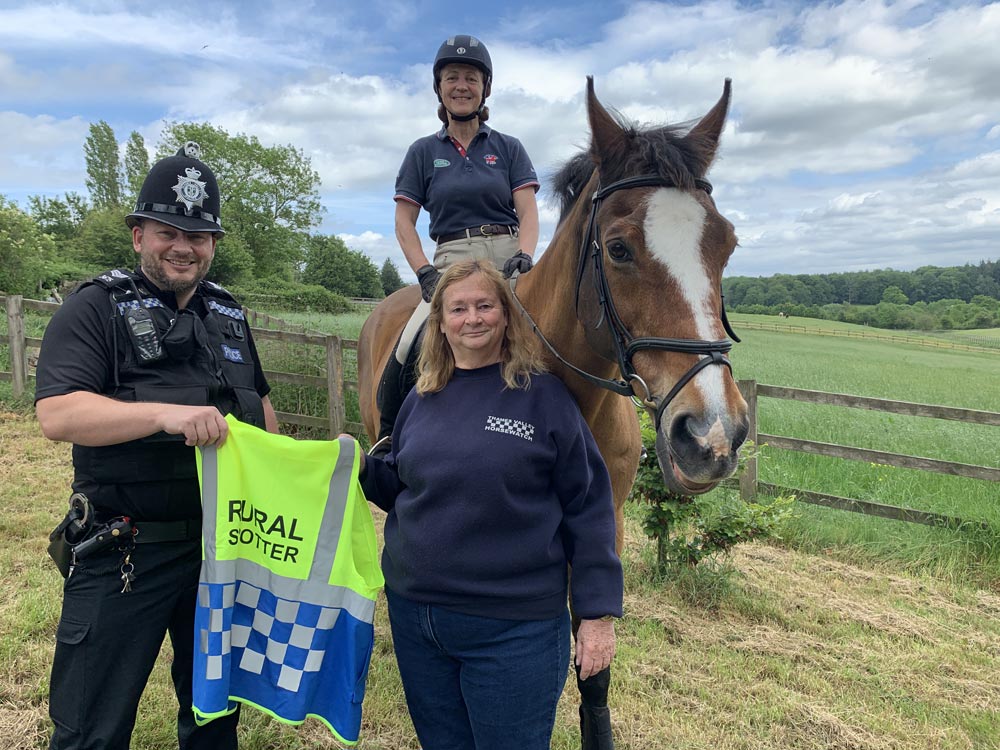 The Rural Spotters scheme was launched in mid-2019. Rural Spotters are volunteers who act as the eyes and ears of the Police in rural areas, and liaise with their local community. They will be horse riders who look out for anything suspicious whilst out on their normal hacking routes. Training will be given, assessments made, Hi Vis vests handed out.
An active team of enthusiastic Spotters already exists, and Thames Valley Police is looking to recruit more.
Those interested in learning more can contact Helen Evans, Thames Valley Police Equine Liaison Volunteer, by emailing RuralSpottersCSB@thamesvalley.pnn.police.uk.
Other Recent Posts
Monday, November 27th, 2023
The Police and Crime Commissioner invites residents to participate in a consultation on Police funding for 2024-2025 Read More...
Thursday, November 9th, 2023
Thames Valley Police and Crime Commissioner addresses a well attended meeting on Community Speedwatch at Great Missenden Memorial Hall. Read More...
Tuesday, October 24th, 2023
A 'Let's Talk About Speeding' meeting has been arranged for residents of the Missendens Community Board area on the evening of Tuesday 7th November, at the Great Missenden Memorial Hall. Read More...
Monday, October 23rd, 2023
Annual Community Safety survey from Buckinghamshire Council, informing strategy to reduce crime and anti-social behaviour in Buckinghamshire. Read More...
Sunday, October 22nd, 2023
Do we want a proactive, problem solving approach from our Police, or a service focussed simply on implementing a legal code? The 'right' answer is "the former", but requires trust and confidence of communities in their Police service Read More...
Thursday, October 19th, 2023
Shoplifting is becoming a growing scourge. It's misguided to consider it a 'victimless crime', absorbed by businesses and causing limited real harm. Read More...