Knife Crime as a Neighbourhood Policing Priority
Incidence of Knife Crime in Chiltern
Reporting Knife Crime
Links and Resources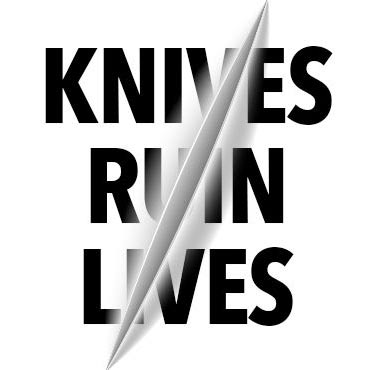 The fear of Knife Crime pervades all forms of UK Media, and rightly so. The victims of stabbing are often young, innocent and random, and loss of life always tragic. And fear feeds a spiral, with youngsters taking up carrying blades 'for protection', in turn making them more vulnerable, as well as placing them on the wrong side of the law.
Knife Crime as a Neighbourhood Policing Priority
Knife Crime is one of the 22 priorities on which residents are invited to vote each quarter. As a concern, it tends to rate higher in the youth survey than in the main survey, though generally falling below the very top choices. This reflects the levels of concern surrounding other issues, but also, thankfully, that actual levels of knife crime are lower in Chiltern than in many more urban areas.
In November 2018, Chiltern Community Forum set Knife Crime as a neighbourhood policing priority, but dropped it in February 2019. At the time this may have seemed perverse since Knife Crime was all over the media. However, the Forum felt that this was a considered opinion. It took into account:
the relatively low incidences of arrests for weapons possession;
PC Claire Annison's update on her work as Schools & Youth Engagement Officer for Chiltern and South Bucks, including education on knives and drugs;
deployment of 'knife arches' in some schools, and hand-held metal scanners assisted by funding by Forum Partner Chiltern & S Bucks Community Safety Partnership;
the award of £822,000 to the Office of the Police and Crime Commissioner (OPCC) for Thames Valley from the Home Office's Early Intervention Youth Fund (EIYF). This is being used to deliver a programme of activities in partnership with organisations across Thames Valley to jointly tackle youth violence, vulnerability and exploitation in our communities.
periodic force-wide operations such as Operation Sceptre in March 2019, repeated in September 2019, with activities to help prevent and disrupt knife crime. These include knife surrender bins placed at certain police stations, including Amersham, and a social media campaign using the tags #KnivesRuinLives and #OpSceptre.

Officers are currently out in #Amersham conducting a knife sweep. #KnivesRuinLives #OpSceptre pic.twitter.com/JFRTWQ9miM

— TVP Chiltern&S.Bucks (@TVP_ChiltSBucks) September 18, 2019

the opportunity to tackle some of the causes of knife crime through other priorities – for all subsequent quarters, Drug Dealing and Misuse has been included as a top 3 neighbourhood policing priority.
In addition to setting policing priorities, Chiltern Community Forum encourages the broader community to play its part in helping foster a safe, strong living environment. Whilst tackling people with knives should be left to the police, we would urge influencers, including parents, schools, community leaders and others, to help emphasise the dangers of carrying knives.
Incidence of Knife Crime in Chiltern
'Knife crime' includes a number of offences, including stabbing someone. But carrying a knife, threatening someone with a knife, committing a crime with the use of a weapon, or by pretending to have a weapon, are all crimes.
At the September 2019 Chiltern Community Forum, the Neighbourhood Policing update included statistics for the past year within the Chiltern area. In the previous 12 months, there had been 57 recorded incidents of knife crime, a 24% increase on the previous year. 27 crimes had been detected – a 47% detection rate. These ranged from incidences of stabbing, to people stopped with knives, where no physical harm had been done.
Reporting Knife Crime
If someone is in imminent danger, a suspect for a serious crime is nearby, or a crime is happening right now: Call 999.
If you have any information about the possession of knives or criminal activity relating to this type of crime, please report online via Thames Valley website or call 101.
Alternatively, you can contact Crimestoppers anonymously on 0800 555 111.
Links
Thames Valley Police & Crime Commissioner – Gangs and Knife Crime
Thames Valley Police & Crime commissioner – Early Intervention Youth Fund
"Thames Valley Police takes part in national knife amnesty – Op Sceptre"
Selling, buying and carrying Knives – GOV.UK