Nottingham Knockers and Rogue Traders
Thursday, April 11th, 2019
(Majority of following item via Thames Valley Alert, 11th April 2-19)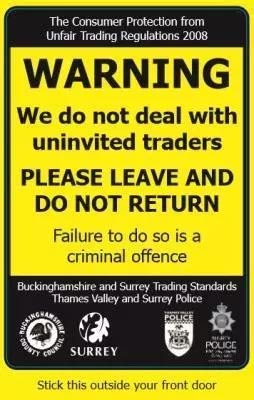 In Amersham and the Chalfonts, the Police have been receiving a large number of calls around doorstep sellers or "Nottingham Knockers" as they are commonly called. A number of calls complained of the aggressive nature of these people.
Mrs H explained her experience: "At about 1740, there was a really loud noise at my door. It wasn't a knock, it was thumping on the glass so I guessed who it was. I opened the front door and the male hadn't knocked on the porch door (which most people do). He was banging the glass on the internal door.
I got the impression that he was really trying to intimidate me. He tried to get into my personal space and said that he had recently been released from prison, and he had been put on a scheme by probation. He also said that a police officer had just bought a chamois leather from him. He was really persistent. I told him three times that I wasn't interested.
I was concerned about his bullying tactics with the elderly neighbours."
From this you can see the tactics that are being used. The intimidation banging on the glass rather than the door, the mention of having been in prison and getting in the victim's personal space. Also, the tactic of legitimising the behaviour by saying probation had put him on a scheme and that a police officer had bought some items from him.
Aggressive Behaviour
The law states that a trader who ignores a resident's request to leave and not return commits a criminal offence under the provisions of The Consumer Protection From Unfair Trading Regulations 2008.
Cold Callers and Rogue Traders
Cold calling is the act of making uninvited visits to your home with the intention of selling goods or services. It is not illegal and does not require a licence. Under the Peddlars Act a doorstep seller should obtain a permit from the local police station. It is common for a gang to target an area and for groups to then be picked up later on in the day. There have been concerns that this can lead to vulnerable persons and addresses being identified and later targeted.
Cold calling doorstep traders who target the elderly and vulnerable cause most concern. They offer services like roofing, block paving, guttering, painting and gardening. There are, of course, plenty of reputable traders offering a range of services but they can still be a nuisance if they cold call against your wishes. Any trader that puts you under pressure by falsely implying that you have to make a decision there and then, or that the "special price" is only available for a limited period in order to make you sign up, is committing an offence.
See also our news post on Nottingham Knockers and Rogue Traders (11th April 2019).
Stop Cold Calling sticker packs and Zones
You can express your request not to receive visits from cold calling doorstep traders by taking part in Buckinghamshire and Surrey's Trading Standards "No cold calling sticker scheme". The packs include door and window stickers which can be stuck up outside peoples addresses and will act as a deterrent to unwanted callers. There is also an indoor sticker to remind people of where they can report these traders to.
More on Trading Standards Doorstep Cold Caller Sticker Scheme
Chiltern & South Bucks District Councils Community Safety Team will assist roads in creating "No door step trader zones" if the majority of your street is in agreement.
Recommended Contractors
If you are looking for tradesmen, Trading Standards approved contractors can be searched on Buywithconfidence.gov.uk.
Other Recent Posts
Friday, August 7th, 2020
WHY it is important to report crime and concerns: we can do more to help focus Policing support and attention on our own locality, and even help in the fight against broader crime. Read More...
Tuesday, September 20th, 2022
Latest TVP Rural Crime update. making Countyr Watch members and residents aware of current crime trends to allow them to take action and develop working practices to reduce crime. Read More...
Friday, August 12th, 2022
The roll out of CSW groups under the new arrangements continues. An update on how concerned residents can get involved Read More...
Friday, July 15th, 2022
Our first hybrid meeting was, thankfully, a success. But meeting residents face to face was a pleasure and, we hope, very productive. Our immediate future is hybrid! Read More...
Wednesday, July 6th, 2022
Buckinghamshire Council is asking for residents' views on its proposal to extend an existing Public Spaces Protection Order (PSPO) covering areas of Amersham and Chesham. Read More...
Tuesday, July 5th, 2022
Excellent new tool from GetSafeOnline and Cifas, helping determine whether a website is likely to be legitimate or a scam. Read More...
Monday, June 27th, 2022
All residents are invited to participate in the Forum's survey of residents' concerns and the July 12th open meeting with representatives of Thames Valley Police. Read More...