November Priority Setting Decisions
Friday, November 23rd, 2018
Chiltern Community Forum met in the Rossetti Hall, Holmer Green, to set local policing priorities for the coming three months.
Two of the previous priorities – Residential Burglary and Drug Dealing and Misuse – were retained, and Knife Crime replaced Antisocial Behaviour.
Referring to the Word Cloud representation below of the online survey, Residential Burglary was a clear number 1 choice. Drug dealing and misuse remained prominent, and as before, there was a view that a number of other crimes stem from this cause. Numbers presented by Sergeant Roy Evans on behalf of Thames Valley Neighbourhood Policing suggested that enforcement had led to a significant increase in arrests in the previous period. Though antisocial behaviour remains a common concern, Sgt Evans argued that it needs to be defined more closely in order to be an effective priority. The choice of Knife Crime as the third priority was largely to encourage continued proactive work to prevent this becoming a significant problem in our area.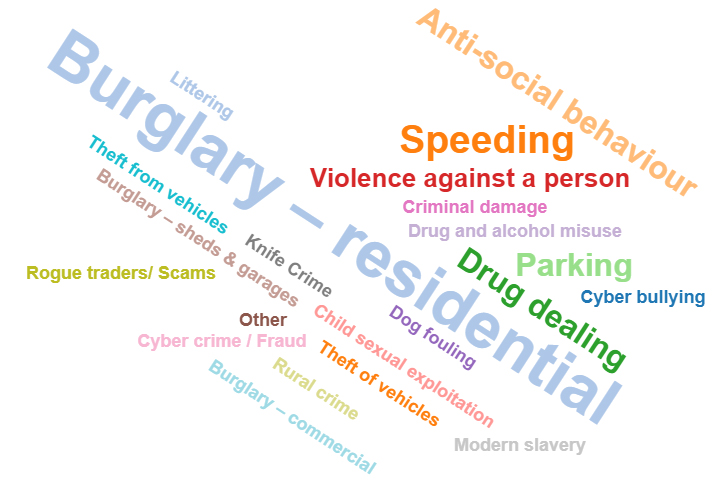 Minutes of the meeting will be posted in the meeting write-up.
Many thanks to all who participated in the survey and at the meeting.
Other Recent Posts
Friday, August 7th, 2020
WHY it is important to report crime and concerns: we can do more to help focus Policing support and attention on our own locality, and even help in the fight against broader crime. Read More...
Monday, June 14th, 2021
A guide to Nitrous Oxide abuse, published by Buckinghamshire Council Community Safety team in its latest Community Safety Newsletter. Read More...
Monday, June 14th, 2021
We welcome Chief Inspector Rachel Patterson in her new role as Deputy Commander, Chiltern & South Buckinghamshire Local Policing Area (LPA) Read More...
Monday, June 7th, 2021
Packed edition of Buckinghamshire Community Safety newsletter. Anti-social behaviour, Scams, Nitrous Oxide, Neighbourhood Watch and much more! Read More...
Friday, May 28th, 2021
Rental e-scooters are being trialled in nearby towns, so why are privately-owned scooters on allowed on the roads? Guidance on the rules around e-Scooters Read More...
Saturday, May 22nd, 2021
Advice on preventing catalytic converter theft, and a video showing removal of a catalytic conveter in less than a minute. Read More...
Friday, April 30th, 2021
Following many media and social media reports of dog thefts, we publish advice on keeping your pets safe from theft. Read More...