November Priority Setting Decisions
Friday, November 23rd, 2018
Chiltern Community Forum met in the Rossetti Hall, Holmer Green, to set local policing priorities for the coming three months.
Two of the previous priorities – Residential Burglary and Drug Dealing and Misuse – were retained, and Knife Crime replaced Antisocial Behaviour.
Referring to the Word Cloud representation below of the online survey, Residential Burglary was a clear number 1 choice. Drug dealing and misuse remained prominent, and as before, there was a view that a number of other crimes stem from this cause. Numbers presented by Sergeant Roy Evans on behalf of Thames Valley Neighbourhood Policing suggested that enforcement had led to a significant increase in arrests in the previous period. Though antisocial behaviour remains a common concern, Sgt Evans argued that it needs to be defined more closely in order to be an effective priority. The choice of Knife Crime as the third priority was largely to encourage continued proactive work to prevent this becoming a significant problem in our area.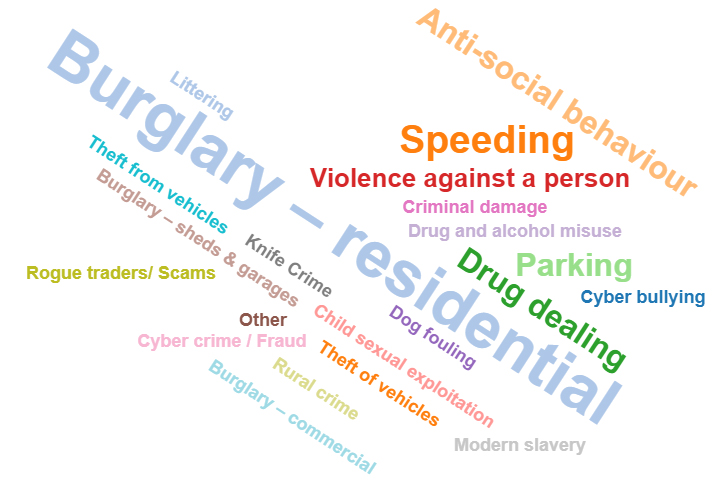 Minutes of the meeting will be posted in the meeting write-up.
Many thanks to all who participated in the survey and at the meeting.
Other Recent Posts
Wednesday, August 9th, 2023
At least three organisations invite residents of Chiltern and South Bucks to participate in periodic or rolling surveys relating to crime and community safety. We explain how all three contribute to our overall safety. Read More...
Wednesday, June 28th, 2023
Survey inviting victim-survivors of rape and other sexual offences to take part in a survey about their experience with the police. The findings will help the police to improve their handling and process. Read More...
Monday, June 26th, 2023
The stars may be aligning as Thames Valley Police and Crime Commissioner, Thames Valley Police and the Safer Buckinghamshire Partnership all publish documents promising prioritisation of neighbourhood crime. Read More...
Tuesday, April 18th, 2023
Report, minutes and video recordinig of Forum meeting April 5th 2023. Focus choices made for Neighbourhood Policing teams: Burglary – Speeding – Drugs Read More...
Tuesday, April 18th, 2023
Recent proposals by UK Government, Thames Valley Police and Thames Valley Police & Crime Commissioner (PCC) all make promises of increased resources for Neighbourhood Policing and greater focus on neighbourhood crime. Read More...
Tuesday, April 11th, 2023
Proposals have been made for a major review of local policing within Thames Valley. Active participation will make the point that we care about local policing, and retaining and rebuilding a local presence. Please express your views. Read More...