November Priority Setting Decisions
Friday, November 23rd, 2018
Chiltern Community Forum met in the Rossetti Hall, Holmer Green, to set local policing priorities for the coming three months.
Two of the previous priorities – Residential Burglary and Drug Dealing and Misuse – were retained, and Knife Crime replaced Antisocial Behaviour.
Referring to the Word Cloud representation below of the online survey, Residential Burglary was a clear number 1 choice. Drug dealing and misuse remained prominent, and as before, there was a view that a number of other crimes stem from this cause. Numbers presented by Sergeant Roy Evans on behalf of Thames Valley Neighbourhood Policing suggested that enforcement had led to a significant increase in arrests in the previous period. Though antisocial behaviour remains a common concern, Sgt Evans argued that it needs to be defined more closely in order to be an effective priority. The choice of Knife Crime as the third priority was largely to encourage continued proactive work to prevent this becoming a significant problem in our area.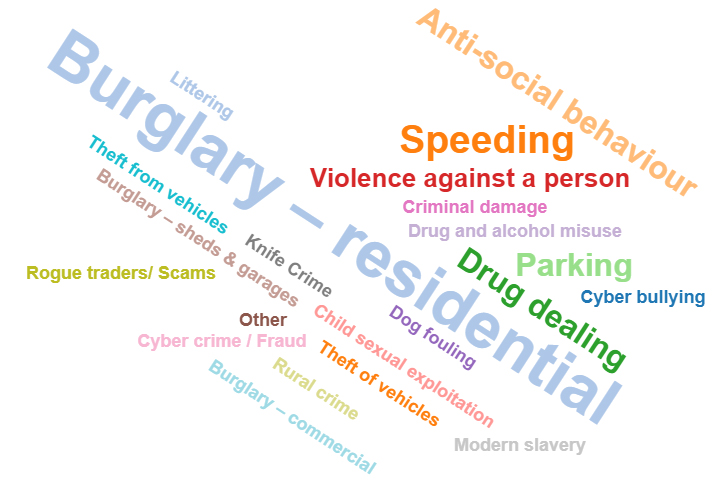 Minutes of the meeting will be posted in the meeting write-up.
Many thanks to all who participated in the survey and at the meeting.
Other Recent Posts
Monday, December 5th, 2022
Video recording of Burglary Event held by Thames Valley Police for South Buckinghamshire residents on 1st December 2022 Read More...
Monday, February 13th, 2023
Neighbourhood Watch is running a series of free Crime Prevention webinars throughout February. Places available on Psychology of Scams and Preventing Burglary with WIDEN. Read More...
Wednesday, February 8th, 2023
Residents wishing to be kept up to date about local crime issues can sign up to the newly launched Police and Crime Commissioner WhatsApp broadcast group. Read More...
Wednesday, February 1st, 2023
The Knife Angel spent a month at Arbour Park, Slough. We hope that its inspiring and thought provoking message has an abiding effect. Read More...
Friday, January 20th, 2023
Update on rural crime, including operations by the TVP Rural Crime team, crime trends, upcoming events, crime reduction advice and much more! Read More...
Friday, January 6th, 2023
Are you one of many residents who say we need more policing resource at a local/community level? If so, please take the opportunity to say so! Read More...
Friday, December 16th, 2022
We encourage residents to contribute their views to Thames Valley PCC Matthew Barber's consultation on crime and the policing budget for 2023/24. Read More...