Residential Burglary routinely emerges as the greatest concern in the Community Forum surveys.
This is not surprising. Not because the Chiltern area is, by national standards, a burglary hotspot. But because any burglary, in addition to financial or property loss, often triggers a strong emotional and fearful response, and a sense of violation.
Residential Burglary has therefore been consistently a 'top 3' priority in every quarter that the Forum has operated.
Thames Valley Police Response
Thames Valley Police operates a number of force-wide initiatives. The Stronghold campaign, aimed at the work of organised crime gangs, includes organised gangs of burglars. Operation Garland, a Winter Burglary Initiative, was reported to have resulted in the disruption of an international organised crime group, with six arrests for a series of burglaries. Over and above Neighbourhood Policing resources, we understand that there is a team of specialist detectives working on burglaries.
The Neighbourhood Policing Team safeguards victims of burglaries, visiting and advising them, and carrying out crime surveys to target harden their premises. Crime prevention events, 'Have Your Say' sessions and now 'Pop-Up police stations' are all opportunities to advise residents on anti-burglary measures.
Reporting a Burglary:
Is it an emergency? Is the burglary ongoing, is someone in immediate danger, do you need support right away? If so,
call 999
.
If the call is NOT an emergency – has the burglary already occurred, and no burglars on site? If so, call 101.
Or you can report online: Thames Valley Police – Report a Crime
Inevitably, however, unless burglars are disrupted 'in the act', justice or restitution will always be possible in only a small minority of cases. Many burglars are from out of our area, using the Motorway network to travel in and away, and some criminals come from much further afield.
So long as the Chiltern Community continues to vote burglary as its principal concern, the Forum will continue to include it as a 'top 3' priority.
Improving our own security
As with a number of crimes, however, there are actions we, as residents and property owners, can take to improve our security.
In April 2019, Thames Valley Police published a new Home Security Guide. You can download it by clicking on the image (PDF, 1.76MB).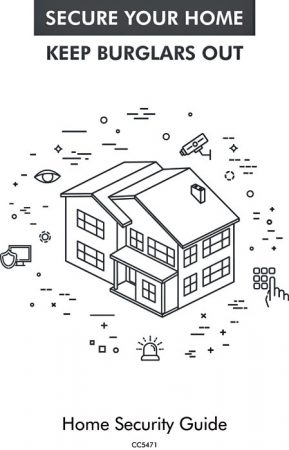 This has advice and numerous practical tips on how to make your home more secure and reduce your risk of becoming a victim.
Look at your home security through the eyes of a burglar; how you would break in if you locked yourself out – you may be surprised at how easy it would be.
Ensure doors and windows are locked, even if you are just out in the garden.
Store house, window and car keys out of reach of windows and your letterbox.
Hide valuables so they can't be seen from outside.
Mark your valuables with a UV pen or forensic marking kit as this will make it harder for thieves to sell the items.
Register valuables for free on the national property register at www.immobilise.com and bicycles at www.bikeregister.com.
Trim back hedges and shrubs at the front of your property so that burglars have nowhere to hide.
Always lock sheds and garages to prevent access to tools that could be used to break into your home.
Plant thorny bushes around the perimeter of your garden to deter thieves from climbing in.
Gravel can be laid on driveways, paths and beneath ground floor windows which will make a noise when stood on.
There is also advice on CCTV, distraction burglaries, lighting, digital security, and a 'going away checklist'.
The following document offers advice on fitting secure doors: "Control access with doors you can trust"
Joining a Neighbourhood Watch Scheme is also a very good idea: to find your nearest Neighbourhood
Watch visit www.ourwatch.org.uk
See also Thames Valley Police's page on Residential Burglary.
Cold Callers, 'Nottingham Knockers' and Distraction Burglaries
Doorstep sellers, rogue traders and 'Nottingham Knockers' can be a nuisance and sometimes very intimidating. It is also common for a gang to target an area and identify which properties and residents may be vulnerable, and target them for burglary. See our post on Nottingham Knockers and Cold Callers for practical advice on dealing with unwanted callers.
Never open your door to someone you don't know or aren't expecting. Be on your guard, and always make sure a caller is who they say they are before letting them into your home.
LOCK – Keep your front and back doors locked, even when you are at home
STOP – Before you answer, stop and think if you are expecting anyone. Check that you have locked the back door and taken the key out. Look through the spy hole or window to see who it is.
CHECK – Check the person's identity card, even if you have a pre-arranged appointment. Close the door while you do this. If you are still unsure look up their phone number and ring to verify their identity. They may claim to be from the council, police or utility companies.
Always report any suspicious callers to Thames Valley Police via 101, or in an emergency 999.
Jennifer and Sam's Story
In this short video, from Thames Valley Police, Jennifer and Sam talk about how they were affected after their home was burgled.