Further Reduction in Burglary Numbers
Wednesday, August 5th, 2020
The June stats on crime across the Chiltern policing area reveal that reported burglary numbers for the month were the lowest in some years.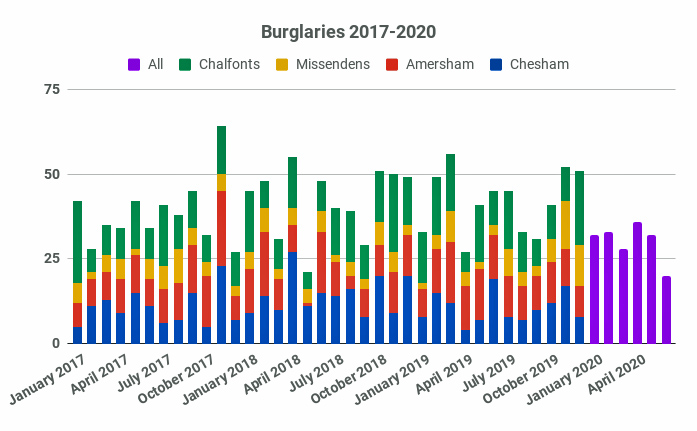 This continues the slight year-on-year reduction in the full year to March 2020, reported at our May Forum meeting. Since then, there has been a 47% drop in burglaries in the period April to August, compared to the same period in 2019.
To an extent this does reflect the period of lockdown, with fewer empty properties as residents stay at home. But it also is due to a number of successful, targetted initiatives by Thames valley Police. For example, a recent cross-border operation with Hertfordshire ('Greenbelt'/'Groundhog') saw 20 arrests including known burglary offenders for multiple offences, including drugs supply, fraud, going equipped and driving-related offences.
Insp Richard Vine, who leads our Chiltern Neighbourhood Policing team, also credits the focus on Burglary consistently set by the Community Forum.
Prevention still needs to be the focus
The lower reported burglary numbers are good news, but every burglary is a distressing event for those affected. Also, whilst detection rates have also risen in recent months, the most recent figure is just 11%. The message from this is clearly that prevention remains the best cure. Below are a number of links to pages with relevant information.
Chiltern Community Forum: Burglaries
Thames Valley Police: Crime Prevention Advice
Thames Valley Police: Home Security Guide
Thames Valley Police: Residential Burglary advice
Other Recent Posts
Friday, August 7th, 2020
WHY it is important to report crime and concerns: we can do more to help focus Policing support and attention on our own locality, and even help in the fight against broader crime. Read More...
Monday, July 19th, 2021
Congratulations to PCSOs Jacqueline Day, Jen Shrager and Lesley Roche for their recent Commendations. Here are the inspiring stories behind their awards. Read More...
Tuesday, June 29th, 2021
Includes video, in which newly elected PCC Matthew Barber explains the five strands of his Police & Criminal Justice Plan. Point 1 is a focus on strong local (including Neighbourhood) policing. Read More...
Wednesday, June 23rd, 2021
Social media – web content – promotion – community boards. Just some of the creative and interesting opportunities for volunteers to help the work of the Forum. Could it be you? Read More...
Monday, June 14th, 2021
A guide to Nitrous Oxide abuse, published by Buckinghamshire Council Community Safety team in its latest Community Safety Newsletter. Read More...
Monday, June 14th, 2021
We welcome Chief Inspector Rachel Patterson in her new role as Deputy Commander, Chiltern & South Buckinghamshire Local Policing Area (LPA) Read More...
Monday, June 7th, 2021
Packed edition of Buckinghamshire Community Safety newsletter. Anti-social behaviour, Scams, Nitrous Oxide, Neighbourhood Watch and much more! Read More...