Further Reduction in Burglary Numbers
Wednesday, August 5th, 2020
The June stats on crime across the Chiltern policing area reveal that reported burglary numbers for the month were the lowest in some years.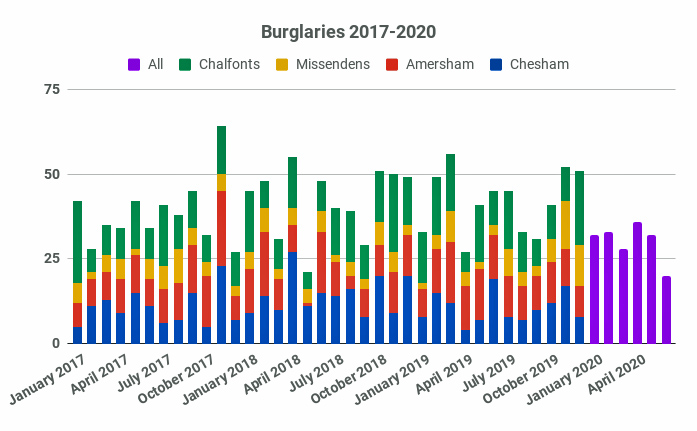 This continues the slight year-on-year reduction in the full year to March 2020, reported at our May Forum meeting. Since then, there has been a 47% drop in burglaries in the period April to August, compared to the same period in 2019.
To an extent this does reflect the period of lockdown, with fewer empty properties as residents stay at home. But it also is due to a number of successful, targetted initiatives by Thames valley Police. For example, a recent cross-border operation with Hertfordshire ('Greenbelt'/'Groundhog') saw 20 arrests including known burglary offenders for multiple offences, including drugs supply, fraud, going equipped and driving-related offences.
Insp Richard Vine, who leads our Chiltern Neighbourhood Policing team, also credits the focus on Burglary consistently set by the Community Forum.
Prevention still needs to be the focus
The lower reported burglary numbers are good news, but every burglary is a distressing event for those affected. Also, whilst detection rates have also risen in recent months, the most recent figure is just 11%. The message from this is clearly that prevention remains the best cure. Below are a number of links to pages with relevant information.
Chiltern Community Forum: Burglaries
Thames Valley Police: Crime Prevention Advice
Thames Valley Police: Home Security Guide
Thames Valley Police: Residential Burglary advice
Other Recent Posts
Friday, August 7th, 2020
WHY it is important to report crime and concerns: we can do more to help focus Policing support and attention on our own locality, and even help in the fight against broader crime. Read More...
Friday, October 22nd, 2021
Horse riders are invited to attend a Rural Spotters Evening on TUESDAY 30th NOVEMBER 2021 at Amersham. Help act as the eyes and ears of the Police in rural areas and liaise with the local community. Read More...
Friday, October 22nd, 2021
Burglaries remain thankfully low compared to historic numbers, but we are approaching the danger time, with dark nights. An update and tips from PS Walsh, of the Neighbourhood Policing Team. Read More...
Friday, October 8th, 2021
Chiltern & South Bucks is the second cab off the rank for roll-out of the new-style Community Speedwatch schemes. This is excellent news, given the consistently voiced concerns over speeding in our communities. Read More...
Friday, October 8th, 2021
Local Government Boundary Commission for England consultation on future size and shape of Buckinghamshire Council. It is seeking opinions currently on the appropriate number of Councillors. Read More...
Thursday, October 7th, 2021
We encourage all residents of Chiltern and South Bucks to participate in the annual survey from the Safer Bucks Partnership. Responses will be used also to inform choices of Neighbourhood Policing focus areas in coming months. Read More...
Wednesday, October 6th, 2021
Residents' chance to comment on the priorities set by Buckinghamshore Council in its proposed Domestic Abuse Strategy. Read More...