Further Reduction in Burglary Numbers
Wednesday, August 5th, 2020
The June stats on crime across the Chiltern policing area reveal that reported burglary numbers for the month were the lowest in some years.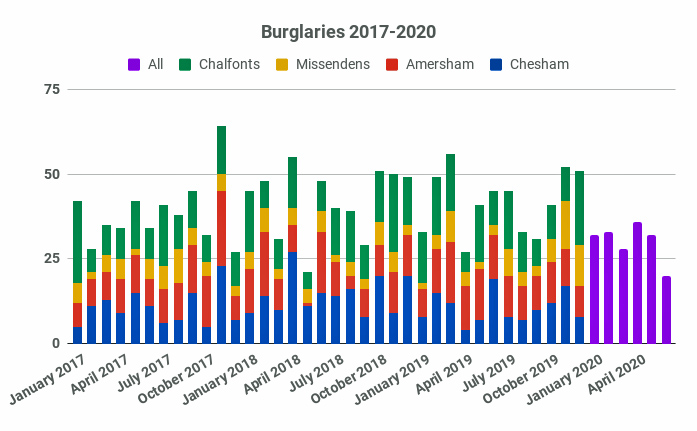 This continues the slight year-on-year reduction in the full year to March 2020, reported at our May Forum meeting. Since then, there has been a 47% drop in burglaries in the period April to August, compared to the same period in 2019.
To an extent this does reflect the period of lockdown, with fewer empty properties as residents stay at home. But it also is due to a number of successful, targetted initiatives by Thames valley Police. For example, a recent cross-border operation with Hertfordshire ('Greenbelt'/'Groundhog') saw 20 arrests including known burglary offenders for multiple offences, including drugs supply, fraud, going equipped and driving-related offences.
Insp Richard Vine, who leads our Chiltern Neighbourhood Policing team, also credits the focus on Burglary consistently set by the Community Forum.
Prevention still needs to be the focus
The lower reported burglary numbers are good news, but every burglary is a distressing event for those affected. Also, whilst detection rates have also risen in recent months, the most recent figure is just 11%. The message from this is clearly that prevention remains the best cure. Below are a number of links to pages with relevant information.
Chiltern Community Forum: Burglaries
Thames Valley Police: Crime Prevention Advice
Thames Valley Police: Home Security Guide
Thames Valley Police: Residential Burglary advice
Other Recent Posts
Monday, December 5th, 2022
Video recording of Burglary Event held by Thames Valley Police for South Buckinghamshire residents on 1st December 2022 Read More...
Wednesday, February 1st, 2023
The Knife Angel spent a month at Arbour Park, Slough. We hope that its inspiring and thought provoking message has an abiding effect. Read More...
Friday, January 20th, 2023
Update on rural crime, including operations by the TVP Rural Crime team, crime trends, upcoming events, crime reduction advice and much more! Read More...
Friday, January 6th, 2023
Are you one of many residents who say we need more policing resource at a local/community level? If so, please take the opportunity to say so! Read More...
Friday, December 16th, 2022
We encourage residents to contribute their views to Thames Valley PCC Matthew Barber's consultation on crime and the policing budget for 2023/24. Read More...
Wednesday, November 30th, 2022
Neighbourhood Police INspector and colleagues will speak to residents about concerns of an increase in burglaries via a Microsoft Teams meeting, 7pm Thursday 1st December. Read More...