Further Reduction in Burglary Numbers
Wednesday, August 5th, 2020
The June stats on crime across the Chiltern policing area reveal that reported burglary numbers for the month were the lowest in some years.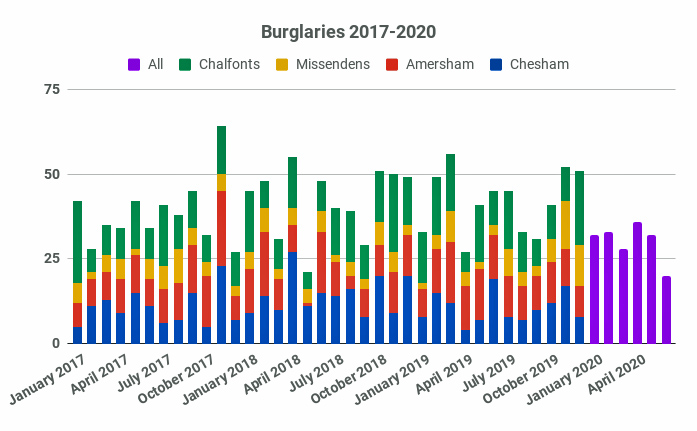 This continues the slight year-on-year reduction in the full year to March 2020, reported at our May Forum meeting. Since then, there has been a 47% drop in burglaries in the period April to August, compared to the same period in 2019.
To an extent this does reflect the period of lockdown, with fewer empty properties as residents stay at home. But it also is due to a number of successful, targetted initiatives by Thames valley Police. For example, a recent cross-border operation with Hertfordshire ('Greenbelt'/'Groundhog') saw 20 arrests including known burglary offenders for multiple offences, including drugs supply, fraud, going equipped and driving-related offences.
Insp Richard Vine, who leads our Chiltern Neighbourhood Policing team, also credits the focus on Burglary consistently set by the Community Forum.
Prevention still needs to be the focus
The lower reported burglary numbers are good news, but every burglary is a distressing event for those affected. Also, whilst detection rates have also risen in recent months, the most recent figure is just 11%. The message from this is clearly that prevention remains the best cure. Below are a number of links to pages with relevant information.
Chiltern Community Forum: Burglaries
Thames Valley Police: Crime Prevention Advice
Thames Valley Police: Home Security Guide
Thames Valley Police: Residential Burglary advice
Other Recent Posts
Friday, August 7th, 2020
WHY it is important to report crime and concerns: we can do more to help focus Policing support and attention on our own locality, and even help in the fight against broader crime. Read More...
Tuesday, September 20th, 2022
Latest TVP Rural Crime update. making Countyr Watch members and residents aware of current crime trends to allow them to take action and develop working practices to reduce crime. Read More...
Friday, August 12th, 2022
The roll out of CSW groups under the new arrangements continues. An update on how concerned residents can get involved Read More...
Friday, July 15th, 2022
Our first hybrid meeting was, thankfully, a success. But meeting residents face to face was a pleasure and, we hope, very productive. Our immediate future is hybrid! Read More...
Wednesday, July 6th, 2022
Buckinghamshire Council is asking for residents' views on its proposal to extend an existing Public Spaces Protection Order (PSPO) covering areas of Amersham and Chesham. Read More...
Tuesday, July 5th, 2022
Excellent new tool from GetSafeOnline and Cifas, helping determine whether a website is likely to be legitimate or a scam. Read More...
Monday, June 27th, 2022
All residents are invited to participate in the Forum's survey of residents' concerns and the July 12th open meeting with representatives of Thames Valley Police. Read More...