Due to COVID-19 restrictions, Chiltern Community Forum met via Zoom on Tuesday 26th May.
The meeting was very well attended, with almost 50 logins. We should like to thank all who participated, and contributed to a full and lively discussion.
Priorities were retained from the previous quarter: Burglary, Anti-Social Behaviour and Drug Dealing. Chairman Andy Garnett undertook to have discussions on how additional resources and attention can be brought to bear on Speeding, which emerged as a clear second from the quarterly survey.
View Police report presented at the meeting: Thames Valley Police Update for May 2020 – Virtual meeting-1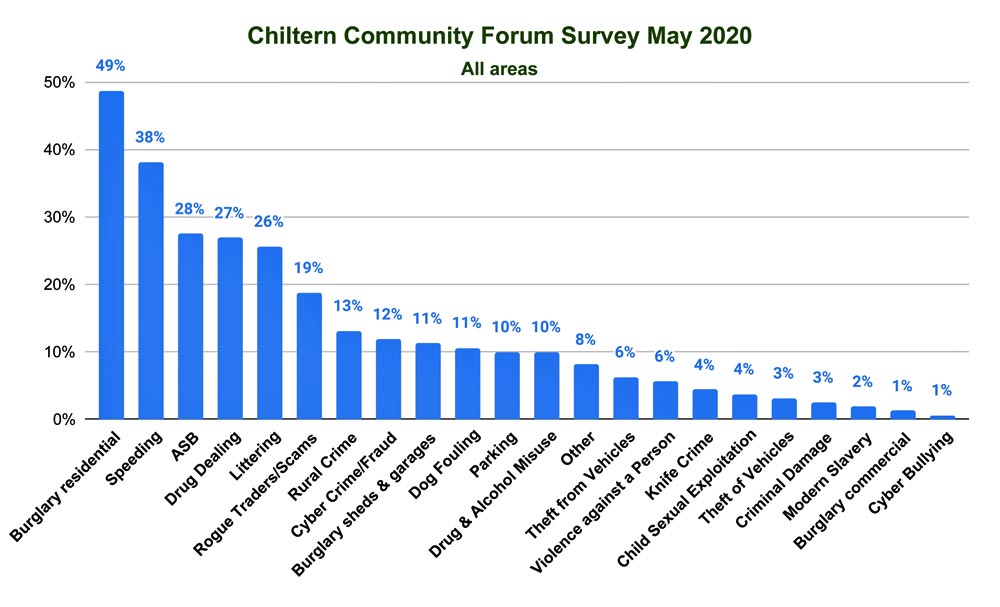 Impressions from Survey
Votes were a little more dispersed than usual, not so dominated by top 2 or 3, with a somewhat flatter curve. In total, there were 160 responses.
Comments were collated and have been passed to neighbourhood police, suitably anonymised.
Residential Burglary was, almost certainly for the first time, just below 50% for the combined vote. But it remains dominant in Amersham. And it is the top concern in 3 of the 4 areas, and 2nd in the other.
Speeding is the number 2 overall, top 3 in all areas, and a strong number 1 in Great Missenden and Prestwood. Comments from that area centred around Martinsend Lane and the A413.
Littering has shot up and almost caught ASB and Drug Dealing for third spot (actually would probably have been third if votes for 'Other' referencing fly tipping had been included). This reflects undoubtedly frustration at fly tipping, and the closure of the waste and recycling sites is seen as a contributor. Maybe also people have been looking a bit more at their environment during lockdown. Interestingly, Dog Fouling made the top 10, and even the top 5 in Amersham; there is a lot of frustration on this subject evident on local Facebook groups.
Rogue Traders and Scams, and Cyber Crime/Fraud were 6th and 8th overall. There has been quite a bit of publicity about COVID-related scams.
Rural Crime makes the top 10 for the first time; votes quite spread across the areas, ie no outstanding hot spot.
Parking dropped out of the top 10 – almost certainly for the first time – but this must reflect that people have been moving around less during lockdown. Comments on parking reflected certain specific locations.
Violence against a Person was quite low, despite its perennial prominence in crime stats and publicity regarding domestic abuse. Perhaps indicative of it being a hidden crime? Meanwhile has there been less violence while fewer people are on the streets, pubs closed etc?